The Bhim Army leader also visited Shivaji's abode in Lal Mahal and called for Maratha-dalit unity to defeat 'brahminical' BJP.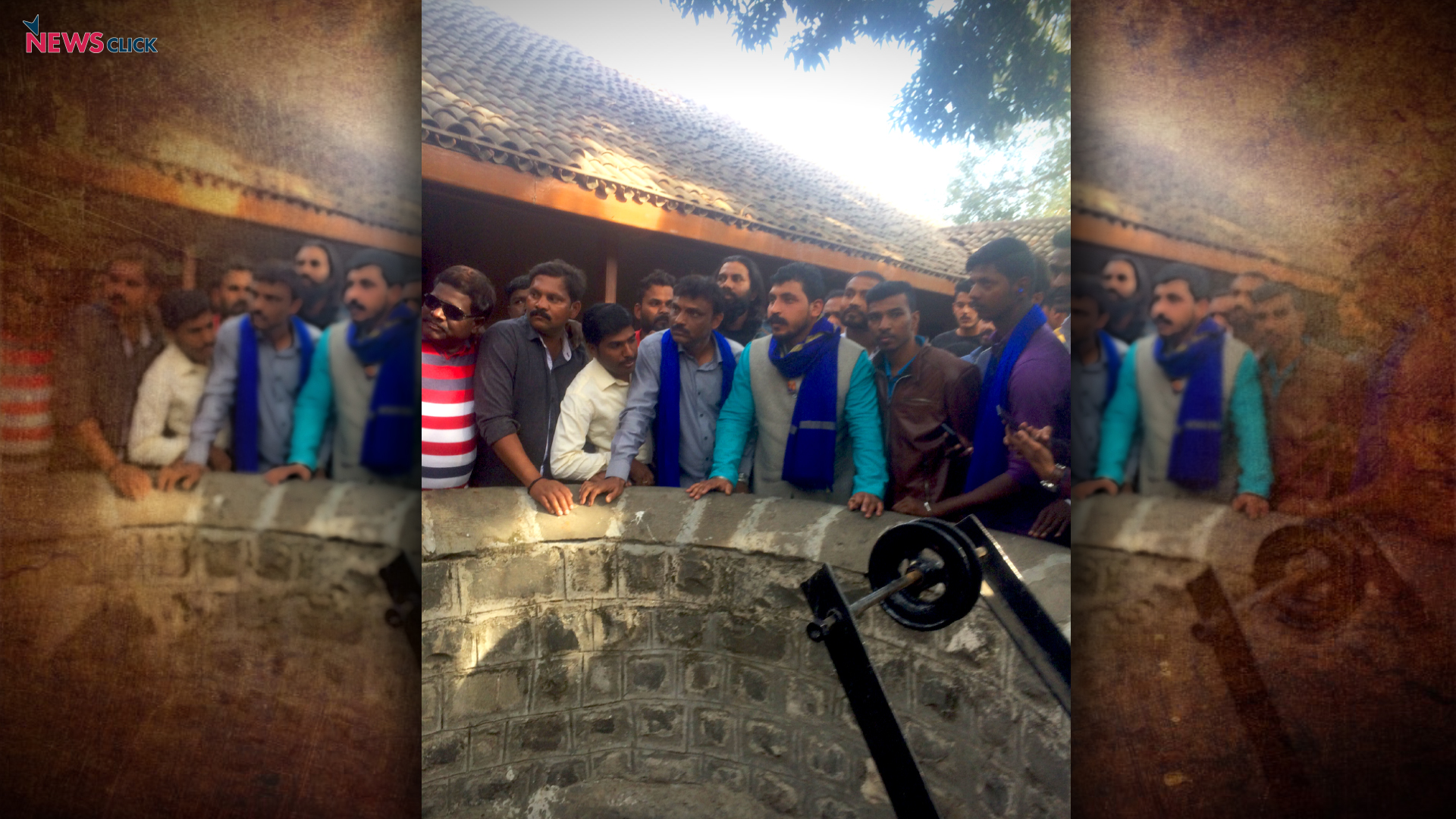 PUNE: Amid high security, thousands of people headed to Bhima Koregaon village in Pune district today to pay tribute at the war memorial, an annual event held on January 1 every year, to mark the victory of soldiers belonging to the Mahar community and other backward castes in the British Army who got lost their lives or got injured in the battle of 1818, and defeated the oppressive Peshwa. Last year's anniversary celebrations were marred by large-scale violence, spurred by some Hindutva Right-wing leaders, leading to several arrests, including of some human right activists and lawyers.
Dalit rights crusader and Bhim Army leader, Chandrashekhar Azad, who is in Maharashtra d was denied permission to hold a rally in Mumbai, but won partial respite from the court to move around in the state to mark the first anniversary of the Bhima-Koregaon violence, told Newsclick that: "I am a son of Dr Babasaheb Ambedkar and am visiting Bhima Koregoan, that is historic place. Nobody can stop me from the act, which is my fundamental right."
Azad, who has been in Pune since December 30, said: "I am here to help the victims of Bhima Koregoan riots to get justice, and I will do that. If this government cannot give justice to them, then we will vote them out, " he said, while attacking the 'brahminical' Bharatiya Janata Party (BJP) government of Devendra Fadnavis in Maharashtra, accusing it of protecting Hindutva leader Milind Ekbote and Sambhaji Bhide, the prime accused in the riots.
Azad had planned two public meetings in Pune, but the Pune police refused permission. Bhim Army went to Bombay High Court, which also refused permission to him to hold the meeting.
Amid heavy security, Azad landed in Pune on December 29 night and has since been interacting with activists and youth who kept thronging Sagar Plaza, the hotel where the Bhim Army leader is staying in.
"Am I a terrorist that I am not being given permission to hold a sabha (meeting)?" he asked, adding whether being an Ambedkarite 0 a follower of dalit icon Bhimrao Ambedkar) was wrong.
A fiery leader, Azad said: "Bhima Koregoan is historic place and I am going there. I follow law and order and believe in the Constitution. But if my fundamental rights are infringed, then I have to raise my voice. I am here to strengthen the social movement so that bahujan ( the majority, i.e the oppressed castes in the Hindu religion) get into power."
When it was pointed out that dalit leaders like Ramdas Athavale, Anand Ambedkar and Jogendra Kawade had been granted permission to holdsabhas at Bhima Koregoan, but he was refused permission by the police on the grounds that "people who can cause problems are not given permission", Azad said, "I am not a leader. I am a son of Dr Ambedkar. Talkinh about rights and asking for justice does not mean we are creating problems. Struggle is necessary to get justice. People without even thinking about two meals a day take to the streets to get justice only when they lose hope to get justice on all fronts."
The Bhim Army leader, who has a massive following in Uttar Pradesh, also accused a "frustrated" BJP government of trying to keep dalits away from the victory pillar in Bhima Koregaon but was confident that lakhs of dalits would visit the memorial.
On December 31, Azad visited Phulewada, the house of Jyotiba Phule, a social reformist of the 19th century. The popularity of Azad among youth and women was visible at every place he visited in Pune. At one place, an old woman held his hand firmly while a group sought to be photographed with him. Several youth were seen taking selfies and photos with him and were keen on interacting with him. Azad, too, was keenly answering all their questions .
"I want to meet the police commissioner to ask him to give justice to the family of Puja Sakat who saw miscreants torching her house in Bhima Koregoan on the day of riot. Four months later, her body was found in a well near their house," he said.
Azad also pointed out that "35,000 youth had been implicated with false charges in cases on the day when bandh was called on last year on January 3 after riots."
Maratha-Dalit Unity
The Bhim Army leader later visited Lal Mahal, a palace where Shivaji grew up, sending out a clear message that he was all for Maratha-Dalit unity. He said, "Every revolutionary should visit the Lal Mahal to remember how Shivaji ruled his people. And also to understand Jijamata who brought up Shivaji here in this place. I had to take their blessings."
Commenting on the political designs of the upper castes, the Bhim Army leader accused the brahminical forces for trying to create differences between Marathas and dalits. But both the castes are naturally united as they are bahujans, he said, adding that bahujans could do all kinds of work, as cobblers, cleaners, engineers or rulers, "and they are in majority and hence they can vote out any force."
It is widely believed that Marathas are the accused in many cases of riots for attacking dalits but Bhide and Ekbote, brahmin Hindutva leaders, are the one who instigated the riots.
"EKbote and Bhide who are criminals should have been kept under house arrest as the court had ordered to do that. But government and police here don't follow orders of the court. Despite orders, they were not arrested. The government is protecting terrorists," he alleged.
The Bhim Army leader also demanded that Dr Babsaheb Ambedkar be given the status of Rasthrapita (Father of the Nation) that is due for many years. "If the government fails to do that, the bahujan who are in majority across the nation will vote that government out. The new government ofbahujans will fulfil the dreams of people to give status of Rashtrapita to Dr Ambedkar," he added.
On his electoral ambitions, if any, and the upcoming Lok Sabha elections this year, the dalit rights crusader said: "I am not participating in any elections and I will go with the party that talks about Dr Ambedkar, Phule, Shahu and bahujan. Babsaheb had said that you need to get into politics otherwise other people will rule us and that is exactly what is happening now. There are 131 MPs and over 1,000 MLAs from the Scheduled Castes due to the Constitution, and if they keep mum when Constitution is burnt, then I feel bad."
On a lighter note, Azad said, "Elections are not important. I went to Madhya Pradesh once and BJP lost, the same happened in Rajasthan as well. Now I have come here. See, the BJP will lose here as well."
(The writer is an independent journalist based in Pune)
https://www.newsclick.in/if-govt-cant-give-justice-bhima-koregaon-victims-bahujans-will-vote-them-out-azad