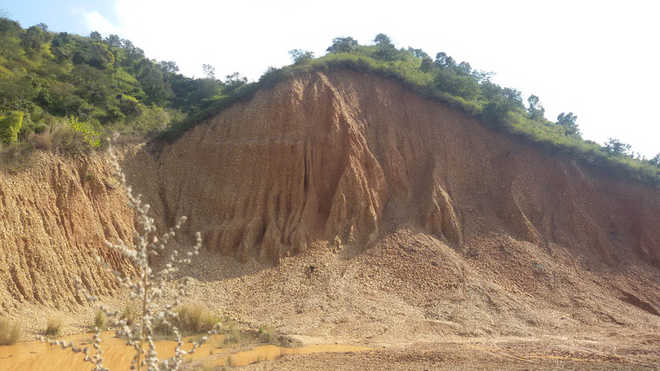 Lalit Mohan
Tribune News Service
Una, January 23
After the intervention of Chief Minister Virbhadra Singh, the department of mining has cracked down on large-scale illegal mining at Bangarh village in Una district near the state's border with Punjab. The mining department has issued show cause notice to 40 people regarding the illegal activity in the village. Another 10 people would be issued the notice soon. Sources here said the village's boundary had been sealed and mining had been "totally banned" in the village.Most of the people to whom the notice has been issued are local land owners who "allowed" mining on their property, in connivance with contractors and stone crusher owners.
Other persons who have been issued the notice are contractors of the Irrigation and Public Health (IPH) department who had allegedly picked illegally mined material from the village and were using it for the Swan river canalisation project.An SDO of the IPH department has been transferred for "allowing contractors to use the illegally mined material" from the village for the project.Sources said despite a ban on mining, the IPH department submitted royalty worth Rs 14 crore with the state government for the material mined for rivers and rivulets in Una district.
A visit to the village revealed that a large number of hillocks in the region had been created due to illegal mining. However, it is questionable that such a large-scale illegal mining was taking place without the knowledge of the authorities. About 18 government departments, besides the mining and police departments, have been authorised to check illegal mining in the state and none of these noticed illegally mined material being carried out from the village.
The Chief Minister, during his visit to Una in the last few days, openly said influential people from both the Congress and the BJP were involved in illegal mining in Una district. Deputy Director, Industries, Tilak Raj Sharma, who also heads the mining department in Una district, when contacted admitted that notices had been issued to land owners and contractors for illegal mining. He, however, said the department had been working against the issue in Bangarh after the matter was taken up during the winter session of the state Assembly in Dharamsala.State BJP president Satpal Satti had taken up the matter, especially of Bangarh village, at the Assembly.
The Minister for Industries Mukesh Agnihotri had said on the floor of the House that if BJP members wanted, the state government could impose a total ban on mining in the village.In the recent auction of mines held by the mining department in Una, the rates of mines went up drastically due to the alleged involvement of mining cartels from Punjab. Due to this, the mining department cancelled the mining auction.Last year, 7,000 cases of illegal mining were reported in the state. Out of these, about half of the cases were reported from Una district.
http://www.tribuneindia.com/news/himachal/illegal-mining-40-issued-notice-in-una-village/33685.html