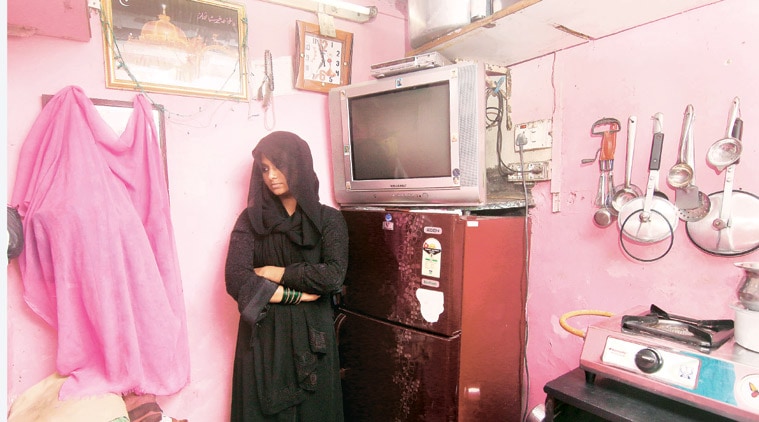 Nasira Sheikh at her parents' home in Mahalaxmi. (Source: Express photo by Amit Chakravarty)
Growing up in a single room tenement in a slum in Mahalaxmi, Mumbai, Nasira Sheikh considered herself lucky to be one of the few girls in the neighbourhood to be educated. But she had no illusions that her life would be remarkably different: marriage, children and family were her future. So she didn't mind it when her parents asked her to drop out of school after Class IX and married her off at 17. Sure, her husband was unemployed and an alcoholic, who beat her up on the night of their wedding — but how out of the ordinary was that?
She was eight months pregnant when she returned to her parents' home. The 22-year-old had tired of the abuse from her sister-in-law and husband Wasim. When the beatings continued, and living with him became a threat to her unborn child, she knew she had no choice but leave for a while. Her daughter is 18 months old now but Nasira hasn't gone back "home". Wasim won't take her calls anymore and her mother-in-law doesn't allow her into the house in Worli. "I had thought he will come around once the child is born. But I've only been waiting," she says.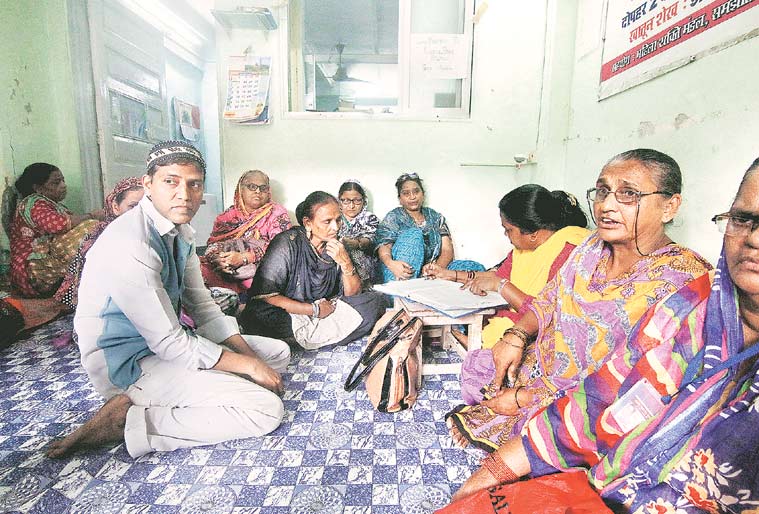 A family at the Mumbai shariah court
On a warm September afternoon, she sits quietly inside the office of the Bharatiya Muslim Mahila Andolan (BMMA) in Bandra East, with her daughter sound asleep in her lap. "I even visited the police station a few times, hoping they will scare him into taking me back, but the cops gave up. They say the Muslim law allows him to keep another wife and forcing him may lead to an oral talaaq," she says.
This tiny room, where a handful of women bend over books and papers, could be her last resort. This is a Shariah adalat for women.
***
Not quite a court and more of a pressure group, the Shariah adalat run by BMMA works to clear a little space for women in the implementation of the Muslim personal law, and ensure that their voice is heard. Especially in matters of talaaq (divorce) and maintenance, traditional interpretations of the Shariah have been unsympathetic to women and their rights. "The community is governed by the Shariah or the Islamic legal system, which isn't codified. In the absence of a codified law, these decisions are made by qazis, muftis and maulvis, who have made it an exclusive male domain often to the detriment and disservice of women," says Dr Noorjehan Safia Niaz, co-founder of the organisation.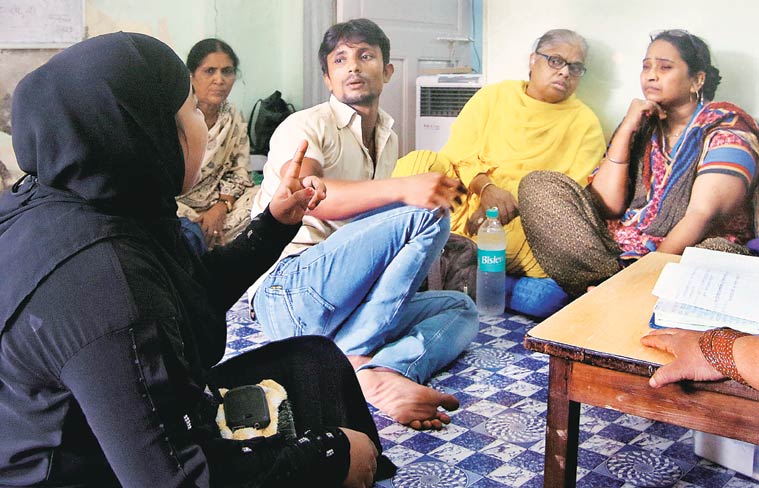 To wrest control, the organisation realised it needed to have a say in the execution of the Shariah: the result was this informal court for women, which started two years ago. The model it follows is that of the adalats run by the All India Muslim Personal Law Board, commonly known as darul qazas, which are essentially counselling centres. They are recognised by law but not known to be gender-sensitive. Niaz and her team work by means of persuasion and dialogue, but adopting the legal terminology of a "court" allows them to take a tougher stand. "We've been doing this work since the late '90s but naming it Shariah adalat was a political move, an attempt to stare back at patriarchy," says Niaz.
The court, for instance, discourages unilateral divorce or triple talaaq. The counsellors' policy is to persuade a man to procure the consent of the woman while dissolving the marriage. It insists that mehr (the wealth promised to a woman by the groom at the time of the wedding) should equal or exceed the husband's annual income to ensure that in case of separation or his death, the wife isn't left with a nominal amount.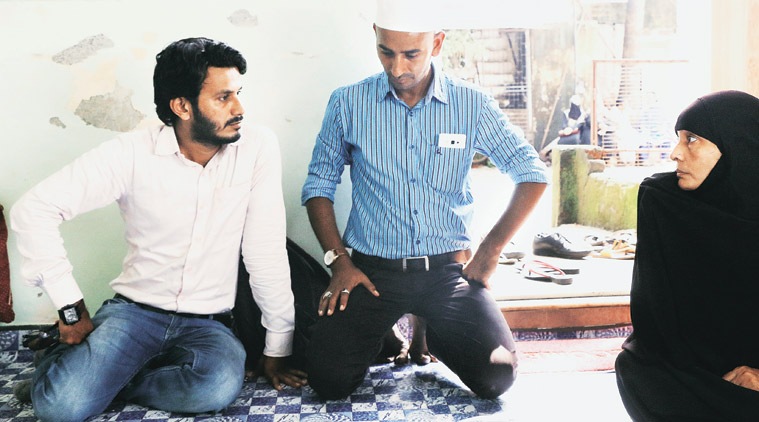 Not surprisingly, they end up challenging the authority of maulvis, qazis and muftis. There is an inherent hierarchy even in the terminology of divorce. "The man 'gives' talaaq while a woman 'asks for' khula (the term used for legal separation when demanded by a woman). And annulment of marriage is possible only if the man seeks it. In our Shari'ah adalat, however, women too, can get an annulment. A qazi sends out three notices to the husband over three months. If he doesn't respond, the mufti annuls the marriage," says Niaz.
The most common cases relate to domestic violence and divorce. Few of the complainants prefer to go the police in such cases, deterred by "shame" and the force's attitude towards the Muslim minority. "It would sully my name forever if I went to the police and they came knocking at my parents' door," says 34-year-old Aalia Sheikh who was evicted from her husband's home, along with her two children, after his demise three years ago.
Like her, most of those who knock on the adalat's doors are underprivileged and uneducated. Many of the women are brought up in a conservative environment, and have nothing to fall back on when in trouble. This is where the organisation steps in. The BMMA is present in 17 states across India, and runs a Shariah adalat in Tamil Nadu's Dindigul. Members sometimes travel across the country to resolve cases. When conflicting parties cannot arrive at a settlement, they approach civil courts.
In a recent national survey carried out by the organisation on Muslim women's views on reforming the Muslim Personal Law, 92.1 per cent women supported a total ban on unilateral divorce and 93 per cent wanted an arbitration process to be mandatory before divorce. Also, 91.7 per cent did not want their husbands to marry another woman before the first alliance is dissolved. So far, all these moves have been opposed by the All India Muslim Personal Law Board.
While the debate around a Uniform Civil Code (UCC) intensifies, those working in the field of reforms believe there is a greater need to codify the Muslim Personal Law, which has barely evolved since the 1930s. The most recent amendment came 29 years ago, with the Muslim Women (Protection of Rights on Divorce) Act of 1986, which says that women should get maintenance post divorce. "I wouldn't mind UCC if it is radical enough to offer women equal rights. But I am a minority in the Muslim community, a large part of which continues to remain conservative. Will they be ready to travel all that distance to accept a radical UCC draft?" asks Irfan Engineer who runs the Centre for Study of Society and Secularism in Mumbai.
Even if unheard, more women are beginning to speak out against the law that hobbles them. Hazrat Bi lost her daughter a month ago to tuberculosis. But the 42-year-old blames her daughter's husband and in-laws. "They refused to get her treated. She was fed up, she wanted to divorce him so that she could get the mehr and maintenance and show a doctor. But her husband refused. If she could have had the marriage annulled without his consent, she would have had a chance," she says.
To those who wish to know what 21st century Muslim women want, the adalat provides the answers. Most of the 25 "jury" members have experience of domestic abuse and discrimination — as well as the courage to fight it out. For instance, 57-year-old Khatoon Gafoor Sheikh approached BMMA eight years ago when her sister-in-law, physically abused by her husband for want of dowry, wanted a divorce from her husband. "But he refused," she says.
The counsellors eventually convinced her husband to annul the marriage. Nevertheless, the organisation and its adalat have several detractors. The capability of women, mostly uneducated, to provide legal aid is questioned. But Engineer says that one cannot discount the need for such community-based organisations. "Muslim women are constantly under attack, by communal forces outside and patriarchy within. From here, they cannot radically challenge it and say 'to hell with Islam'. One has to liberalise bit by bit."
***
Theirs had been a love marriage. But fed up of his frequent disappearances, abuse and alcoholic ways, Fatma, 33, separated from her husband Sallauddin two years ago. She works at a garment factory to supplement the income of her widowed mother and make ends meet. Now, she wants a divorce and monthly maintenance to ensure a good education for her children. Ironically, it was Sallauddin who had approached the adalat, in the hope of a rapprochement. But she is adamant: "I gave him three chances but he betrayed my trust, now I want a divorce." The court, after hearing both sides, had "ruled" in her favour.
A carpenter by profession, Sallauddin explains to the jury that his income didn't allow him to save enough to be able to pay the maintenance. But counsellor Mumtaz Jaffer is quick to counter him. "If she were living with you, would you not have fed her and paid the children's school fee?" she asks. A call is then made to Sallauddin's employer and his income verified — it is more than he had revealed. Embarrassed, Sallauddin promises to pay up two months' worth in two days, even if that means borrowing from the employer. The divorce will take place after he has collected the mehr amount by the end of the year.
See more at: http://indianexpress.com/article/india/india-news-india/in-her-court-she-feels-a-need-to-codify-muslim-personal-law/#sthash.FDQUUpKM.dpuf