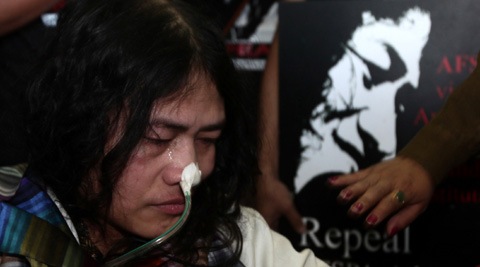 ( Source: Express news service )
SUMMARY
The Manipur government had been directed to adduce the reports of inquiry commissions.
In what is bound to add intensity to the struggle of activist like Irom Sharmila against the Armed Forces Special Powers Act (AFSPA), inquiry commission reports submitted by the Manipur government in the Supreme Court have revealed at least 10 killings in alleged fake encounters by the armed forces. Some of these people were killed because the personnel were angry and frustrated, the reports have stated.
The reports, submitted on court orders, have stated that people were killed by several security forces such as the CRPF, Assam Rifles, Manipur Police Commandos and Thoubal Police Commandos.
The Manipur government, which has been defending the armed forces personnel in the court, had been directed to adduce the reports of inquiry commissions instituted on the orders of the high court or on its own.
As per the reports, there have been instances when people were picked up for allegedly being extremists and killed on the spot. In other cases, civilians were killed in a fit of rage by the personnel.
As per one report, Yumnam Robita Devi was waiting at a bus stop on April 9, 2002 when she was killed, allegedly because CRPF personnel decided to vent their anger on civilians after their convoy was attacked by extremists who fled.
Soubam Boucha and his friend Salam Gurung were allegedly killed by a joint team of Manipur Commandos and 23 Assam Rifles in December 2009, while L Satish and Pebam G Singh were allegedly killed by Assam Rifles and Thoubam Police Commandos in their custody in cold blood, according to the reports. Notably, all the inquiry commission reports given to the court have found the armed forces guilty of abusing their powers and killing people in the name of encounters or extremism.
In one case, the inquiry commission was wrapped up by the state government after the family of the deceased requested that the state and the police wind up the inquiry.
In August 2013, The Indian Express had reported about six other cases of extra-judicial killings in the state, quoting from a court-mandated panel. The report of the panel, led by former judge Santosh Hegde, had said the six sample cases considered by it were "not genuine encounters" and that "maximum force" was used.
http://indianexpress.com/article/india/india-others/in-reports-by-inquiry-panels-tales-of-afspa-abuse-in-manipur/