As we celebrate the 75th Independence Day, it is imperative we remember these women with extraordinary courage.
15 Women Freedom Fighters in India That Made History
In 1947, India got Independence from Britishers. While there was not a single person who worked hard to get the Independence, it was a struggle of years, and many freedom fighters initiated many movements. Nationalism is not only about hearing patriotic songs, but it's also much beyond it.
Amongst all, women were equally active during the pre-independence war. Some of the Indian freedom fighters women's valor mostly remembered – like Rani Lakshmi Bai became a great example of strength and bravery. There are many women who left their families and even sacrificed their family members to get Independence from British Raj. Let's recount all the female freedom fighter who fearlessly fought for Independence. The list has many unsung heroes as well who are not known as their counterparts.
Table of Contents
List of Women Freedom Fighters
1. Rani Lakshmi Bai of Jhansi
Rani Lakshmi Bai, also known as Jhansi ki rani, was one of the first Indian women who raised her voice against British Raj. From an early age was vocal about the same. She was also one of the leaders of the Indian Rebellion of 1857. She was married to Raja Gangadhar Rao, the king of Jhansi. The couple adopted a son. However, the head of the British Government of India refused to allow her adopted son to become the king after her husband's demise and instead took Jhansi under British Raj. This was not acceptable to Rani Lakshmibai. She armed are own force and fought with the British. Though she died in the battle, she is known for her courage to fight with Britishers.
2. Sarojini Naidu
Famous as Nightingale of India, Sarojini Naidu was one of the women freedom fighters in India. She was one of the prominent among all women freedom fighters names. She was an Independence activist and poet. Naidu was the first woman who became the governor of an Indian state and was the second woman to become a president of the Indian Nation Congress. In the year 1915-1918, she traveled to different cities and delivered lectures on women empowerment, social welfare. She played an essential role in the Civil Disobedience movement and was even jailed for raising her voice in the 'Quit India Movement'. She succumbed to a heart attack in 1949.
3. Bhikaiji Cama
Bhikaiji Cama was one of the leading figures in the Indian Independence Movement. The renowned freedom fighter is also known as the Madam Cama. She worked for women equality and helped many orphanage girls to lead a prospering life. Bhikaiji belonged to the Parsi family, and her father, Sorabji Framji Patel, was an eminent member of the Parsi community. She participated in many national movements.
4. Moolmati
She is one of the unsung heroes who fought for India's Independence. Moolmati was a mother of Ram Prasad Bismil (a revolutionary) and played an eminent role struggle for freedom. She supported his son; after his death, she raised another son and supported him to join the Independence movement. Without her support and scarifies,Ram Prasad Bismil might not have got the courage to fight against Britishers.
5. Lakshmi Sahgal
Lakshmi Sahgal was one of the eminent women freedom fighters in India. She was inspired by theSubhash Chandra Bose and went on to become an active member of the Indian National Army. She also created a women's division that was named Rani of Jhansi Regiment. Following which she participated in most of the movements that were fought against the Britishers. You can know more about her in her autobiography.
6. Kittur Rani Chennamma
Known to be India's courageous freedom fighter and first women's Independence activist ruler, Kittur Rani Chennamma was a prominent freedom fighter. At an early age, she lost her husband and son and had to take responsibility for her kingdom. To save her kingdom from the Britishers, she led an army and fought back with the Britishers. Though she died in the battle but her courage inspired many others to fight for freedom.
7. Jhalkari Bai
While we do know Rani Laskshmibai, but we hardly know about Jhalkari Bai. She was amongst the first women who supported Jhansi ki Rani. Jhalkari Bai was born to the Dalit community and was strong enough to fight back with the tiger. She disguised herself as the Rani Lakshmi Bai and helped the queen to save her kingdom. Her devotion and loyalty towards Jhansi made her one of the eminent women fighters in India.
8. Annie Besant
Anie Basant comes among the names of lady freedom fighters though she was not Indian, she supported India's fight against Britishers in the best way possible. From an early age, she made echoed about the importance of birth control and other pivotal topics. She went to establish a Hindu College in Varanasi and co-created All India Home Rule League. She was arrested for the same; upon her release, she became the president of the Indian National Congress.
9. Kasturba Gandhi
Wife of Father of Nation, i.e., Mohandas Karamchand Gandhi, Kasturba Gandhi one of the unsung female heroes of India, played a pivotal role and is known to be a leading woman freedom fighter in India. She was a political activist who raised her voice for civil rights. Kasturba Gandhi worked closely with her husband and went on to become a political activist. She accompanied Gandhi to South Africa and become an active member of Phoenix settlement, Durban. She came to India, and during the Indigo planters movement, she supported Gandhi and taught people about health discipline, hygiene, and writing and reading.
10. Kamaladevi Chattopadhyay
Known to be a noted theatre actor, Kamaladevi was also a fearless social reformer. She played an important role in India's fight against Britishers for Independence. Kamaladevi was the first Indian woman arrested by the British Government for her role as a patriotic leader. She also worked hard to improve the socio-economic conditions of Indian women.
Kamaladevi also revived handicrafts and theatre and promoted them in every possible way. In the 1930s, she also participated in the Salt Movement along with Mahatma Gandhi. She was also the first woman candidate for the legislative assembly. Kamaladevi is also known for its illustrious initiative by establishing the All India Women's Conference.
11. Vijaya Lakshmi Pandit
While many of you might not know her, but we certainly know her brother Jawaharlal Nehru. Undoubtedly, she was one of the noted freedom fighters in India. She actively participated in politics during the freedom struggle and was also sent to jail. She was also an Indian diplomat and known politician who was also elected as one of the first female presidents of the United Nations General Assembly.
12. Aruna Asaf Ali
Aruna Asaf Ali showed massive participation in the Salt Satyagraha movement and was also arrested for the same. Upon her release, she led the Quit India movement. Following which she became a prominent face of strength and mobility of female freedom fighters. Also, she was the editor of Congress's monthly magazine Inquilab.
13. Begum Hazrat Mahal
Muhammadi Khanum was the courtesan who became the Begum of Hazrat Mahal in Avadh and fought against Britishers for her kingdom. She also raised her voice against the British destruction of both mosques and temples. She was often known as a prominent counterpart of Rani Lakshmi Bai.
14. Savitri Bai Phule
Savitri Bai Phule was the first female teacher in India at the first Indian girl's school. In the 19th century, she and her husband, Jyotirao Phule, supported women empowerment and broke many traditional stereotypes of society. Savitri was a courageous woman who fought every thick and thin to educate girls and is widely known for her literary work.
15. Nellie Sengupta
Though she was an English woman but promoted Khadi during the pre-independence, she married a renowned Lawyer and supported the freedom movement, which was led by Mahatma Gandhi. She even went door-to-door to promote Khadi. In 1933, she was also elected as president of the Indian National Congress.
Conclusion:
It has been more than 75 years since India got its Independence on 15th August 1947. We wouldn't have got the Independence if there were no freedom fighters. Talking about the freedom fighters, women equally supported nationalism and played a pivotal role in gaining Independence. In this blog, we have curated 15 women freedom fighters that everyone should know.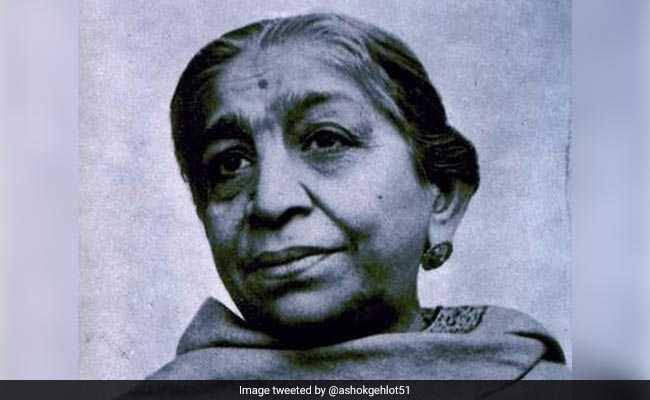 Sarojini Naidu is known as the Nightingale of India.12
Around the time Mahatma Gandhi was encouraging Indians to peacefully oppose the colonial rule and freedom fighters were trying to force the British to back down, a number of Indian women were quietly taking the centre stage and shaping the Independence movement from within. From calling for abolishing casteism to the prohibition of liquor; more directly – they were taking on the challenge to fight the imperialists to end their tyrannical rule. Some with their poetry called for a 'Swadeshi' movement while others built communities in a fractured nation to boost social reforms.
As we celebrate the 75th Independence Day, it is imperative that we remember some of these women with extraordinary courage and commitment to bring a change.
1.Savitribai Phule
Savitribai Phule worked selflessly to empower women in India, repeatedly urging them to educate themselves, particularly those who came from the so-called backward castes. She said education will the weapon that will free women from social discrimination. She is known as India's first female teacher. With her husband, Jyotirao Phule (Jyotiba), she started teaching girls in Pune and fought off those who opposed girl education at that time.
2.Mahadevi Verma
Born in a progressive Hindu family in Allahabad in 1907, MahadeviVerma evolved into a Hindi poet, freedom fighter and educationist. She adopted Gandhian ideals and herself gave up speaking in English and worked primarily khadi. She served as the principal and then as the vice-chancellor of Prayag Mahila Vidyapeeth, a residential college for women in Allahabad. However, Mahadevi Verma did not actively participate in political activities. She is often compared to the 16th-century Bhakti Saint Mirabai.
3.Capt Laxmi Sehgal
Born in 1914, Capt Laxmi Sehgal studied at the Madras Medical College and did her MBBS in 1938. After that, she and her family got involved with the freedom movement. She helped build the first all-women regiment of Netaji's Indian National Army and also commanded it. She also helped in treating the prisoners of war and soldiers who got wounded during combat.
4.Rani Laxmibai
The queen of the Maratha princely state of Jhansi in North India, Rani Laxmibai became a symbol of resistance for women across India during the freedom movement. She was born in 1828 in Kashi as "Manikarnika". She was married to the King of Jhansi, Gangadhar Rao, when she was only 12. After her husband's death, the responsibility of the state's administration fell on Rani Laxmibai. She made clear to the British she will not surrender to their rule. She bravely defended her province with a small army for seven days. She fought the British fiercely and died in the battle near Gwalior in 1858.ADVERTISING
5. Basanti Devi
Born in 1880, Basanti Devi joined the freedom movement in 1921 after her husband Chittaranjan Das, affectionately called 'Deshbandhu', was arrested for his activities against the British Raj. Basanti Devi was the first woman to court arrest with her sister-in-law Urmila Devi during the non-cooperation movement. She also took part in the Khilafat movement and the civil disobedience movement.
6. Sarojini Naidu
Sarojini Naidu was a political activist whose poetry earned her the nickname of The Nightingale of India. A follower of Mahatma Gandhi, Sarojini Naidu was the first woman president of the Indian National Congress.
7. Uda Devi
Uda Devi fought against the British in the rebellion of 1857. The story goes that she approached Begum Hazrat Mahal to seek help in preparing against the British. She led one of the fiercest battles in Lucknow against the British, killing over 30 soldiers. Uda Devi and other Dalit participants are today remembered as the warriors or "Dalit Veeranganas" of the 1857 Indian Rebellion
8. Umabai Kundapur
Often considered to be an unsung hero of the freedom movement, Umabai was the founder of 'Bhagini Mandal'. In 1946, Mahatma Gandhi appointed her as the agent for the Karnataka branch of Kasturba Trust.
There are, of course, many other women who shaped India's freedom struggle. On this 75th Independence Day, they are remembered with reverence and respect.