According to data shared by hospital superintendent G S Rao, out of 777 newborn babies (both admitted post-birth and those born in the hospital) between January 1 and May 20, 111 did not survive, which shows a mortality rate of 14 per cent
Bhuj
| Updated: May 26, 2018 5:56:29 pm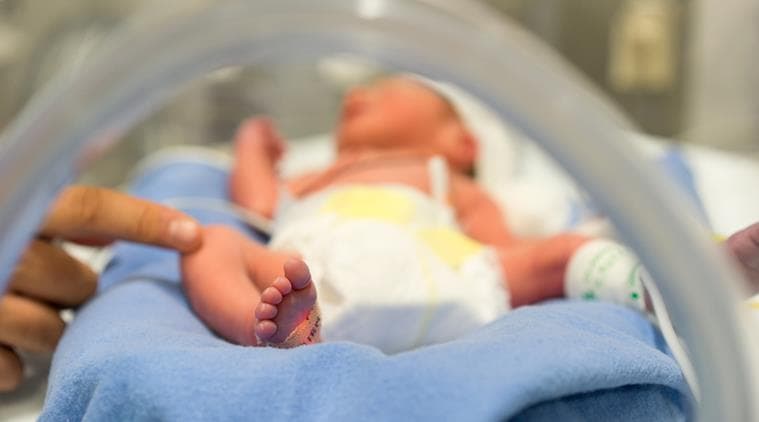 "We have formed a team of experts to probe reasons behind these deaths. We will take appropriate steps after the team submits its report," Gujarat Commissioner of Health Jayanti Ravi said. (Representational Image)
The Gujarat government on Friday ordered an inquiry into the deaths of 111 newborns in five months at the Adani Education and Research Foundation-run G K General Hospital in Bhuj. As per the data released by the hospital, 111 infants died in the first five months of 2018, ending May 20.
While the hospital management cited reasons including delayed admission or malnutrition for the deaths, the government formed a team of experts to conduct the inquiry. "We have formed a team of experts to probe reasons behind these deaths. We will take appropriate steps after the team submits its report," Gujarat Commissioner of Health Jayanti Ravi said.
According to data shared by hospital superintendent G S Rao, out of 777 newborn babies (both admitted post-birth and those born in the hospital) between January 1 and May 20, 111 did not survive, which shows a mortality rate of 14 per cent. In 2017, 258 infants had died, while 184 and 164 infants had died in the hospital in 2016 and 2015, respectively.
"The percentage of deaths against admission was 19 per cent in 2015, 18 per cent in 2016 and 21 per cent in 2017, which was relatively higher. This year (till May), 111 newborn have died," Rao told reporters here.
"Since the mortality rate is 14 per cent, I think it is less than previous years. And, the way we are working, it will remain lowest at the end of this year," he added. According to him, delay in referring children to the hospital is one of the reasons for deaths, as crucial time is wasted in travelling to Bhuj from interior parts of Kutch district.
"One of the reasons for death is pre-mature births. Another (reason) is malnutrition as mothers may not have taken proper diet which help the baby gain weight inside the womb. Delayed reference is also one of the reasons," said Rao.
"If a family comes here by travelling 250 kilometres, the delay would certainly affect the chances (of survival). Our staff regularly discuss these issues among ourselves and we are working to reduce the deaths," he added.
agencies