The media has finally started to report on manual scavengers suffocating to death in sewage holes, but a story that continues to slip is the state's blatant neglect of home and community-based manual scavenging, 95 per cent of which is done by Dalit women. Manual scavenging is a caste-based division of labour handed down over generations of women, who are bound by this oppressive system to clean dry toilets of people living in their own villages or urban neighbourhoods.
Women married into families of this caste suffer the torture, mental and physical pain of this inhuman practice. They lift and carry heavy loads of excrement in cane baskets to designated sites of disposal. In the heat of summer and during the rains, the excrement leaks on to their faces and bodies. The stench and working conditions are unbearable.  Their menfolk are expected to carry out other "polluting" tasks, including disposing of dead animals, cleaning placentas after delivery, and various funeral-related activities. Despite hundreds of testimonies of subjugation, oppression, sexual harassment and marginalisation that these women have narrated to the State, many governments continue to prolong their state of denial.
After the long struggle of manual scavengers and people's movement, "The Prohibition of Employment as Manual Scavengers and Their Rehabilitation Act, 2013" was passed by the central government. The Act prohibits employment of manual scavengers, construction of insanitary latrines, and rehabilitation of manual scavengers with one-time cash assistance, scholarship for their children, and a residential plot with financial assistance for constructing a house. One of the important components of the law is identification of manual scavengers across the country through surveys. Up until October 2017, the Ministry of Social Justice and Empowerment has identified only 13,384 manual scavengers (4375 in urban and 9014 in rural) in 11 states of India. Of these, 12,640 received the one-time cash assistance (Rs 40,000) from the government and 4,643 received vocational training.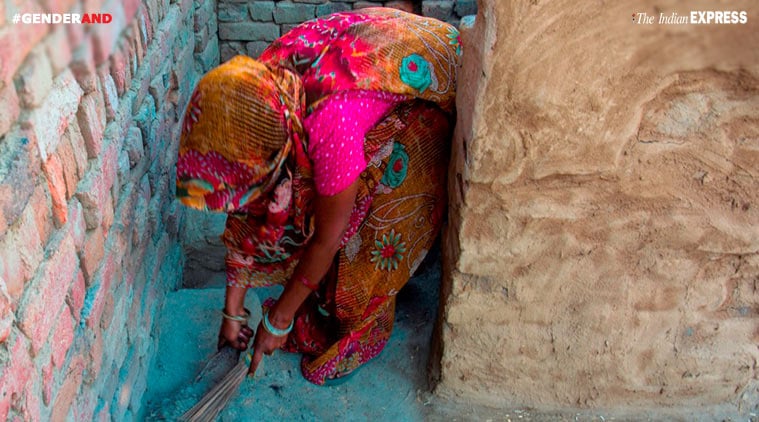 95 per cent of home and community-based manual scavenging is done by Dalit womenNow compare these dismal numbers with what the State reports on itself. According to the Census of India (2011), there are 7,94,390 dry latrines where humans clean excreta — 73 per cent of these are in rural areas whereas 27 per centare in urban areas. Apart from these, there are 13,14,652 toilets where human excreta is flushed into open drains. A total of 26 lakhs [2.6 million] dry latrines exist in the country where the practice of manual scavenging still continues.
According to Socio-Economic and Caste Census (2011) of rural India, 1,80,657 rural households surveyed were engaged in manual scavenging. Highest numbers of manual scavengers were identified in the state of Maharashtra. Madhya Pradesh was second followed by Uttar Pradesh, Tripura, Karnataka, Punjab, Daman and Diu and Bihar. The same caste census reported that the states of Goa, Assam and Chandigarh had no manual scavengers. Manipur, Lakshwadeep and Himachal Pradesh had one. Delhi reported just six manual scavengers. Surveys and evidence collected by civil society organisations expose the rampant practise of manual scavenging in many of these states.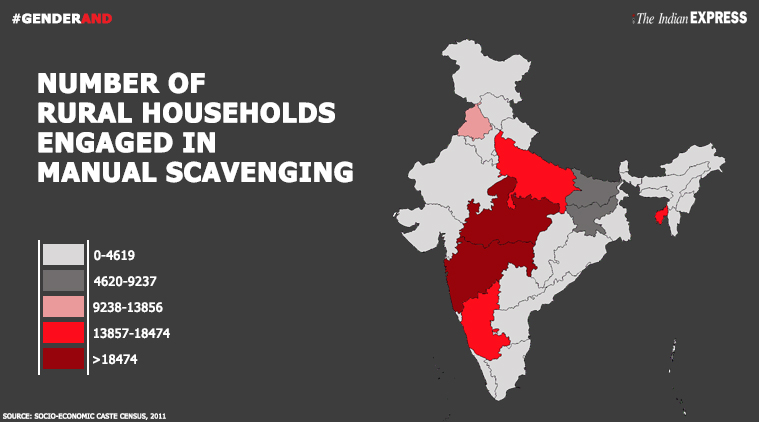 What can be said with conviction and evidence is that the Government of India, both at the state and Centre, continues to violate their constitutional responsibility of implementing the law, and only pay lip service to empowering Dalit women. The sole basis of the successful implementation of this law exists on the condition that the state accepts that the practise of manual scavenging exists and commits to the holistic rehabilitation of the community. The law depends on district collectors, municipal commissioners and taluk and panchayat chiefs to responsibly enumerate the number of manual scavengers still engaged in this inhuman practise.
This will mean, that these offices of authority will have to admit to their role in perpetuating the practise and invest in sanitation systems that are free from human interface, which by itself is a very tall order. In most cases, the mandated district vigilance committees whose job it is to oversee the economic and social rehabilitation of manual scavengers, as well as monitor registration of offences (under the Act), their investigation and prosecution, have either not been formed or are dysfunctional. When formed, they exclude experienced civil society organisations and women.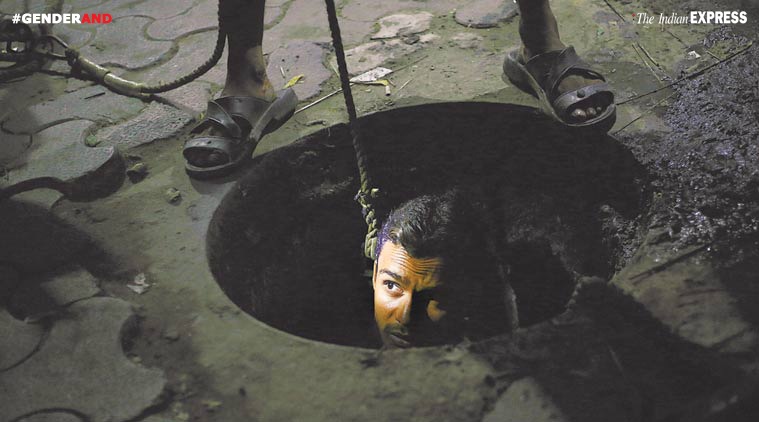 One of the important components of the law is identification of manual scavengers across the country through surveys. (Express Photo: Tashi Tobgyal)The central government recently announced its plan to conduct a fresh survey in 164 districts of India. While this is a welcome move, before embarking on this humongous exercise, it will be good to reflect and learn from the mistakes made in the last five years. First and foremost, there is a need to understand that eradication of this inhuman practise requires a change in the mindset of state officials who are responsible for its implementation. It requires a commitment to ensure that every woman and man engaged in this division of labour, not just receives a cheque of Rs 40,000, but are provided with rehabilitation that gives these families a real chance and the power to lead their lives with dignity. This includes free decent housing, relevant vocational training, financial assistance for self-employment opportunities and free education and scholarship for the children of these families. If the government is able to identify all the women and men who till this date are victims of the caste-based oppression and provide them with alternate options, it will not only be empowering them, but also making amends for its own sinful history
http://indianexpress.com/article/gender/2-6-million-dry-toilets-and-13384-manual-scavengers-do-the-maths-5064728/