'If they felt that my post was wrong, they should have filed a defamation case against me.'
'Why pick me up in the night and detain me?'
Abhishek Mishra, a 20-year-old civil engineering student, posted against demonetisation and Madhya Pradesh Chief Minister Shivraj Singh Chauhan on his Facebook page on November 11.
Within nine hours, the MP police arrived at his home, blindfolded him and detained him for 12 hours at an unknown location.
Bhopal Inspector cyber cell Ravikant Dehariya confirmed the arrest. He told the Hindustan Times, 'Abhishek was involved in posting offensive comments and posts against the chief minister and other dignitaries. We arrested him, deleted all the posts from his Facebook and also blocked his Website.'
Mishra, below, left, spoke to Rediff.com's Syed Firdaus Ashraf about his ordeal.
Can you tell us what happened to you on the night of November 11?
Eight policemen in civilian clothes came to my home at midnight.
They picked me and blindfolded me.
I have no idea where they took me and where I was detained for 12 hours.
The only relief was they helped me go to the bathroom and gave me tea.
What was your post on Facebook that upset the MP government?
On the afternoon on November 11, I posted a message on demonetisation against the chief minister of Madhya Pradesh.
I was arrested within nine hours.
You made wild allegations against Chief Minister Shivraj Chauhan, didn't you?
I agree, but I got the news from a source.
If they felt that my post was wrong, they should have filed a defamation case against me.
Why pick me up in the night and detain me?
Are you anti-BJP (Bharatiya Janata Party)?
I am not anti-BJP. I always liked them. You see my earlier posts. I have praised Shivraj Singh Chauhan.
Till the time I said he was a good chief minister everything was good, but the day I criticised them they started attacking me.
Does the BJP not spread false news? I have proof, but nobody takes action against the BJP's IT cell.
They only arrest people who speak against them.
No action is taken against the mainstream media for spreading false news, but they are taking action against a small man like me.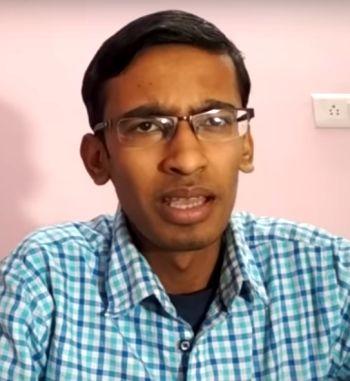 So you feel you should have been booked under the defamation law.
Yes, they should have done that.
If I had done something wrong, then I would have apologised publicly to Chauhan.
But they registered an FIR against me, which I feel was wrong.
They have filed a case against me under Section 469 of the Indian Penal Code and Section 66C of the Information Technology Act.
What did you post on demonetisation?
I wrote that people will suffer a lot.
I wrote that 50 people had died due to demonetisation.
What happened during your detention?
I was scared and thought I will be beaten up.
I thought anything can happen to me and I can even die.
Akshay Singh, an Aaj Tak reporter who was reporting on the Vyapam scam, had died mysteriously.
Did you not tell the police that you wanted to call your parents or a lawyer?
I was alone at home when they came to arrest me.
I could not call anyone because they did not give me a chance.
They just came and put me in a car.
It was only the next day that I got a chance to call my family.
Why did they let you go?
The next day they called my friends and I was let off.
I never saw any police officer or anybody (to know the answer).
Are you from the Congress party's student union (the National Students Union of India)?
I am only a student. I just have political views and posted what I felt was right.
I never expected this would happen to me.
Now I have to go to court on December 2 because of my political views.
What did the police do at your home?
They took my laptop and mobile phone. They never gave me an acknowledgement.
They asked for my password and opened it (his laptop and phone). They saw all my personal photos and Whatsapp messages without my permission.
Do you feel that one needs to be more responsible on social media? Or do you feel democracy is in danger?
From the time the BJP has come, this is happening.
During the Congress regime, when (then Union IT minister) Kapil Sibal said that people should act responsibly on social media, the BJP protested.
They started posting black photos on social media. Now they are doing the same things.
The BJP guys are posting most of the fake news and no one is ready to speak against them.
Do you feel people need to be careful on social media?
No way. Social media is for the public and the public has every right to speak.
http://www.rediff.com/news/interview/the-20-year-old-arrested-for-speaking-against-demonetisation/20161129.htm