'
'Go to any village, you'll find a Dalit 15 years and above wearing jeans.'
'Earlier, Dalits were not allowed to wear a dhoti till the ankles. Jeans does not have this kind of restrictions or design. It is universal. So Dalits have also entered a caste neutral clothing zone.'
'Wherever you see Dr Ambedkar's statue in this country or abroad, he is always wearing a suit and with that English comes naturally. The Dalits' veneration of Western dress is very intense,' Dalit thinker Chandrabhan Prasad tells Archana Masih/Rediff.com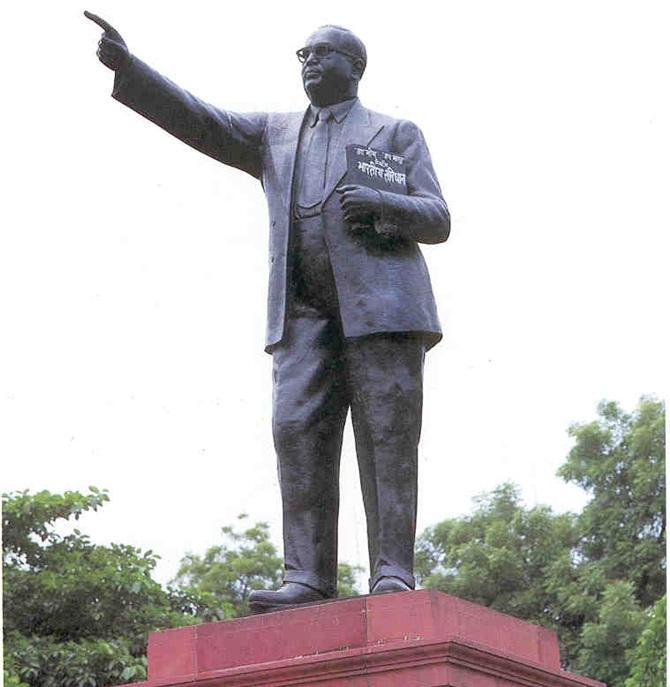 A child's birth certificate may now have 'Dalit' written on it as per draft guidelines by the government. Is this a good policy to adopt?
This is mindless, stupid, nonsensical. Why should it be mandatory for a Dalit to declare herself/himself as one? It should be left to them if they want it or not. Why are you forcing somebody to declare that s/he is Dalit.
A Dalit middle class is emerging that is not using any reservation benefit. If they are not using any reservation benefit, why do you want them to disclose that they are Dalit.
What about the Dalits that are not from this emerging middle class group? Won't it be helpful to have this on their birth certificate where they don't have to get any other certificate to prove their identity?
Those who want these benefits for their kids will certainly benefit from it. Let them have it, but why make it mandatory to all Dalits?
From my childhood I have experienced that almost always Dalits get lower marks in practical examinations and higher marks in theory.
Most often they get lower marks in internal assessment and higher in external assessment.
India has not become a caste-free society, though it is weakening day by day.
By declaring in a classroom that you are a Dalit, you are declaring it to the teachers who have castes, so why make it mandatory?
It should be optional. Those who don't want to declare, allow them not to.
India is changing and many Dalits do not want reservation.
What are the biggest changes that you have seen in the Dalit community in the last two years?
We did a project for the Centre for the Advanced Study of India, University of Pennsylvania. We studied 20,000 Dalit households in two blocks of Uttar Pradesh, in Azamgarh and Bulandshahr.
It was not pick and choose, but the entire Dalit households were surveyed in these two blocks.
I find that here and elsewhere in India too Dalits have entered a caste neutral food zone. Earlier, like caste there was a food hierarchy as well. Now Dalits have entered into rice, wheat and pulses.
There is a jeans-trouser-t-shirt revolution going on. Go to any village, you'll find a Dalit 15 and above wearing jeans.
What about girls?
Girls are in salwar kurta, in some families they don't wear jeans in the countryside. Earlier, clothes also had caste markers.
Dalits were not allowed to wear a dhoti till the ankles. Jeans does not have these kinds of restrictions or design. It is universal.
So Dalits have also entered a caste neutral clothing zone.
Thirdly, Dalits are fleeing farm work. I cannot think of a Dalit girl age 15 or so working for a landlord. That is the change I've seen in UP.
If they are not working on farmland, what work are they doing?
They are going to Delhi, Mumbai, Ahmedabad, Aurangabad, Gurgaon, Faridabad. They are fleeing to industrial centres. This Dalit revolution defied NREGA (National Rural Employment Gurantee Act) also.
Many believe that NREGA was brought in to prevent the Dalit migration to cities and that it was to protect the landlord who was assured that Dalits would be there for 100 days and would be available for farm work also.
Dalits fleeing farm work means that Dalits are entering into a freedom zone because when you work for a landlord, he owns not only you but your whole family.
What is the change in the lives of Dalits in neighbouring Bihar?
There is change, but not to that extent. Bihar society is a very peculiar. The upper caste, those who have money don't spend much on themselves or their well being, fashion and lifestyle.
So money does not expand and flow down to lower hands in Bihar society, if money does not extend then social markers will not dominate.
In Bihar change is slow, but it is happening there also.
If you compare the upper castes of UP with Bihar, you'll think the Bihari upper caste is an OBC (Other Backward Class). They don't spend money in shops, so money will not flow. The money does not spread.
For example, when I came to live here (Noida, UP) there was one florist and 2, 3 ice cream vendors. Now there are 30 ice cream vendors and 20 florists.
If the middle class is buying it, the guy who is selling it — is either Dalit, OBC or Muslim — so 50 people get jobs because of this. If a higher caste doesn't spend, it doesnt go down to smaller hands.
You were constructing a temple to Goddess English in UP. What happened to it?
The last government (the Mayawati-led Bahujan Samaj Party government in UP) stopped construction, thinking it would lead to clashes and this government (the Samajwadi Party) is too hostile to English.
What is the top most aspiration of Dalit youth that you meet?
Speaking in English.
Dr Ambedkar's take on English was that English is the milk of the lioness. Wherever you see Dr Ambedkar's statue in this country or abroad, he is always wearing a suit and boots and with that English comes naturally. The Dalits' veneration of Western dress is very intense.
Attend a Dalit wedding in north India or a slum, they will ensure that the bridegroom is always dressed in a suit.
IMAGE: A statue of Dr B R Ambedkar, the architect of India's Constitution and first law minister. This is the 125th year of his birth.
http://www.rediff.com/news/column/a-jeans-t-shirt-revolution-is-going-on/20151127.htm