Just three days back a Policeman succumbed to his injuries after  bleeding for 30 minuets on the road  , while bystanders clicked pictures.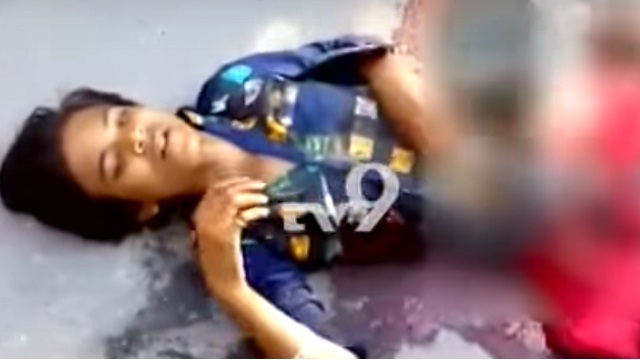 In yet another incident of public apathy, an 18-year-old boy succumbed to injuries following a road accident in Koppal as onlookers clicked pictures of the bleeding victim.
In the incident caught on camera, the boy lay bleeding with an agonising pain for about 25 minutes before he was rushed to a hospital nearby by.
The video footage that has now gone viral shows the victim lying in a pool of blood crying for help, while some one gives him water.
The incident happened yesterday morning when Anwar Ali was cycling to the market where he worked, police said today.
He was hit and run over by a state transport bus going to Hubballi from Hosapete.
They said Ali who was rushed to the hospital by an ambulance succumbed to his injuries around 1:30 pm, Ali's brother Riaz said.
".. no one came to his help, they were making video and clicking pictures.If someone had cared, my brother could have been saved.More then 15 to 20 minutes were wasted there." Police have registered a case in this connection.
A person who claims to be an eyewitness to the accident said, "People at the spot were shocked and did not know how to help him as the victim was severely injured and was bleeding profusely."
Locals complain that the spot where the incident took place is an accident prone area and authorities have not taken action despite repeated incidents there.
Recently, in a similar incident, a 38-year-old police officer deprived of timely medical help by onlookers succumbed to injuries following an accident in Mysuru.
Karnataka has Good Samaritan law to protect those who provide aid to accident victims.
As bystanders click pictures, policeman bleeds to death
 A 38-year-old police officer died due to lack of timely medical attention after a road accident, as onlookers busied themselves clicking pictures of the scene.
In the incident caught on camera, the officer was seen bleeding with agonizing pain for about 30 minutes in his mangled jeep, even as scores of bystanders at the accident site clicked pictures. He was then rushed to a nearby hospital by the authorities.
The incident occurred on Saturday near Alanahalli on Mysuru-T Narasipura road here, when Inspector Mahesh Kumar of the District Crime Branch along with his driver Lakshman (32) were on their way to Suttur in their official jeep.
While Lakshman died on the spot, Mahesh succumbed to his injuries soon after he was rushed to the hospital.
Video footage of the scene soon after the accident has surfaced since then.
Lamenting that a life had been lost despite awareness programmes about timely help to accident victims, officials said a case has been registered
about the incident where the jeep and state transport bus collided headon.
http://www.business-standard.com/article/pti-stories/as-bystanders-click-pictures-policeman-bleeds-to-death-117013001215_1.html