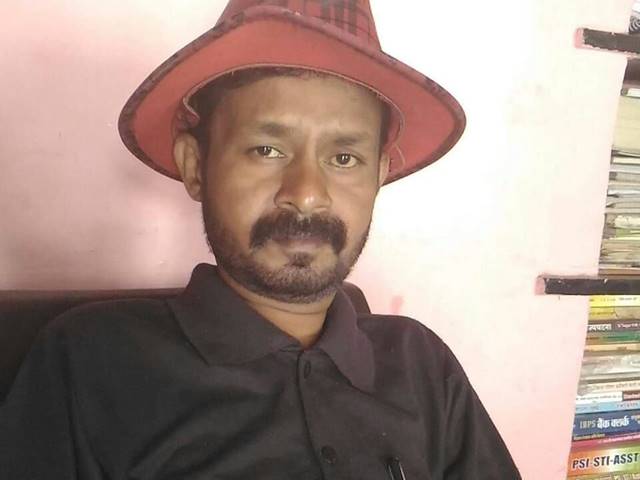 By Daisy Katta, TwoCircles.net
In a terrible jolt to the Ambedkarite movement in Maharashtra, Shahir Shantanu Kamble, a 39-year-old poet on whose life the movie 'Court' was based, died in Nashik. Shahir Shantanu Kamble belonged to the fierce tradition or Vidrohi Shahiri (Resistance poetry performance) in Maharashtra's anti-caste movement. Kamble, who originally belonged to Atpadi Taluka in Sangli, was a son of a labourer Napha Kamble and came to Mumbai in early 2000 to work in an NGO. He spent many years staying at the Barkat Ali Chawl in Wadala area of Mumbai.
Kamble is survived by his wife Deepali. According to people close to the family, Kamble had been ill for some time and died of a stomach ailment.
Growing up in Atpadi, Shantanu Kamble witnessed oppression of castes first hand. He grew up in a culture which was enriched by various forms of art and performances like lok geet and jalsas related to the anti-caste movement.
Speaking about Shantanu Kamble, actor and activist Vira Sathidar recalls, "It was when he came to Mumbai that his poetry was sharpened ideologically. I remember that whenever he would preside over any meeting in Mumbai, he would first start by telling the people about the history of poetry and music, why and how it was created and how it came into being, and what is the connection between poetry and the shramik (Labourers)".
"where firsts raise against injustice
where small birds fight against eagles
from this battleground, you come muffled in blood-sandal
you come, you come, you come
breaking shackles, you come…."
( Shantanu Kamble performing Samtechya Vatene)
Kamble's poetry and songs not only encompassed the realities of caste oppression, exploitation and inequality but also that of humanity and human relations. He penned one of his most popular songs Dalitare halla bol na…Shramika re halla bol na (Dalits raise your voice..labourers raise your voice!) after the gruesome Khairlanji Caste Atrocity which took place in 2006 in Maharashtra. He was one of the founding members of the Kabir Kala Manch but left it soon after its inception to work with Republic Panthers.
( Shantanu Kamble performing Dalita re halla bol na)
In 2005, he was accused by the Nagpur police of having Naxalite connections, however, he was later acquitted after spending around 100 days in jail. The 2014 National award-winning Marathi movie "Court" was based on his life where is friend Vira Sathidar played the lead character of Narayan Kamble.
Sahiri has been a long tradition of rebellious songs in Maharashtra's anti-caste movement. The tradition of Shahiri was popularised by Mahatma Jyotiba Phule in 1873 in his Satyashodhaks Jalsas to bring people together and to protests against the upper castes oppression the medium of songs and theatre. These traditions were taken forward during the beginning of anti-caste movement in the 1920s with the rise of Babasaheb Ambedkar. This era saw a resurgence of Shahiri in form of Ambedkari Jalsas which took the message of anti-caste oppression and liberation to the masses. Unlike the upper caste poetry and performances practised by Brahmins, Shahiri was a form of a mass folk art of songs and performance which was in the language of the masses.
The tradition of Shahiri was taken forward by a host of people like Shahir Bhimrao Kardak, Wamandada Kardak, Lokshahir Annabhau Sathe, Lokshahir Vithhal Umap, Shahir Vilas Ghogare and Shahir Sambhaji Bhagat to name a few. Songs like Jaltoy Marathwada (Marathwada is burning) by Sahir Vilas Ghogare become the song of the Namantar Movement in Maharashtra.
Throughout his short life but fruitful life, Shantanu Kamble was part of many organisations like BHARIP of which he was the head of Nashik Division. But he spent a majority of his time dedicated to Republican Panthers, a cultural revolutionary organisation which came into existence after the 1997 Ramabai Nagar Atrocity in Mumbai.
Vira Sathidar met his old friend Shantanu Kamble in May. Recalling the incident, Sathidar told TwoCircles.net "When I asked him 'What has happened to you' Shantanu Kamble replied, 'This is all a part of a journey to become Ghalib'."
http://twocircles.net/2018jun17/423803.html