Monday, Nov 4, 2013, 7:39 IST | Agency: DNA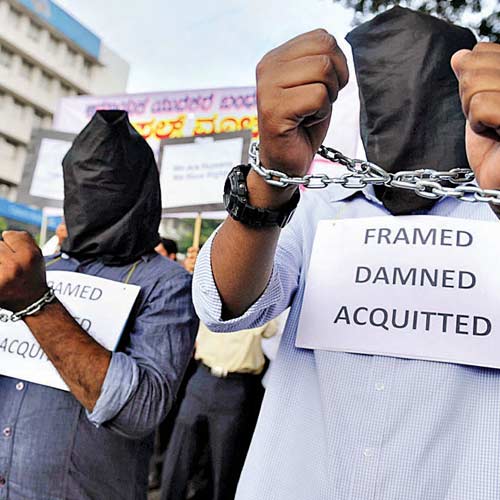 Pic for illustrative purpose only
Despite being the most peaceful and largely a terror-free state, Madhya Pradesh has fairly a large number of prisoners booked under anti-terrorist laws. The state police may take credit for foiling terrorist plans in advance, but a cursory look at the evidences against as many as 200 youth in 80 different cases under the amended Unlawful Activities (Prevention) Act (ULAPA), belies the claim and exhibits the mindset of randomly booking youth of a particular community.
Muslims, who comprise 6% of the state's population, account for 13% of the jail population in the state. In 2013 alone, the state has filed 8 FIRs for, what the officials called, "non-violent" acts of terrorism.
Documents and evidence gathered by a research team under the Jamia Millia Islamia Teachers Association has found cases being registered against members of the banned Students Islamic Movement of India (SIMI), their friends and acquaintances – and often people with no links to either SIMI, or with any of its former members. Documents also show sanction for prosecution been granted for their trial, without going through the seized material. In one case, the chief secretary, the sanctioned authority, confessed in court that he could not read Urdu and the material was not even translated for his consideration.
Surprisingly, the language of almost 78 FIRs filed at different places and at different times is remarkably similar. The common thread in the FIRs is that the accused were standing in public places and shouting slogans in favour of the banned SIMI. "They were carrying posters and pamphlets, as if waiting for the police to arrest them with proof of their guilt. In many cases, the accused was addressing public at the time of arrest. But the police is unable to arrest anyone, except the alleged speaker," pointed out the report which will be released in Bhopal next week.
Not only are the crimes identical, but so are the set of accused and the dates and time of the crimes. In other cases, it appears that old FIRs are brought out, the files dusted and the facts of the case simply copied on to a new FIR. Same copy of a magazine is being produced in at least four different cases across the state. The same receipt of contribution to SIMI funds has been produced as evidence at least in two different cases.
On 7 April 2008, the police in Chachoda raided the house of one Rafeeq Maulana and arrested nine persons including five of his neighbours. The incriminating material listed by the police having recovered from the spot are clippings of Hindi newspapers NaiDuniya and Dainik Jagran, identity cards, mobile phones and a document related to appeal for funds issued by a registered madrasa Darul Uloom Rashidia of Mewat in Rajasthan. All these people are in jail.
In another striking case, Imran Ansari, accused and arrested in another case, was charged with holding a "secret meeting" on 1 November 2006, in Wadi Chicken Centre, Banda Compound in Indore, while he was in police custody. He is alleged to have met with the owner of the Wadi Chicken Centre, Akhtar Rasheed, Abdul Razzaq, Gulrez and others to disturb the communal harmony and to perform terrorist acts. The two constables Rajesh Jhansekar and Parshuram Dawar who had brought Ansari to Indore from Khandwa were suspended. But, they were soon reinstated and no case was filed against them for allowing such a "secret meeting".
More brazen is FIR No. 36/06 in police station Gohalpur, under which 23 people are behind bars. The FIR claims that on 12 January 2006, on the occasion of 'Eid Festival', these people had put a hoarding on the electric poll at Charkhamba wherein a drawing of an Ox and Camel was drawn. The police inferred the picture was put to encourage people to sacrifice these animals.
In another brazen case, police claimed a citizen Raja Bhaghel reported that at a bus stand at Seoni, two persons Ahmad and Abdul Rahman, persuaded him to purchase a particular book. When he purchased and read the book, he found that it was a journal of SIMI which had articles spreading hatred against other communities. A magazine Tehreek-e-Millat, allegedly seized from a lady Asiya Khan in Kotwali Khandwa and shown as an item of recovery in the court, has magically also appeared in the seizure list of Mumbai ATS in at least four different cases.
Commenting on these cases, former senior police officer KS Subramanian believes while terrorism is a live phenomenon and needs to be tackled with iron hand, booking innocent youth on frivolous grounds creates an unrest and resentment. "This becomes the breeding ground for disenchantment and victims become easy catch for sponsors of terrorism," he said, adding that a cycle of terrorism needs to be broken by providing transparent policing, justice and stopping harassment of innocents.