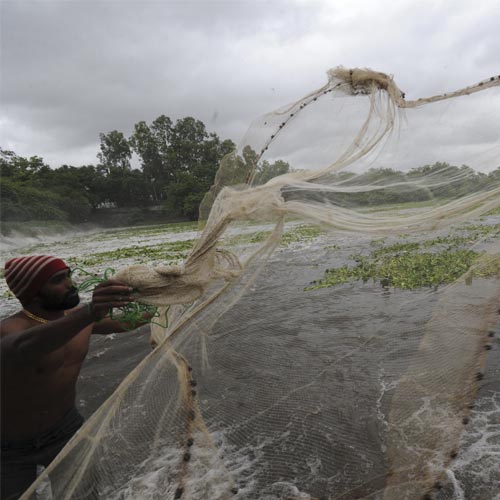 For representational purpose – Naresh Natu/DNA
In Gujarat's Saurashtra region, fishermen are in a Catch-22 situation. With Pakistan's Maritime Security Agency (MSA) preying on Indian fishermen who accidentally cross non-demarcated sea boundaries in search of a good catch, banks are refusing to give them loans to buy trawlers. Without trawlers, it's anybody's guess how they make a living.
Managers of both public and private banks have officially put loans to fishermen in the "risky investment" category, owing to arrests of fishermen and confiscation of their boats in alleged international waters. This makes loan recovery near-impossible.
To date, 765 trawlers, each worth Rs30-35 lakh and supporting the livelihood of 100 people, are in Pakistan's custody. While some fishermen are let off in prisoner swaps, after protracted negotiations years after being jailed, their trawlers are never released.
Veljibhai Masani, a fisherman in Porbandar, says the situation has come to such a pass that fishermen have no go but to take loans from private moneylenders at high interest rates. "To repay these, they are forced to go deep into the sea for a good and quality catch after crossing borders since they don't want to return empty-handed."
Things, he adds, get worse when the boat is confiscated or is capsized by Pakistani security guards. This, alleges Masani, has sparked suicides in the region.
Masani blames industrialisation for leaving several fishermen at sea. "A few years ago, fishermen used to return with a big catch in six to seven days. But now, it takes 12-13 days, primarily because of industrialisation and the spread of chemicals in the coastal region."
Besides, the Gujarat government has banned big boats to catch fish within five nautical miles of the Gujarat coastline.
Pakistani peace activist Karamat Ali, while conducted a survey in his own country, found around 200 Indian trawlers in Pakistani custody which could be put to work after minor repair works. But, he points out, governments fail to pursue the release of trawlers while pushing for prisoner exchange.
There are reports that Pakistani maritime agencies recently auctioned some Indian boats at throwaway prices, which is illegal and in violation of international laws and treaties.
Premjibhai Solanki, a boat owner, claims that there is no fish left along Gujarat coastline.
The waters of the Indus delta are considered the best for fish breeding, which lures Indian fishermen into Pakistan's territorial waters for a better catch. This has made the Kutch sea the scene of numerous arrests.
Till 2000, both countries used to release arrested fishermen after they had spent six to seven months in custody. "But now it takes years. Earlier, their boats were also released with them. But the process has been suspended. There is a need to revive the old system," urges Rambhau Patil, chairperson of National Fishworkers' Forum.