Friday, Nov 29, 2013, 7:22 IST | Place: THIRUVANANTHAPURAM | Agency: DNA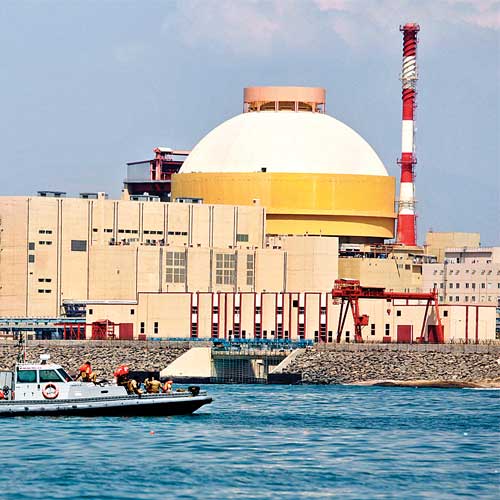 The blast which killed six persons, including a woman and two children, at a village near Kudankulam nuclear plant in Tamail Nadu's Tirunelveli district has exposed the chinks in the security agencies' armour.
It is generally believed that if the activities of personnel of various Central security agencies deployed at Kudankulam, situated at nearly 100km from Thiruvananthapuram, in view of the years of simmering popular protest to stall the installation of the mammoth Russian-built plant at the sea-front had been coordinated in a better and more imaginative manner, the blast would have been averted.
More shockingly, that the incident took place hardly two kilometres from the live plant throws light on the possibility of making it a soft target for sea-born miscreants sent by forces bent on destabilising the country.
The only relief for the agencies is that the blast of powerful home-made bombs was not the handiwork of People's Movement Against Nuclear Energy (PMANE), which has been spearheading the agitation. Having realised this,  the Tamil Nadu police have dropped the names of PMANE leaders Uthaya Kumar, Pushparayan, Mukilan and their several associates from the case.
Now the police have registered an FIR against a polytechnic student Vijaya, who was seriously injured in the blast and two deceased in the incident — Yahappen and Susaimariya — said district police chief Vijayendra Bidari.
The country bombs went off at a colony set up for tsunami victims at Idinthakari village adjacent to Kudankulam. The deceased and injured have taken shelter along with several others here from the sand mafia which calls the shots at the village of Kuthenkuly which is nearly 10km from Kudankulam.
The police say that the villagers lost a fierce fight with the mafia engaged in mining sand from sea shore and fled the village. They had been making bombs to hit back at the mafia.
The villagers say that Kudankulam and neighbouring villages have been witnessing bloody skirmishes between people and sand mafia for the past several years. The Kuthenkuly villagers and mafia called a truce three years ago yielding to the pressure of police, but it did not last long.
Authorities are aware that explosives are widely used in clashes between the people and mafia and the explosives are taken from one village to another through sea. Yet, the state police and security agencies have failed to clear the area of explosives despite the fact that the nuclear power plant is located at almost a porous shore and residents' ire against the plant has been raging.
Though the authorities at the plant have been shocked by the incident, none has openly expressed it.
"It's a security issue to be dealt by the police and other agencies. Let the board of directors
of Nuclear Power Corporation of India Ltd look into the issue,'' plant site director RS Sunder reported to have told media