With the note-ban crippling money orders, migrant workers in Maharashtra are unable to send cash home to hungry families. In Adul, Aurangabad, labourers from five states are struggling with a bank system they don't understand and which doesn't work for them
"This new account you will open for me here," a terribly worried Dheeraj Rehuwamansoor asks the friendly bank manager, "can I operate it from elsewhere in the country?"
Well, says  Sanjay Ashturkar smiling, "I will give you an ATM card and you can use that in your own state and town, wherever there is an ATM."
"Of what use is that to me?" asks Dheeraj, even more worried. "I have no idea how to use an ATM card. Will it work with my angootha chaap?"
It's the bank manager's turn to look worried. He knows this is a legitimate question. He knows three men in the group he's talking to are illiterate.  And that while biometrics might one day have an answer for them, no such means of measurement exist here in Adul town of Aurangabad district. Where it does, it is often in disuse or disrepair.  He also knows that Dheeraj's chances of accessing an ATM in his village in Bahraich district of Uttar Pradesh, or in rural Lucknow where his family now lives, are negligible.
"If I get a cheque book, I can use my angootha with that, no?"  Well, no, not really. This is a no-frills savings bank account and has no cheque book.
Dheeraj is close to tears. "How will I send money back to my family? If I put it in here – and even if they go all the way to Lucknow – how will they access it? They will go hungry till I can reach them some cash."
Dheeraj is one of 11 manual labourers from five different states working in Adul in Maharashtra. Four others bearing the same surname as he does, are also from UP.  The rest are from Assam, Jharkhand, Bihar and West Bengal.  Each earns Rs. 350 a day. From this modest amount, the migrant workers meet all their expenses on food, shelter, transport, clothing – and still manage to send something back home to their families.  Until they were surgically gutted by the demonetisation order of November 8.
We are in the Adul branch of the State Bank of Hyderabad (SBH), an associate of the State Bank of India. A helpful group of bank employees, including the manager, are trying their best to open accounts for the migrants.  It's way past working hours, but the staff are still there to help this vulnerable and distressed group. Tonight, they will complete the verification process for their new clients. Tomorrow the accounts will be operational. The branch's attitude is in complete contrast to the hostility towards poor clients we saw in the cooperative bank we'd visited the previous day in Osmanabad town. The Migrant XI are the only customers left at SBH now. "The server broke down from an overload and we had to shut regular operations early today," explains a staffer. A new server has just arrived and is quickly being set up.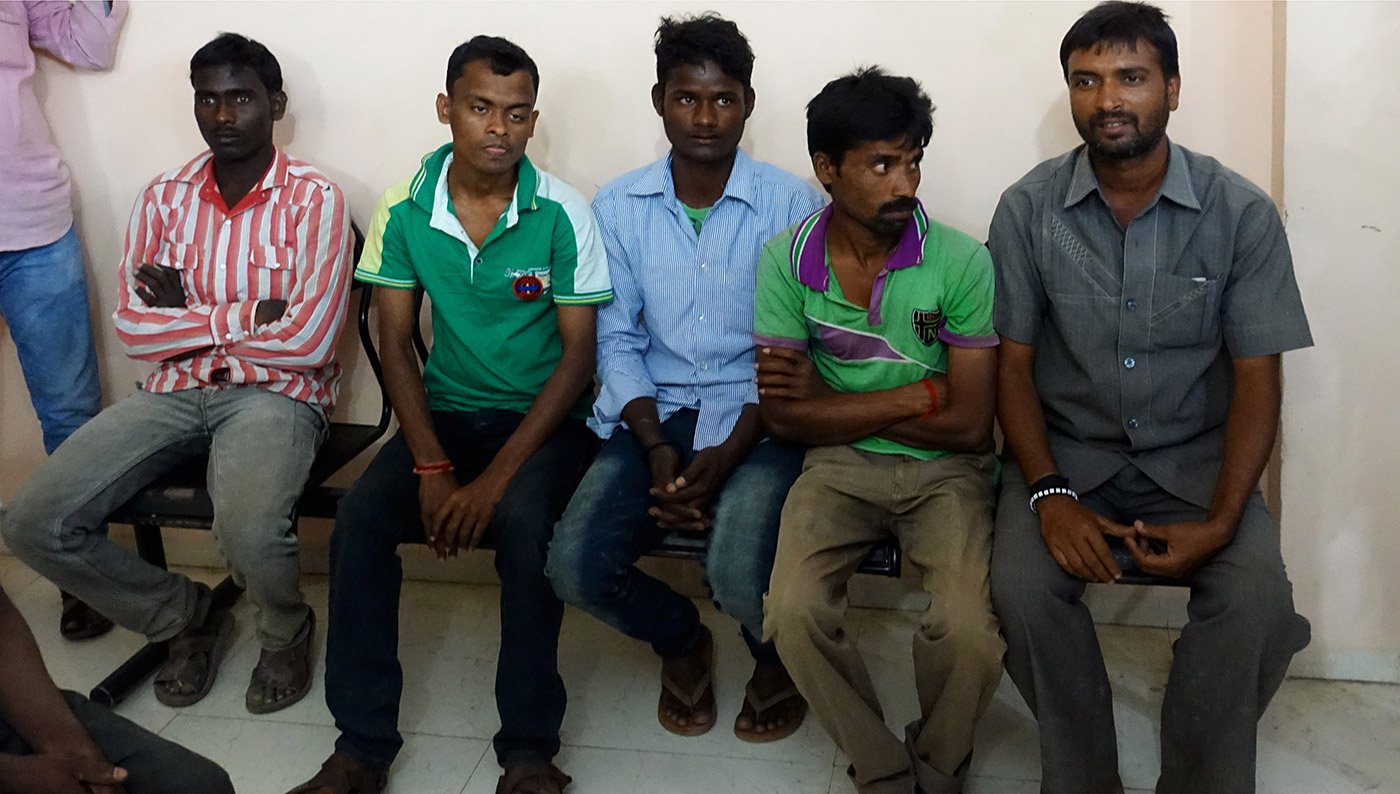 Waiting in the Adul branch of the SBH for the verification process,  left to right: Rinku Rehuwamansoor, Notan Panda, Umesh Munda, Bappi Dulai and Rann Vijay Singh. That done, their accounts will soon be operational  – but how do they operate them while on the move? 
"Where can I deposit or withdraw this money in Bihar?" asks Rann Vijay Singh. He is from Jamui district of that state and is the most educated member of the group. He has a Bachelor's degree in History from K.K.M College in Jamui.  "You can deposit money into your account from any nationalised bank," he is told. But "you can withdraw where an ATM is available or do other transactions where we have a branch."
"I come from Konan village in Jamui," says Singh.  "And if SBH  has a branch in Bihar that will be in Patna. That's at least 160 kilometres of travel for those 'other transactions'."
There's Umesh Munda from Jorhat in Assam. There's Bappi Kumar Dulai and Notan Kumar Panda, both from Alipur village in Purba Medinipur district of West Bengal. Rinku, Vijay, Dilip and Sarvesh Rehuwamansoor are from the same place as Dheeraj – Khajuria village in Bahraich. But branches of their families are now in rural Lucknow. Ram Keval Prajapati is from Lucknow. And Sandeep Kumar is originally from  Johranpur village of Auraiya in UP. They're all from below poverty line (BPL) families. "How many days in a year do you think we find paying work?" they ask. The BPL Migrant XI travel a great number of days in search of that work.
Each has a story. Several stories. They've worked in different places en route to Maharashtra. Rann Vijay Singh has worked in Andhra and Madhya Pradesh, Umesh Munda in Madhya Pradesh. The two Bengalis, Dulai and Panda, have slaved their way through three states. Right now, though, none of this is their major concern. They're all worried about how to get money to their families.  Some are torn between going home or staying on in work they've only just found.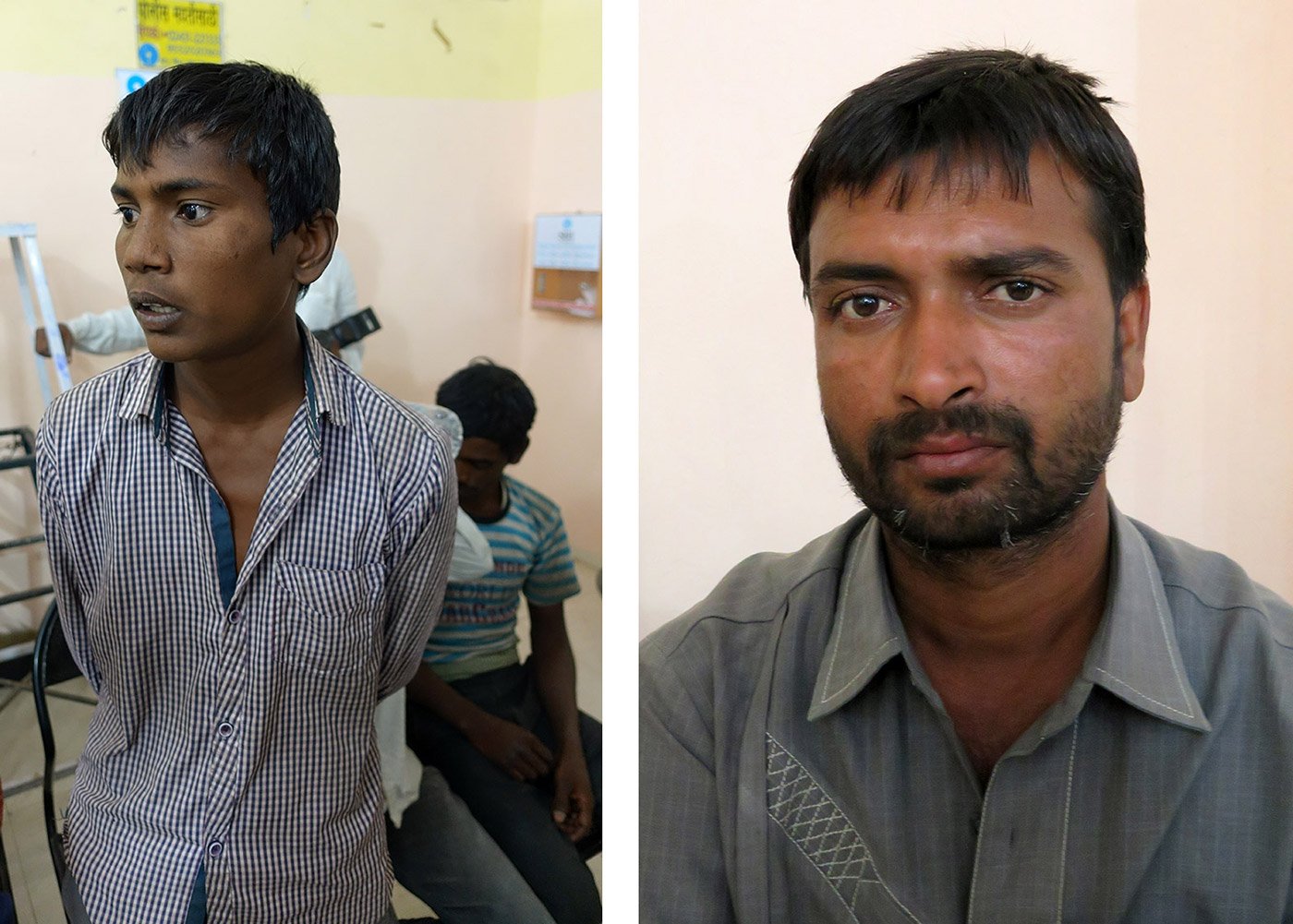 Sandeep Kumar (left) from Auraiya in UP, says he is 19, but looks younger. Rann Vijay Singh (right), manual labourer from Jamui in Bihar, has a Bachelor's degree in History  
Jagdish Bhavthankar, former general secretary of the All India State Bank of Hyderabad Staff Association, explains their predicament: "With the emphasis entirely on exchange and deposits, general banking has collapsed. Transfers of the kind they need to make, whether through their normal route at the post office or in the banks, those have come to a standstill. As also almost every other activity of a bank. All the staff are pressed into exchange and deposit activity."
"How will we send money orders when we don't have cash?" asks Bappi Dulai. For each of the 11, his fragile world collapsed when the government made Rs. 500 and Rs. 1,000 notes illegal.  The new Rs. 2,000 note draws derision from all.
"Nobody wants it," says Panda. "Hard to say whether it is asli or naqli," says Singh. "You don't feel it's real. Anyway, nobody accepts it." Dheeraj says the few hundred rupee notes he managed to get from a bank were not accepted by many. These were soiled notes officially let back into circulation. "I was told at the shops to come back with 'clean notes'."
Sandeep Kumar's family, now in a part of rural Kanpur quite close to Auraiya, owns about three acres of land. But there's about 12 people living off that, he says. "And cultivation is completely crippled. We buy things in small quantities for our fields. Nobody has the cash for it now.  Small notes we cannot access. Big notes we don't have. If we did, we wouldn't get change."
All 11 of them are wage labourers working here on erecting a power sub-station of the Power Grid Corporation. That's a public sector unit. They'd be a lot better off if Power Grid simply hired them directly. But the PSU seems to have outsourced their hiring to a contractor who gets a huge chunk of what they would earn directly each day. Perhaps close to 40 per cent of that. Also, they will now be paid by cheque, not in cash, which deepens all their problems.
The migrants were led to the bank by another person from outside this state. A far more educated and fortunate one. Daniel Karketta, Power Grid engineer and an Adivasi from Jharkhand, is the captain of this team of weary, vulnerable labourers. The BPL Mobile XI. Though from a very different class background, Karketta appears to have a sense of their situation. "I'm a migrant, too," he smiles.
They seem lucky to be in his care, lucky to be at this branch.
If these are the lucky ones, what must it be like to be unlucky?
In Ghatnandur village of Beed district, local freelance reporter Amol Jadhav had introduced us to another reality of migrant workers there. "A few big people in this region with some black money have opened accounts in their names," he says. "Yes, they do deposit the meagre wages of the workers there now. But they retain the ATM cards of those accounts. They shove some of their own kala dhan into them. And remember they can withdraw that – and even dip into the workers' funds if they wish to. They control the accounts."
Photos: P. Sainath
https://ruralindiaonline.org/articles/bpl-xi-theyre-mobile-their-money-isnt/