Lanura is a village with no bank and erratic electricity. It now lives with the burden of a tag: "J&K's first cashless village"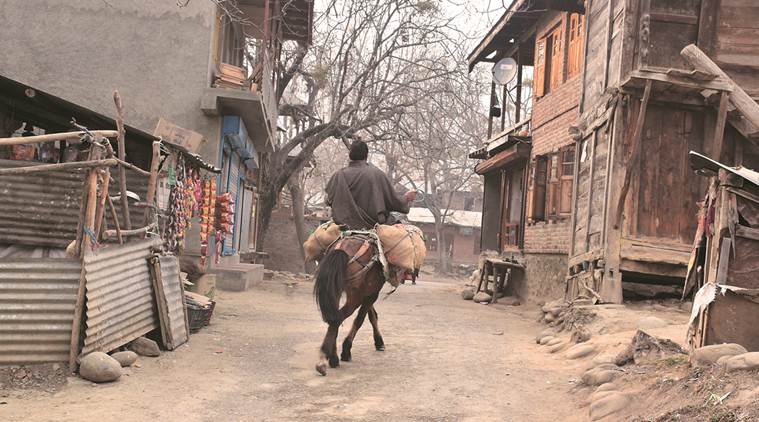 The village, with a population of around 1,500, has only six shops — a chemist and five grocers. None of the shopkeepers has a card machine or has ever used Net banking. Express Photo by Shuaib MasoodiAROUND noon on a Thursday, there is no electricity in Lanura. A sudden gust of wind had snapped the power lines and they now lie listlessly over the tree tops. Sitting in his rundown grocery shop, Ghulam Mohammad Dar says, "This is how it is here. We barely get electricity for six hours a day. And when we do, it is in spurts. We can never plan our day."
Welcome to Lanura, J&K's first officially declared "cashless" village. Here, most villagers haven't seen or even heard of credit cards; the Internet doesn't work and when it does, is frustratingly slow; and electricity is often at the mercy of the elements.
"Of course, our village is cash-less," says Ghulam Hassan Sheikh, the former sarpanch of the village, barely hiding his sarcasm. "We are a village of daily-wage labourers. We earn a few thousands a month and now they say we must learn to live without cash. So yes, we are cashless," he says sitting on his haunches outside one of the shops in the centre of the village.
On December 15, a release on the official website of district Budgam claimed that Lanura had become the "first village in Jammu and Kashmir" to go "cashless". "At least one member of each household has been trained in EPS (Electronic Payment System). Thirteen merchants have been brought under EPS… The total number of persons trained on EPS in the village has touched 150," the release read.
An unmetalled road snakes into Lanura village, 13 km from the district headqaurters of Budgam in central Kashmir. It's one of the hundreds of villages declared "backward" by the government, its homes mostly unplastered or derelict wooden structures. Over 80 per cent of the villagers work as daily wagers in the neighbouring villages of Kremshore, Dreigam and Chadoora. A village of 150 households, Lanura has a literacy rate of less than 35 per cent as against the state average of 67 per cent. The village only has a middle school and children have to travel to Khansahib, a village 8 km away, to study further. The nearest health facility, a primary health centre, is 3 km away.
But it's the erratic electricity that troubles them the most, villagers say. Apart from the frequent outages, every time electricity goes off, the cell phone tower, which is without a battery back-up, goes on the blink and the villagers struggle to make phone calls. The only street light in the village hasn't been working for the past four months.
Around 4 pm, Naseer Ahmad Thoker, a labourer who is also a Class XII student, joins the small group of men outside Dar's shop who are now talking money and their new-found "cashless" status.
"Cashless? Are they saying we will have to make do with even less money? I am a labourer and only earn around Rs 200 a day. What will I do with things like Paytm? I need cash to feed my family and I need it in my hands at the end of every day. What will I do with money in my account?" he asks.
The village, with a population of around 1,500, has only six shops — a chemist and five grocers. None of the shopkeepers has a card machine or has ever used Net banking. Only one of them — Firdous Ahmad, who runs the medical store in Laruna — has heard of Paytm.
Ahmad says he was taught how to use Paytm about a fortnight ago but he uses it only to recharge his own prepaid cellphones. This Thursday, exactly a week after the village was declared "cashless", almost every transaction in Lanura's six shops is either in cash or on credit.
"What is this 'cashless'? We have been hearing this word for the past week but what does this even mean?" snaps grocer Dar. "I get cash for what I sell and if somebody doesn't have cash, I give it to him on credit and they pay me at the end of the month. It's always been that way. Why are they trying to change things now? For what?"
Villager Ghulam Nabi Najar, a retired Armyman who has spent several years in Pune and returned to Lanura only a few years ago, says, "In Pune, I have seen people using cards to make payments but I have never done it myself. I don't know how to do it. We are poor villagers and most of us don't even have smart phones".
Though almost all the villagers have bank accounts, Lanura doesn't have a bank or an ATM; the nearest one is at the J&K Bank branch in Kremshore, 3 km from the village.
Riyaz Ahmad Sheikh, 28, from Lanura, works as a guard at the ATM in Kremshore. "This 'cashless village' is a joke," he says, standing with the group outside Dar's shop. "Many villagers don't even know how to use an ATM card. They give it to me and ask me to withdraw money for them."
Riyaz's name figures in the list of people from Lanura who have been trained to teach villagers in the use of technology for cashless transactions.
The project to train people in electronic payments was launched earlier this year by the Common Services Centre (CSC) of the Ministry of Electronics and Information Technology. The training is imparted by Village Level Entrepreneurs (VLEs) affiliated to CSCs. The two CSC trainers at Lanura have submitted to the District Informatics Officer in Budgam a list of 150 people in Lanura who have ostensibly been "trained".
Waseem Manzoor, a Class VI student, also figures on this list. "I don't know anything about this training. I can only use the cell phone to make calls, nothing more," he says.
Mohammad Yasin Thoker, a 35-year-old resident of Lanura, is one of the two CSC trainers from the village. "We have trained around 150 villagers in electronic payment systems, one from each household," he claims. When asked if he could identify the people he trained, he says, "None of the people we trained is in village today."
The rush to declare villages as "cashless" started after the Centre announced the demonetisation of Rs 500 and Rs 1,000 notes on November 8. While demonetisation hasn't affected Lanura much — "we didn't have much cash anyway," says grocer Dar — the villagers say they have now been declared "cashless" to save the Central government's image.
"We are illiterate people. The government can do what it wants but why drag us into it? We are now the butt of jokes. People come here, look around, laugh at us and say 'This village is cashless?'."
Budgam Deputy Commissioner Mir Altaf Ahmad admits that Lanura is far from cashless. "I don't understand how they can do this," he says. "They (villagers) don't know how to use ATM cards and they are talking about going cashless. I will look into it and enquire how it (official release) got done."
http://indianexpress.com/article/india/demonetisation-lanura-jammu-and-kashmir-cashless-thats-a-joke-4443782/