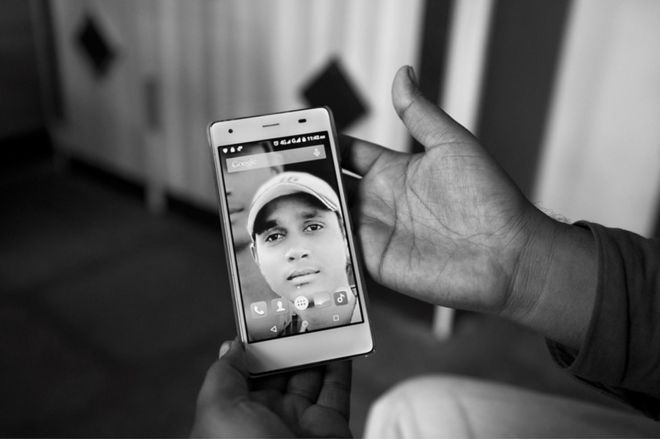 A recent exhibition in the Indian city of Mumbai documented Dalit (formerly known as "untouchable") families that have lost a loved one because of discrimination and violence. The photographs by Sudharak Olwe capture the prejudice that remains a reality for millions of Dalits.
They are some of the country's most downtrodden citizens because of an unforgiving Hindu caste hierarchy that condemns them to the bottom of the heap.
Tens of thousands of Dalits recently took to the streets to protest against a Supreme Court ruling – they said it sought to weaken a law that was designed to protect them.
The court had said that the Scheduled Caste and Scheduled Tribe (Prevention of Atrocities) Act, popularly known as the SC/ST Act, had been "misused" in the past but the order sparked massive outrage and the federal government asked the court to review its decision.
The exhibition's organisers say they chose these stories in response to the court's decision in the hope that the law would not be diluted further. They say these cases – all from the western state of Maharashtra – show that "the victims are ready to fight but there was no mechanism to help them".
Despite the laws to protect Dalits, more than 40,000 crimes against lower castes were reported in 2016 alone, according to official statistics. In the past, conflicts between Dalits and upper castes were restricted to fights over land, wages, water, housing and the practice of untouchability.
However, according to activists, rising aspirations among young Dalits have fuelled violence against them by upper-caste community members who are unable to accept this.
Found in a field
Sagar Shejwal, a 24-year-old nursing student, travelled to the town of Shirdi in May 2015 to attend a friend's wedding. During the trip, Mr Shejwal went to a liquor store with two of his cousins and his phone started to ring while he was there. His ring tone was a song that paid tribute to Dr B R Ambedkar, a Dalit icon and revered Indian leader.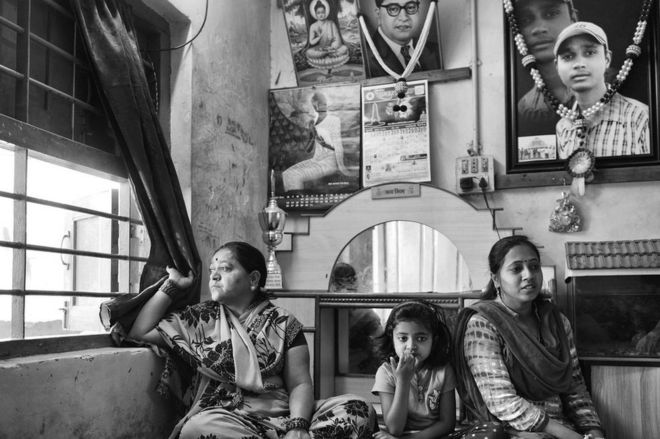 According to the police complaint, a group of eight men who had been drinking outside the shop objected to the ring tone and asked him to change it. The verbal spat reportedly turned violent and the men allegedly hit Mr Shejwal with a bottle, kicking and punching him before taking him away on a motorbike.
Police say they found his body hours later in a field. His autopsy showed that he had suffered multiple fractures – allegedly caused by a motorbike being run over him repeatedly.
The accused men have been granted bail.
Found in a quarry
Manik Udage, 25, was allegedly beaten to death with a steel rod in 2014 because he had organised a grand event to celebrate the anniversary of Dr B R Ambedkar's birth.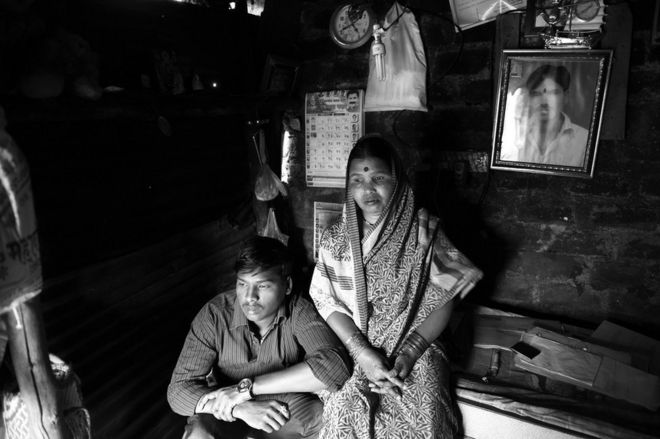 The venue for the event was a neighbourhood in Pune city where many upper-caste families lived. Some of them did not want the event to be held there and asked Mr Udage, a contractor, to shift the venue but he reportedly refused.
His family alleges that four men arrived at their home in the early hours of 1 May and took Mr Udage away. His body was found in a quarry on 3 May.
The four accused, all men from upper castes, are now in jail. They have been denied bail several times. But Mr Udage's brother, Shravan, fears that his family is still under threat. He says he feels nervous every time he passes through the neighbourhood where the families of the accused men live.
Hanging from a tree
Nitin Aage, a 17-year-old boy from a village called Kharda, was found hanging from a tree on 28 April 2014.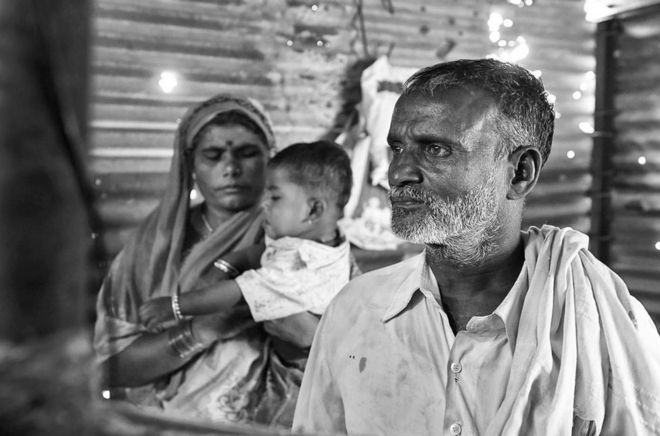 According to the police, Nitin had been seen speaking to a girl from an upper-caste community at their school. Three men, including the girl's brother, had allegedly been harassing him for some time because they suspected he was in a romantic relationship with her.
Police said he was first beaten at the school and then allegedly taken to a property owned by the girl's family where he was strangled to death. They believe he was hanged from a tree to make it appear as if he had taken his own life.
The 13 men who were accused in the murder were acquitted in November 2017. Nitin's family has been demanding a retrial since then.
'Staged to look like suicide'
Sanjay Danane, 38, was found hanging near the school where he worked a school in 2010. His parents allege that he was killed by his upper-caste colleagues because of a dispute at work and that they staged the death to resemble a suicide.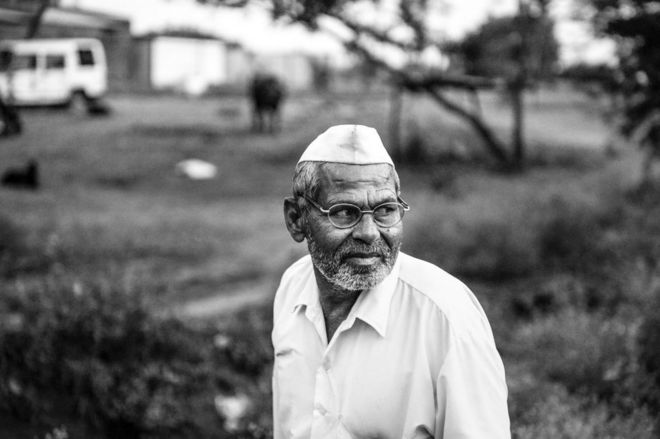 Police arrested about 18 people, including teachers, board members and the school's principal. They have since been granted bail.
Deprived of water supply
Ten-year-old Rajashree Kamble hurt herself on the head when she slipped and fell while fetching water. Her father, Namdev, alleges that his daughter would be alive if the Dalit neighbourhood where they live had received their daily supply of water.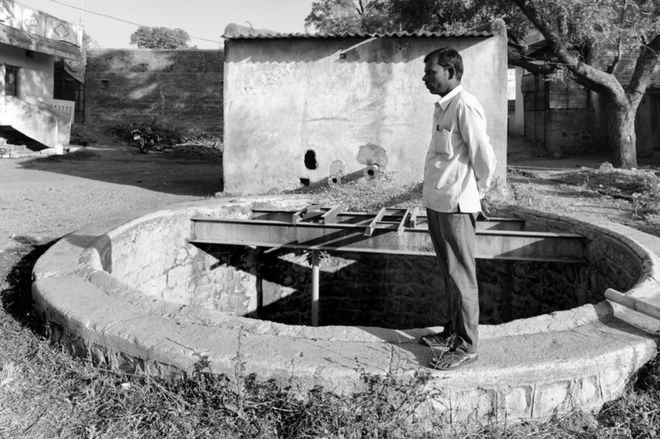 In February 2016, the wells in the village had dried up because of a drought in the region. Mr Kamble says the village council managed to supply water to other neighbourhoods in the village but refused to do the same for his neighbourhood despite repeated requests.
He says he tried to lodge a police complaint against the village head and other officials but he was unable to do so.
'Stabbed for digging a well'
Madhukar Ghadge, 48, was allegedly killed by 12 upper-caste men for digging a well on his land, which was surrounded by lands owned by them.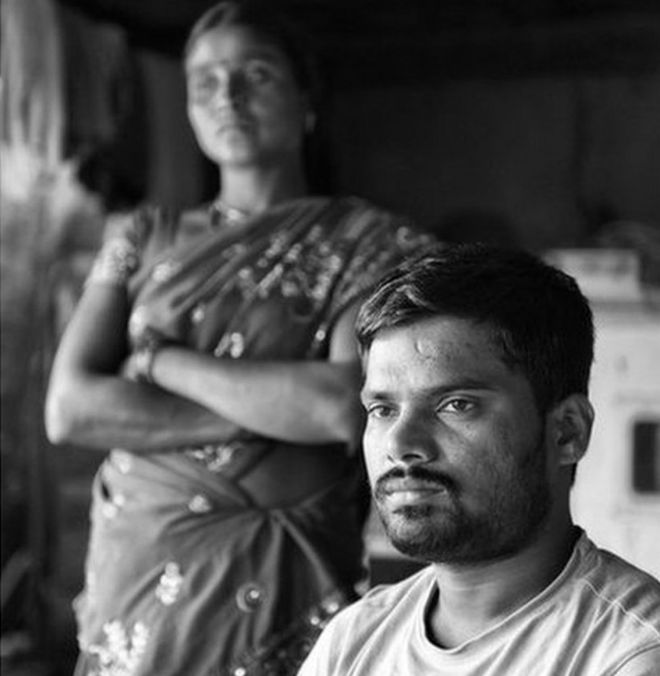 He was allegedly digging the well when he was assaulted with a "spear-like" weapon. His relatives say he was pronounced dead when they arrived at the nearest hospital.
Mr Ghadge's wife and son say his murder was also driven by the fact that theirs was an educated family that was involved in local politics.
Three years later, a lower court acquitted all 12 accused because of lack of evidence. An appeal is still pending in the Mumbai high court.
Beheaded and burnt
The day before he turned 19, on 30 April 2009, Rohan Kakade did not return home. His parents began searching for him and they found his body hours later- he had been beheaded and his body set on fire.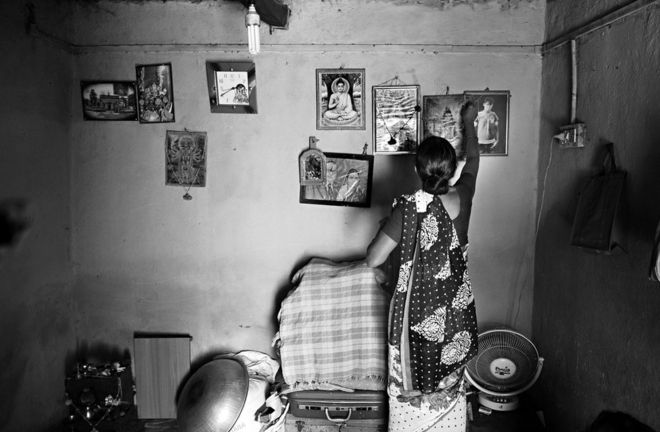 The accused – five upper-caste men – allegedly believed he was in a relationship with one of their sisters. But Mr Kakade's parents say the two were not in love. The girl would occasionally call him and they were friends.
Two-and-half years after Mr Kakade's death, his father died. His mother continued to fight the case but all five accused were acquitted by the courts.
Sudharak Olwe is an award-winning photographer based in Mumbai.
http://www.bbc.com/news/world-asia-india-43972841?ocid=global_bbccom_email_06052018_top+news+stories+india+