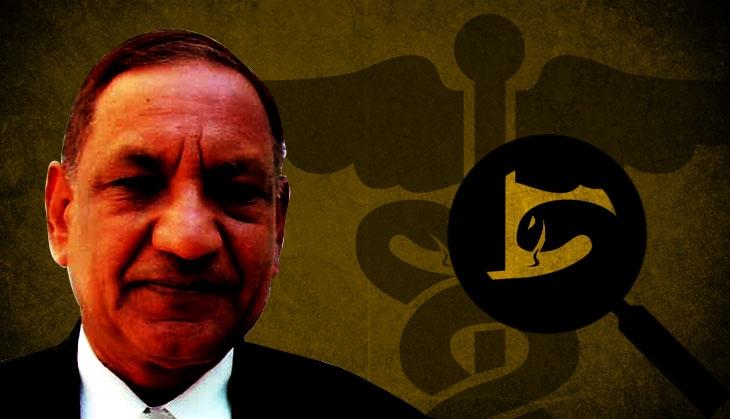 The capping of coronary stent prices by the National Pharmaceutical Pricing Authority (NPPA) has put centrestage the issue of fleecing by private doctors, hospitals and healthcare professionals. And amid the ongoing debate, a senior doctor in Chandigarh has come out a book that's certain to raise hackles in his fraternity.
The book is titled Ethical Healthcare in India. The author is Dr Ram Kumar, a retired eye specialist from the Post Graduate Institute of Medical Education and Research in Chandigarh who has long campaigned for ethical healthcare.
In his foreword to the book, former Punjab chief secretary Ajit Singh Chatha writes, "With news of scams, kickbacks, bribery, deception, malpractices and unholy nexus flowing all around, healthcare sector has not remained unscathed. The rumours of paying commissions for unnecessary tests, surgeries or setting targets in corporate hospitals may have an iota of truth, seeing the growing load of laboratory and imaging tests and occupancy of hospital beds by patients undergoing interventions like frivolous angioplasties and others. However, due to greed of about five per cent of doctors, almost all doctors have got a tag of dishonesty."
Also Read: Can private hands solve India's health care woes? Not a chance
Dr Kumar claims that almost 70% of the tests recommended by doctors are unnecessary. The masses, he says, live in "the age of medical darkness" and unscrupulous doctors take advantage of this.
He is equally critical of the "self-medication syndrome" that pushes many people to undergo pathological and others tests such as MRI even before a doctor asks them to.
He insists that the internet has made "people guinea pigs for self-prescribed medication" to the extent that even an innocent sneeze does not go unnoticed. And both the extremes of doctors asking for unnecessary tests and procedures and self-medication are taking a heavy toll on public health.
In his book, Dr Kumar discusses at length the various challenges to "ethical healthcare" in India. He points out how doctors stand at the receiving end of the whole process. In a chapter titled "Hippocrates Oath: Doctors or Society", he writes about the "doctor-politician nexus" that has some doctors bending backwards to please political bigwigs to maintain their positions or for personal gain. "Getting ICU admission for a cardiac problem has become such a standard ploy of politicians avoiding the law. Surely, this is done with doctors' collusion. One can also see the broader doctor-politician nexus in the running of private medical colleges," he writes.
Pointing to the "continuing exodus of good teachers from medical colleges", Dr Kumar says this is happening because much time of the teachers is wasted "in the corridors of power, preventing transfers or getting promotions". Also, with the proliferation of private colleges, teachers from government colleges leave to join them for better salaries and perks. This has led to a shortage of qualified teachers in government medical colleges.
Discussing the private practice of the doctors, he writes, "For a beginner, it is difficult to get patients directly so he has to turn to referral from other doctors which often feeds milk to the nasty serpent called 'cut practice'."
Also Read: Will Kerala's new Bill put healthcare beyond common man's reach?
Dr Kumar claims in the book that doctors have told him about the problems of getting admission in medical colleges as well as the problems in five-star corporate hospitals, where the "temptation to do unnecessary investigations like CT scans and MRIs and perform unnecessary procedures like caesarian sections and hysterectomies is hard to resist". They have also told him how, at public hospitals, professors and associate professors fight over who should get to treat VIPs and wait on them, leaving the care of the poor to their junior colleagues.
Dr Kumar calls for urgently setting up an "effective central body to govern the healthcare sector" as privatisation is progressing rapidly. Indeed, money paid by patients to private hospitals is ever increasing, with the National Health Profile for 2015 putting it at 81% of the total fund inflow into the health sector. He also advocates major reforms in the Medical Council of India, in particular the inclusion of non-medical members in the body.
Releasing the book, Dr Amrik Chatha, a neurologist based in the United States, called for "medical activism" in India. "The wrongdoers need to be punished," he said, explaining how the department of fraud is effectively checking malpractices in America.
The book lists the recommendations that R Kumar and his associates at the Society for Promotion of Ethical and Affordable Healthcare, or SPEAK, have made to the office of the prime minister and chief ministers. They have called for a paradigm shift from private to public sector, advocating "total overhaul of the public healthcare system that lowers the expenditure of individuals on health from 80% to 20%".
Among other recommendations, Kumar and associates have asked the government to let "retired and other doctors eager to work on voluntary basis" serve the people free of cost where vacancies exist in the healthcare set-up; enact a law to allow medical students to switch courses midstream "if their approach is found to be for commercialisation"; discourage overuse of medicines and medical services; do away with admissions to medical schools based on caste, religion, gender, region.