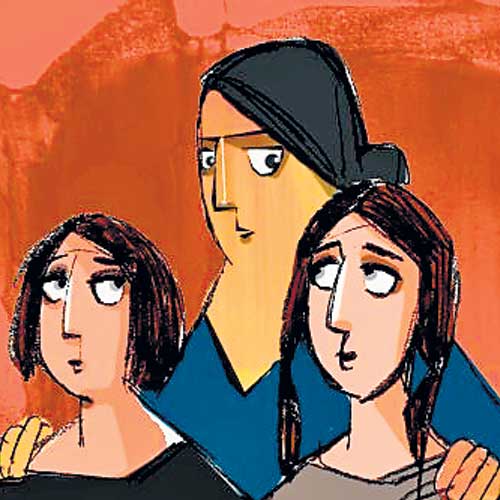 In "Have you been following the Soni Sori story?" my friend asked me on the phone one morning, a couple of days ago. Of course I had, and I knew that her husband had just passed away, leaving three girls under 13 unprotected. Soni, jailed and under trial on absurd charges, sent there by the Chhattisgarh government, was refused bail to cremate her husband and find a home or care for the girls, at a time when murderers, hooligans, rapists and worse get bail at the drop of a hat.
"We need to find homes for the girls. Can you help?"
Soni used to be a school teacher. She was put in jail with her nephew over a year and a half ago for allegedly helping the Essar group funnel money to Naxals. The two adivasis remain in jail. The Essar executives and the contractor who paid the money, and have paid money directly earlier as well according to the police complaint, are out on bail. Before this, Soni was an open critic of the human rights abuses meted out to the adivasis of her area, and therefore targeted as a thorn in the government and business's flesh. Six cases were filed against her, five of which have been dismissed.
To target her further, her husband and his motor vehicle, their main source of earning, were made inoperative – the husband by being jailed for four foisted criminal cases, the vehicle by being confiscated. An otherwise healthy Anil Futane, Soni's husband, suffered a massive stroke after over three years in jail, and was released a month later, totally paralyzed from waist down. Their eldest daughter, 13 and a bright student, was pulled out of school to nurse her father. When he died last week, the children, to all practical purposes became orphaned.
Many groups across the nation begged the courts to grant Soni bail but to no avail. After all they are only adivasis. And how does three more children being orphaned or one more family destroyed make a difference to the larger story?
We have become a cruel and wretched country to live in for many people – the poor, the displaced, the adivasi, the dalit, and women. And we don't seem to care. At least, not most of those who are heard, and seen or read. What systems do we have in place for those whose lives are destroyed by our customs or mores or justice systems or our carelessness? Who will take in these three girls? Will they just fall into the cracks, be trafficked, raped, used, enslaved? Is this the end of their hope? Of their education?
There are so many NGOs and as many government schemes to protect the interest of various marginalized groups, but the delays in our justice system, and the cavalierish attitude and corruption of our police see that the marginalized are left even more vulnerable. Let me recount what has just happened in our family courts in Ahmedabad.
My maid's daughter was thrown out of the house by her husband for giving birth to a girl child, four years ago. All negotiations to reconstruct the marriage failed and on my advice she went to the family court for a divorce. This is supposed to happen in six months. Three years and many visits to the court later (most of which the other side did not bother to attend), my maid was so fed up and fatigued that she decided to give up all claims of stree dhan of her daughter and any financial aid for the child just to finish the process and be freed of the constant 'chakkar' of the courts and the delays. She suffered, she lost. This is the normal outcome. Will anything ever change? Will we care enough to want it to change?
The writer is a noted danseuse and a social activist.
Related articles