Why an undergraduate engineering degree in India is rapidly losing value — and currency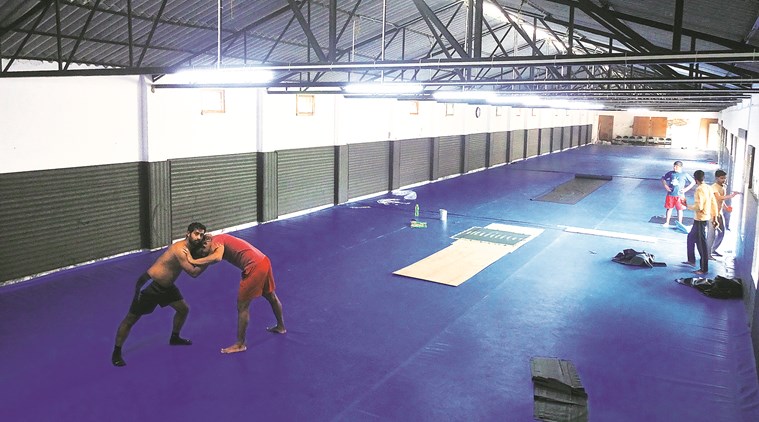 Trainees at the Yogeshwar Dutt Wrestling Academy in Bali, Sonepat. Until last year, this was the mechanical engineering workshop of Bhagwan Parshuram College of Engineering. (Express photo: Ritika Chopra)The arena at the Yogeshwar Dutt Wrestling Academy in Bali, a village near Sonepat, Haryana, comes alive with shouts of "laga, daav laga" each time someone executes a manoeuvre. Here, every afternoon, some 50 trainees in red or blue singlets slam into each other on blue mats, under the supervision of the London Olympics bronze medalist. Until early 2016, the sights and sounds of this space were a little different — this was part of the workshop for mechanical engineering students of the Bhagwan Parshuram College of Engineering.
"We had 60 students of mechanical engineering in the last batch (of 115) that graduated in 2016. Where you now see blue wrestling mats were several lathe machines," says S K Bhardwaj, 62, principal of the college whose management offered a part of the 27-acre campus to Dutt on a five-year lease.
The decision was inevitable. With not a single new admission to any of the five departments of engineering — computer science, civil, mechanical, electrical and electronics — in the last four years, this, as Bhardwaj explains, was the only way to ensure that the institute was not laid to waste.
The teachers were all laid off in 2015 and Bhardwaj has since moved in with his children in Gurgaon.
Of the 15.5 lakh BE/BTech seats in 3,291 engineering colleges across the country, over half — 51 per cent — were vacant in 2016-17, according to data obtained by The Indian Express from the All India Council for Technical Education (AICTE), the apex body for technical education in the country.
The fourth-year Electronics batch at MIT Bulandshahr, UP, has 12 students against a sanctioned strength of 60. (Express photo: Renuka Puri)The akhada and the vacant benches at Bhagwan Parshuram College tell the story of this crisis staring engineering, which makes up over 70 per cent of the county's technical education. Management (MBA), pharmacy, computer applications (MCA), architecture, town planning, hotel management and 'applied arts and crafts' form the rest.
Last year, roughly eight lakh BE/BTech students graduated, but only about 40 per cent got jobs through campus placement. According to AICTE data, campus placements has been under 50 per cent for the last five years.
This mismatch that underlines the reality of unfilled seats has got AICTE to consider asking technical education institutes which have had 70 per cent or more vacant seats for the last five years to wind up and leave.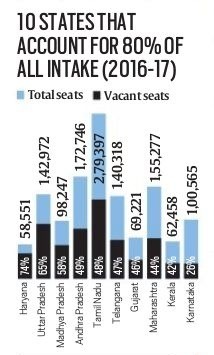 As part of a three-month-long investigation to find out why engineering seats were going unfilled and what this signifies, The Indian Express analysed AICTE enrollment data for the last five years (from 2012-13 to 2016-17), visited 10 colleges across three states that are among those on the AICTE's radar for low admissions and spoke to principals, students, academics and experts.
The picture that emerged is of glaring gaps in regulation, including alleged corruption; a vicious circle of poor infrastructure, labs and faculty; non-existent linkages with industry; the absence of a technical ecosystem that can nurture the classroom — all this accounting for low employability of graduates and, therefore, an abysmal record of job placement. In short, a steady devaluation of Brand BE/BTech.
Says R C Bhargava, IIT-Kanpur chairman and chief of Maruti Suzuki, which on an average recruits 200 engineers a year, "The reason engineering seats are going vacant is because they impart very poor quality education. Most of the graduates don't know the basics of engineering. The reason these vacancies keep increasing is because graduates can't find jobs. That's because employers don't think they are worth employing. Most people will tell you that 80 per cent of engineering graduates are not employable," he says.

The glaring gaps
Consider these:
* Close to 30 lakh students in the science stream cleared their Class 12 Board exam in 2015-16. Even if all of them were to aim for an engineering seat, at 15.5 lakh undergraduate engineering seats across the country, there is roughly one seat for every two students. A case of too few people chasing too many seats. MBBS and dentistry, on the other hand, has less than a lakh seats nationwide.
* From 87,059 BTech and MTech seats in 1990-91, the number has risen to 16.62 lakh in 2017-18, a staggering 18 times in less than three decades.
* Ten states — Tamil Nadu, Andhra Pradesh, Maharashtra, UP, Telangana, Karnataka, MP, Gujarat, Kerala, and Haryana — together account for 80 per cent of the total seats in the country. They also account for 80 per cent of the total vacant seats in the country.
* Enrollment data of these 10 states show the crisis is at its worst in Haryana. At 74 per cent, the state has the highest proportion of vacant BTech seats in 2016-17. Uttar Pradesh is second with 64 per cent unfilled seats. Tamil Nadu, which has the highest number of engineering seats — 2.79 lakh — has 48 per cent unoccupied seats.
* Of the nearly 370 technical colleges that are on AICTE's radar for low admissions — 30 per cent or less admissions in the last five years — and which run the risk of being closed next year, 153 are engineering colleges. Most of these are in Maharashtra (26), Andhra Pradesh (19), Haryana (17), Odisha (17), Telangana (16) and Uttar Pradesh (11). Last year, a record 49 engineering colleges went bust and shut down.
* At least half the 153 institutes with low admissions were set up in the last decade.
* Information Technology (IT) has emerged as the least popular branch, with 770 institutes discontinuing the discipline between 2012-13 and 2016-17. That's followed by Electricals and Electronics (635 colleges have stopped the branch), Computer Science (234), Mechanical Engineering (185) and Civil Engineering (139). The maximum number of institutes that discontinued IT were in Telangana (157), followed by Andhra Pradesh (128) and Tamil Nadu (104).
Those on their last legs are now taking desperate measures — from offering fee concessions to diluting admission criteria; from paying middlemen to bring in students to hiring underqualified faculty; and, as the Bhagwan Parashuram college in Sonepat has done, letting out part of the campus or even converting the colleges into schools.
What led to this?
Several factors, say experts, but most of them point to what they call the engineering boom that started in 1995 and peaked in the 2000s, fuelled by the IT phenomemon and the Y2K bug. Speaking to The Indian Express, AICTE chairman Anil Sahasrabudhe says: "A large number of people were required for coding then. Your engineering branch did not matter. There was always a job for an engineer in an IT company." He says that the Union government at that time "may have also been liberal" in approving new colleges as it was focused on enhancing the Gross Enrollment Ratio in higher education.
As a result, several private institutes came up to feed the industry's appetite for engineers. "When there was a demand for engineers, the private sector stepped in. A large number of government colleges did not immediately get into modern branches of engineering such as IT and computer science. Our entire IT industry would have collapsed had it not been for these private institutes," says retired IISc professor D K Subramaniam, who is on TCS's Research Advisory Board.
"I remember how TCS (Tata Consultancy Services) would earlier hire only MTech holders from IITs. But the decision to start recruiting graduates changed the technical education landscape. Everyone wanted an engineering degree," he adds.
The boom, however, ended in a problem of plenty.
Early warning ignored
Alarm bells first went off about 15 years ago, in the shape of the U R Rao Committee report of 2003. Rao, former chairman of the Indian Space Research Organisation, had been tasked by the NDA-1 government to review AICTE's performance.
The report had observed that the pace of expansion of technical education was unsustainable and that the explosion in the number of private institutions was fuelled more by speculative rather than real demand. "Barring some exceptions, there is scant regard for maintenance of standards," the five-member panel said in its report.
To alleviate this "serious situation", the committee suggested a five-year moratorium on all approvals for undergraduate technical institutions in states where the student intake exceeded the then national average of 150 seats per million population. This figure was 1,047 for the southern states, 486 in the west, 131 in the east and 102 in the north. (Currently, the national average of BE/BTech intake, alone, is 1,286 seats per million population.)
However, Rao's recommendation was never acted upon. Indeed, the reverse happened. According to AICTE data, 2008-9 witnessed an increase of almost 30 per cent in engineering intake over the previous year — the highest in a single year since 2001 — with over 700 new institutes being approved. Many point out that it coincided with a period when AICTE was rocked by allegations of rampant corruption. That year, the CBI caught then AICTE member-secretary K Narayan Rao accepting a bribe from the owner of an engineering college in Andhra Pradesh. The incident eventually led to the suspension of then AICTE chairman R A Yadav. The CBI registered three cases against him, but did not chargesheet him.
The effects of this indiscriminate expansion in the sector were probably first felt after the global economic crisis of 2008, when growth slowed in the US and Europe, the main markets for IT companies.
Interviews with institute heads and students reveal that shrinking jobs, exacerbated by low employability of graduates, took the sheen off engineering. An immediate fallout of this was a drop in campus placements. In 2016-17, only 40 per cent of BTech graduates got placements, HRD Minister Prakash Javadekar told Rajya Sabha earlier this year.
Experts also point to a shrinking economy to explain the problem, with job losses across both old and new economy sectors — from textile to capital goods, banking to IT, start-ups to energy.
"The economy is in a bit of a stationary mode. Industries are not making any investments and so there aren't enough engineering jobs in the market at present," says former IIT-Kanpur director Sanjay Dhande.
An engineering degree in this climate offers little return on investment.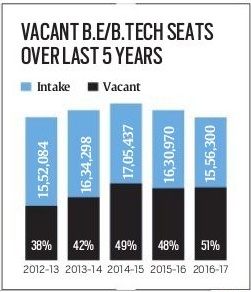 High risk, low return
"A student in a private engineering college spends about Rs 6 lakh on his course over four years. However, once they graduate, they are offered jobs that pay as little as Rs 10,000 a month. So why would he or she want to invest in an engineering degree?" says Vinod Choudhury, head of Vishveswarya Institute of Technology in Ghaziabad, when asked about seats going vacant. The institute, set up in 2007, had almost 90 per cent of its BTech seats vacant in 2016-17.
However, a slow consolidation has begun. While the number of new engineering institutes is at an all-time low (30 last year), the number of closed colleges — 49 — is a new record. The BE/BTech and MTech intake is also shrinking steadily — from 19 lakh seats in 2014-15 to 16.5 lakh this year.
M A Anandkrishan, an educationist who served as chairman of IIT-Kanpur for almost a decade, says he is not happy with this pace of consolidation. "(Waiting for colleges to turn unviable before shutting them) is a long and painful process and the students caught in this churn are the biggest losers. AICTE should impose a moratorium on new approvals."
S S Mantha, who took over as AICTE chief in 2010, is against this approach. "It's not tenable. In 2012, we tried to impose a moratorium but couldn't as the Constitution allows everyone to practise the profession of their choice. How can the regulator stop them?"
After 2012, the AICTE is making yet another attempt to restrict approvals for new institutes. In a letter sent out earlier this year to all state governments, the AICTE said they could apply for a moratorium, provided they backed up their demand with a 'perspective plan' — that is, map the current situation of industry, jobs and total seats in education, and use that to predict the demand for engineers.
Will this new plan consolidate the sector and cut down on ghost campuses? For now, the answer is up in the air, much like the dust that hangs over the wrestling arena at the Sonepat college.
http://indianexpress.com/article/education/btech-fail-empty-seats-ghost-campuses-unskilled-graduates-devalued-degree-4977240/