According to the lawyer of 16-year-old victim of Asaram sexual assault case, supporter of the self proclaimed  godman Asaram are giving life threat to the father of victim. Lawyer of victim family released audio tapes.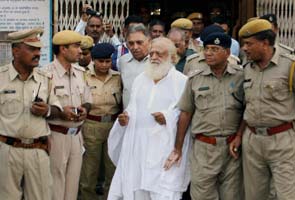 Jodhpur: The father of the schoolgirl who accused Asaram Bapu of sexually assaulting her has alleged death threats from the spiritual guru's followers. Alleged phone recordings of the threats are expected to be produced as evidence in court today.
The 75-year-old godman's custody was today extended by 14 more days. He has been in jail since September 2.
"The father of my client says they are constantly facing death threats. He mailed me an audio clip in which it is very clear that Asaram's followers are threatening them and intimidating witnesses. The family feels unsafe," said Manish Vyas, the teen complainant's lawyer.
The 16-year-old girl, who used to live in Asaram's ashram in Madhya Pradesh's Chhindwara district, has accused the guru of forcing himself on her at his ashram in Jodhpur, and threatening to kill her and her parents if she reported him.
The self-styled godman was arrested on September 1 in a dramatic late night crackdown at his ashram in Indore, Madhya Pradesh and was flown to Jodhpur.
His aide Shiva, who is reportedly a key witness in the case, is also in judicial custody. He is accused of taking the girl to Asaram Bapu on August 15. The guru had allegedly told the girl's parents that he would exorcize her of evil spirits.
The police also want to question another Asaram aide Shilpi, the warden of the hostel where the girl stayed. She had filed for an anticipatory bail, which was rejected last week.
The religious preacher has denied the allegations of sexual assault and says he never spent any time alone with the teen complainant. He told the police he met her and her family as part of a large gathering that came for his 'satsang' or discourse.
His son, Narayan Sai has claimed that the girl is "mentally ill." He said Asaram did spend over an hour in a room alone with her, but committed no crime.
http://www.youtube.com/watch?v=cCF8WMLtqoo&feature=youtu.be
<iframe width="420″ height="315″ src="//www.youtube.com/embed/cCF8WMLtqoo" frameborder="0″ allowfullscreen></iframe>
Related articles