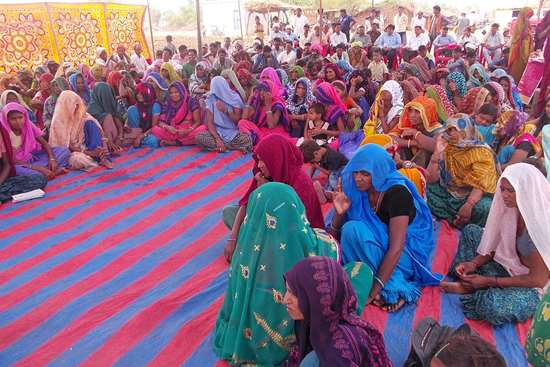 REPORTAGE
Invited to witness a village gram sabha organised by district officials in a Madhya Pradesh village, our reporter discovers things are not what they seem…
The Doongra Dhanna village is no more than four kilometers from the Jhabua district headquarters. We arrive at 8:50 am, ten minutes ahead of schedule. All thanks to unexpectedly smooth road lending immensely to the village's accessibility. A few meters on, a tempo filled with plastic chairs and colourful tents is parked on a largely barren field. While some men hold up the tent, some others arrange chairs behind a narrow table covered in white, new linen.
The setting appears like a preparation for a modest wedding. However, a newly printed banner titled 'Special Gram Sabha, Doongra Dhanna' helpfully dispels any misconceptions. Even as we try to accept the unnaturalness of the event (which would have otherwise been held unassumingly) we prepare ourselves for a flawless performance of an ideal gram sabha. What we witnessed over the next two hours, however, was something quite out of the ordinary. 
Typically, the news of an imminent gram sabha, we are told, is delivered by a messenger who goes around the village beating a drum and announcing the time of the meeting. "We have given everyone special warnings to be present today. If you came a little later, everyone would have been here," says a panchayat member (panch). 
Besides electing panchs, gram sabhas hear people's issues, arrive at agreeable solutions and ensure people's participation in decision making. While a minimum number of gram sabhas are to be held annually, a village can hold as many as it wants. District officials too can convene 'special gram sabhas'. This is one such, organised by a senior district official for Outlook. 
On the stripped carpet that has just been laid, a handful of women – not an inch of their faces visible under a veil – are seated on the floor ahead. The Janpad CEO, A.S Yadav, responsible for the cluster of villagers, yells at them to gather more women.    
Its 9:15 and as people trickle in slowly, Yadav continues to hyperventilate at the delay. "Usually we meet only later in the day. Villagers are usually winding up their early morning chores at this hour," he explains.   
True to his word, at about 10 am, the empty plot of land shielded by the colourful shamiyana is brimming with people. Many are dressed in their best clothes, as if for a special occasion. They huddle together in two large groups. The women in front, men behind. A district official begins by introducing the newly elected Sarpanch; the first woman sarpanch in the village.  "She is a very strong woman who has been running the SHG here. She has helped the group save Rs.65,000 so far. Things are really going to change here now," the official says. 
The group, majority belonging to the Bhil tribe, indulge in amused chatter. Asked about what they usually do in a gram sabha, 35-year-old Kashi Togi Mavi says, "This is the first time we are having a gram sabha. We don't know what and how we are supposed to do." Her sister, Papu Pangla Mavi continues, "Over the past 25 years, some of our neighbouring villages have had gram sabhas. But we were never allowed to attend them because of politics among villages. We were never informed about a gram sabha before this."   
Since 1992, panchayats had been introduced as a crucial tool of self-governance by way of the 73rd amendment to the constitution. The Panchayati Raj Act mandates that gram sabhas be conducted as they are the sole means to develop a people-centric plan. However in over two decades, all such attempts have evaded Doongra Dhanga. 
Angered at this, officials present intervene, "Of course gram sabhas happen." Turning to us they say, "They just never attend the meetings because they don't want to miss work. They are just not interested." 
Promptly defending their claim, many from the village reply back saying, "We have let go of our daily wage today to attend the meeting so that we could talk about our problems. We have so many issues here. Why wouldn't we attend if a gram sabha happened and we are informed about it?" 
The sarpanch's husband, Limba Meda, promptly tries to divert the attention of the gathering. He announces that as 'Sarpanchji' his focus is on building toilets and making 'Swacch Bharat' come true. A young man in the group, Titu Bhuriya, retorts claiming that they tried doing this two years ago and that his toilet his still incomplete. "Leave the problems of the past. Everything will be done in the right manner from now on," promises the sarpanchji. 
To this, an angry man in his 80s points out, "But the water in the river has completely dried up. There is no water for the fields. What will we do with toilets that have no water?" When we pose this question to the sarpanch, she smiles awkwardly, a reply evading her. Her husband, however, fills in, "First we will build toilets. Then we will make sure that there is water in them." 
Sitting next to us, 30-year-old Kamli Changad lets out a chuckle. "Neither will he do anything, nor will he let his wife take any decisions. For the first time in this village women are sitting a public meeting," she says. Over the next hour, the group talks about everything from the lack of electricity, the absence of a full-fledged anganwadi and the inefficiency of the teachers at the government school. "The school is good but teachers come and just sit. We play around and leave when they ask us to go. They don't teach us anything," says Sanjana Bhuriya, a class 5 student.
Nearly a dozen men and women who had just left the sabha return with their NREGA job cards in hand. Together they complain about all cards in the village being empty and of how they haven't been given even a day's work so far. This coupled with the lack of irrigational facilities, they say, has forced them to migrate for most of the year.
 
Even as I pull out my camera to get photographs, Yadav says, "Don't focus too much on these job cards please. They don't want to work, so they aren't given work." Even as the shocked group tries to refute the claim, he glares angrily and insists: "Come madam, let me show you how much work we have done for them in this village."
 
He takes us to a shed apparently built for chicken. It is locked from the outside and he shouts for the door to be opened. A young man, the 'beneficiary' of the shed, rushes to open the door. Inside the cramped room is a mattress on the floor and a bottle of hair oil and comb in one corner.  Embarrassed, Yadav accosts the young man about why there aren't any chicken. "Sir, this shed is for goats, not chicken. But we have no goat or chicken now, so we just sleep here," the man replies.
 
Women at the gram sabha are eager sing a Bhili song that they have composed before we can leave. The meaning of its lyrics roughly translates to, "The government is our saviour. Its schemes are our only hope. Open your eyes. Learn about them."
---
The fieldwork for this story was undertaken as part of the GoI and UNDP Media Fellowship on Decentralized Planning, 2015
 http://www.outlookindia.com/article/ghost-of-a-gram-sabha/295098