Tuesday, Dec 3, 2013, 7:42 IST | Place: New Delhi | Agency: DNA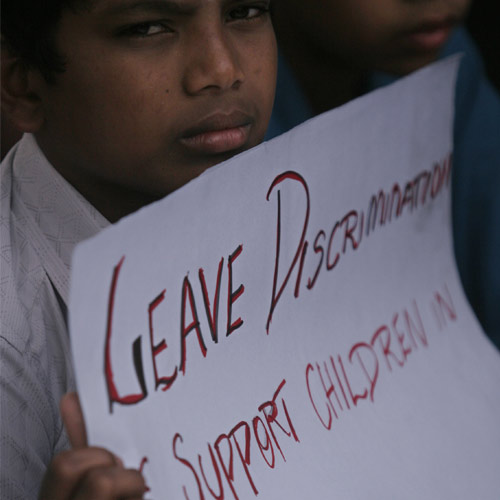 Pic for representational purpose. – Nishant Ratnakar/DNA
While the government may celebrate implementing Right to Education and Sarva Siksha Abhiyan, 'exclusionary and discriminatory' practices are still prevalent in schools in some states which poses a greater threat to long-term education policies and reforms.
A study commissioned by ministry of human resources development, conducted in six states — Bihar, Madhya Pradesh, Andhra Pradesh, Odisha, Assam and Rajasthan — has revealed widespread 'discrimination and exclusion' on the basis of caste, community and gender, with Rajasthan being one of the worst hit.
The study, covering 120 schools, explores the 'blatant, subtle and hidden practices' that influences the ability of children to learn, grow and become confident. This includes sitting and eating on the basis of caste during mid-day meals, girls cleaning toilets of the schools and cooks preferred from particular caste or community.
"Caste-based discrimination in schools of Rajasthan is explicit as many children from forward castes also attend government schools," was one of the insights principal investigators of the study, Vimala Ramachandran of National University of Education Planning and Administration and Taramani Naorem of MHRD mentioned.
Even perception among teachers in all the six states was found out to be skewed against the children from deprived social groups. The common misconception among teachers was that they are poor in academics, while in reality the study found that they were performing well. However, regular attendance was issue among children from poor and extremely marginalised communities, mostly due to poor health, migration of parents for work, recurring illness and taking on household responsibilities.
In Rajasthan, forward caste students in most of the schools, drank water or cleaned mid-day meal dishes before the SC and ST children. In another school of the state, water pitcher was not available to SC and ST students.
Even in some schools in Andhra Pradesh, ST and SC students stay away from hand pump and wait for others to pour water. The study found that in some schools in Madhya Pradesh, girls from general category and OBC were practicing untouchability, arguing that their parents have asked them to conform to the prevalent social norms.
Similarly, in MP and AP girls mostly from SC community had to help in cleaning toilets and girls also cleaned toilets of teachers in many schools. In Rajasthan and Bihar, most of the toilets were unusable and locked, as prevalent thought is that children, 'spoil and dirty toilets.' Ironically, some children in Andhra Pradesh even prefer to go out in fields rather than cleaning a toilet after use.
"Democratic practices were not the norm in any sample school, while dealing with participation of students in school activities and tasks. It all depends on prevailing social norm or perception of teacher, not the personal assessment of student," the study reveals.
The seating arrangement in the classes reflected the discrimination and exclusionary practices.
In almost all the states children were separated by gender, caste and community.  "Taking constitution as the guiding spirit, teachers, administrators and community leaders need to be told that any violation of the right to equality and the right against discrimination will invite strict penal action," the investigators suggested.