Another bizarre and baseless case filed by a political stooge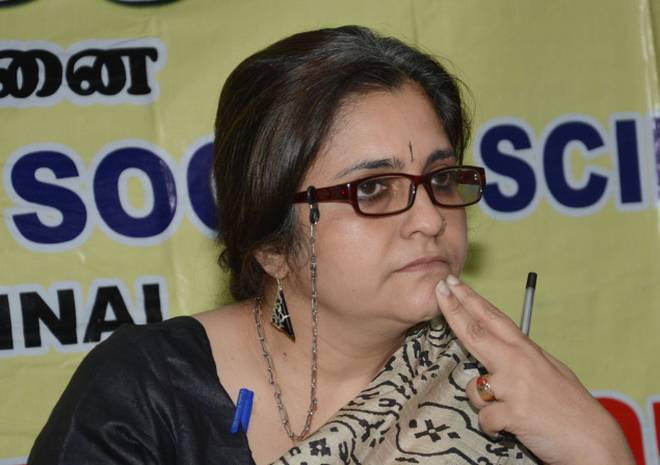 ((Statutory Disclosure: This article is about Sabrang India founders Teesta Setalvad and Javed Anand.))
It is no secret Human Right Defender Teesta Setalvad has been a thorn in the side of powerful people in the government. It is also no secret that these powerful people have used every means available to continuously harass Setalvad as well as other members of her NGOs Sabrang Trust and Citizens for Justice and Peace (CJP), including her husband Javed Anand.
One of their favourite stooges is Rais Khan Pathan, a former employee of CJP whose services were discontinued after he disgraced himself by acting in an unethical and unprofessional manner. This disgruntled ex-employee has over the last few years gone on to level a variety of baseless allegations against Setalvad relating to how her NGOs are run, their funding, how those funds are used and also allegedly misused. He has gone forum shopping and filed over a dozen different cases against Setalvad and her team over the years for which he has also been rewarded handsomely by way of being nominated to the Central Waqf Council. Lawyers who have appeared for Khan include those who are on the rolls of the Gujarat state and government.
But it is Pathan's latest salvo against Setalvad that is the most bizarre. Pathan has now filed a complaint with the Gujarat police claiming Setalvad is mixing 'religion with politics' using her school education initiative KHOJ. Pathan claimed KHOJ, that had received a grant of Rs 1.4 crores from the Ministry of Human Resources Development, under the UPA regime, had utilised the funds to spread disharmony by circulating "exploitative literature" full of "hate" and "venom". Pathan began this campaign within weeks of the Modi regime coming to power (June 2014). Then, former minister Smriti Irani took this forward in February 2015 after which Pathan has reportedly again –using the Crime Branch, Ahmedabad, re-launced this campaign in past weeks.
Pathan has alleged that the funding was utilised between 2008 and 2014 by the KHOJ project of the Sabrang Trust under the National Policy on Education scheme in Maharashtra and Gujarat. The written materials were prepared for teachers of classes V and VI and that the contentious content was so disturbing and communally sensitive that it could attract charges under sections 153A and 153B of the Indian Penal Code.
But Setalvad rubbishes Pathan's claims. "This is nothing but part of the same witch-hunt. The HRD Ministry has been cognisant of this matter for a while. We have written to the ministry earlier and now, again. Pathan wants to clearly now use the Crime Branch of the Ahmedabad police," she asserts. Setalvad has written to HRD Minister Prakash Javdekar strongly contesting the malafide charges against her.  Setalvad had also written to the HRD ministry earlier in 2016 when similar bizarre and baseless charges had been levelled against her by Pathan. The really strange thing about the whole affair is that Pathan has neither the locus not expertise to make this complaint. But this has not deterred the Gujarat police before!
A Brief Background of the KHOJ Case
KHOJ has been active since 1994 and has been working on the crucial area of Education Policy related to Democratisation of the Social Studies and History Syllabus and Text-books. The HRD project was from KHOJ Sabrang's Secular Education Programme running in municipal and Zilla Parishad schools that has received wide acclaim in general and an extremely positive assessment from the Joint Evaluation Committeee that evaluated the functioning of the project mid-term. It is due to Teesta Setalvad's recognition in the field of Education that she was appointed to the Central Advisory Board of Education (CABE) Committee in 2004 and has been there since.
Trouble began in February 2015 when Irani made selective and vicious statements against Setalvad for including the subject of caste in teacher training manuals and in fact how Shivaji was represented. The matter referred to was from a chapter on Shivaji's coronation used in middle school teacher for training manuals. This narrative of Shivaji is supported by the work of reputed historians like Jadunath Sarkar and Govind Sakharam Sardesai. When objection to this had been first taken by the Shiv Sena in September 2001, the State Human Rights Commission (SHRC) Maharashtra had completely cleared the Teacher Training text books
According to historian, Jadunath Sarkar:
"A deep study of Maratha society, indeed of society throughout India, reveals some facts which it is considered patriotism to ignore. We realise that the greatest obstacles to Shivaji's success were not Mughals or Adil Shahis, Siddis or Feringis, but his own countrymen. First, we cannot be blind to the truth that the dominant factor in Indian life — even today, no less than in the seventeenth century — is caste, and neither religion nor country. By caste must not be understood the four broad divisions of the Hindus which exist only in the textbooks and the airy philosophical generalisations delivered from platforms. The caste that really counts, the division that is a living force, is the sub–division and sub–sub–division into innumerable small groups called shakhas or branches (more correctly twigs or I should say, leaves, they are so many!) into which each caste is split up and within which alone marrying and giving in marriage, eating and drinking together take place…"
Historian Govind Sakharam Sardesai's New History of the Marathas, too, notes the ticklish issues surrounding Shivaji's coronation.
"By the beginning of 1673 the idea of a public coronation began to materialize, and when preparations were fully completed, the event took place at fort Raigad, on Saturday 5 June 1674, the day of the sun's entering the constellation Leo.
The orthodox Brahman opinion was not favourable to Shivaji's claim to be recognised as a Kshatriya by blood, although he had proved this claim by action. More than a thousand years had passed since such a ceremony was last performed, and on that account men's memories had been entirely dimmed. All ancient learning of the Deccan had migrated to Benares after the invasion of Ala–ud–din Khilji and the Muslim conquest of the Deccan.
Ancient families noted for hereditary learning like the Devs, the Dharmadhikaris, the Sheshas, the Bhattas, the Maunis, had left their hearths and homes at Paithan, with all their sacred books, and opened their new university of letters on the bank of the holy Ganges. The ignorant unthinking folks of Paithan had now no voice of authority left in them. Benares now began to dominate Hindu thought and learning. So Shivaji had to negotiate with Gaga Bhatt of Benares, a learned representative of that school of Hindu law–givers. He was invited to Raigad to arrange the details in such a way as to suit the needs of the present moment as much as to conform to ancient usage."
Needless to say, KHOJ has been on the Safron radar ever since and is often in their crosshairs too.
---
Also Read
---
A Brief History of Related and Intertwined cases, all initiated by Rais Khan
In June 2014, Rais Khan filed his first complaint alleging that KHOJ had received funds under the Sarv Shiksha Abhiyan and Rs 1.3 crores of these funds had been misappropriated by Setalvad and Anand. In March 2015, the HRD Ministry set up a committee to investigate these allegations. This was a three-member enquiry committee comprising vice-chancellor of the Central University of Gujarat Syed A Bari, Supreme Court lawyer Avijit Bhattacharjee and Gaya Prasad, a director in the HRD Ministry. The Bari Committee interestingly found no evidence of any wrong doing or illegal activity.
In June 2015, the Home Ministry served notices to the Sabrang Trust and CJP for alleged violation of the Foreign Exchange Regulation Act (FERA) asking them to reply within 15 days. CJP was said to have received foreign funds to the tune of Rs 1.18 crores from 2008-09 to 2013-14. Every allegation was responded to in great detail backed by documents.
In July 2015, Ministry of Home Affairs (MHA) officials sought an explanation on consultancy taken from Ford Foundation in June 2015. In mid-June newspaper reports of an FIR by MHA to CBI began to appear. On June 30, 2015, lawyers of CJP spoke to CBI and both Setalvad and Anand wrote to Director, CBI offering full cooperation and also listing all documents made available to MHA during its inspection in June 2015. Despite this, the homes and offices were raided. Within days, the duo moved the CBI Court Mumbai for anticipatory bail. CBI Court rejected ABA of the duo and both were granted interim protection by the Bombay HC. Through one week, under HC directions both Setalvad and Anand appeared before the CBI to answer all questions.
On August 11, 2015, in a high voltage drama, the Bombay HC granted ABA to both, Teesta Setalvad and Javed Anand, saying speaking against a government is not being anti-national. The CBI challenged this ABA and it was tagged to an ABA related to Gujarat police in a different case. Both cases keep coming up every six weeks and require personal presence of Setalvad and Anand.
In 2016, the Home Ministry granted FCRA License to CJP and put it in Prior Permission Category. Sabrang Trust was given a chance to appear after which license was cancelled. Later in 2016, after being given the FCRA license, the FCRA license of CJP was also cancelled. In December 2016, the CBI initiated a probe into alleged violations of the Foreign Contribution Regulation Act (FCRA). CBI was probing allegations that Sabrang Communication Publishing Pvt Ltd as a company could not accept a consultancy from Ford Foundation. Since FF had deducted TDS from the Consultancy Amount it had been treated as a tax deductible consultancy (source of income) and not a grant.
Apart from the above Rais Khan had also tried to intervene in many different Gujarat riots related cases all in a bid to derail the legal battle CJP has been fighting in order to help get justice for victims and survivors of the Gujarat carnage of 2002. Interestingly he has not only been censured and fined by the relevant courts, but his intervention please have also been dismissed.
Because of CJP's relentless pursuit of truth and justice, our founders and members have been constantly targeted. Currently we are facing over a dozen false cases.
Disclosure- Since these allegations have been made the Sabrang Trust has, in the interests of transparency, placed the following documents in the public domain:
a) a Brief Note/Chart table on the MHRD Project (Finances)
b) Annual report of the Project 2012-2013 submitted to the Ministry
c) Annual report of the Project 2013-2014 submitted to the Ministry
d) List of Libraries set up under the project (in English)
e) List of Libraries set up under the project (Hindi)
f) List of Schools in which project was implemented (2012-2013)
g)List of Schools in which project was implemented (2013-2014)
h) Utilisation certificate issued us. The second installments are issued only after accounts are cleared by the MHRD(2012-2013)
i) Utilisation certificate issued in the MHRD project(2013-2014)
j) Audited Accounts of the Project submitted to the Ministry
https://sabrangindia.in/article/human-rights-defender-teesta-setalvad-targted-yet-again?utm_source=winkemail