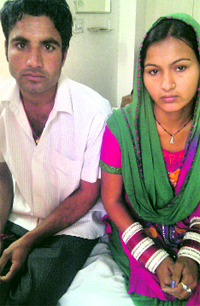 Priyanka and Suresh fear threat to their lives due to their inter-caste marriage. A Tribune Photograph
Sirsa, December 16
A newly wedded couple is facing threat to its lives for breaking customs and marrying outside their castes.
Priyanka Kaswan, who belongs to a Jat family from Panniwala Mota village in Sirsa, married Suresh, a Dalit youth from Kheowali on December 14.
Since their marriage, the couple is living under threat from the girl's family members and some other close relatives.
"When we went to the district courts to seek security for us immediately after our marriage, Raja Kaswan, my close relative, came there and warned us that both of us will be liquidated," Priyanka alleged in her complaint addressed to the District Legal Services Authority (DLSA).
Both Priyanka and Suresh have given identical complaints to the CJM-cum-secretary of the authority to Advocate Usha Kaswan, a lawyer on the panel of the DLSA.
The couple said they had again received threatening calls from Priyanka's brother. He threatened to kill them once they came out of the protection home. Suresh has also expressed apprehension of threat to the life of his family members.
Meanwhile, couples staying in the protection home complained of poor amenities, broken windowpanes, and lack of cleanliness. "There is no kitchen where we can cook food and we have to order food from outside," alleged the couples.
Related articles