All India | Written by Alok Pandey | Updated: November 07, 2013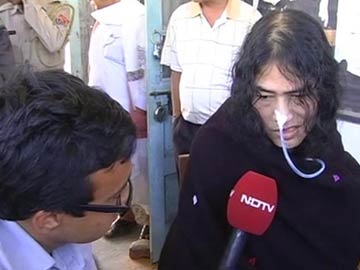 Imphal:  Barely two days after Irom Sharmila's fast-unto-death entered its 14th year, the 41-year-old  civil rights activist has hit out at people within her own organisation, the Just Peace Foundation, saying they threatened her with 'honour' killing over her relationship with a foreigner.
Ms Sharmila has accused those close to her of sending her death threats and "acting like the Taliban" over her love for Desmond Cutinho, a social worker and journalist of British origin who has been in a relationship with Ms Sharmila for close to three years.
In an exclusive interview with NDTV, Sharmila said, "They are acting like the Taliban. They don't understand that my love has nothing to do with religion or politics. I have even received honour killing threats."
Ms Sharmila also claimed her protest against the controversial Armed Forces Special Powers Act or AFSPA which gives the Indian army sweeping powers in disturbed areas, has been hijacked by the very people in-charge of her campaign. The activist says she is not even allowed to donate money from her international prizes to causes like the Uttarakhand flash-floods tragedy.
In its defence, the organisation says the primary problem is their communication gap, given the restrictions on meeting Irom Sharmila, who is under judicial custody in Manipur
Babloo Loitongbam of the Just Peace Foundation said, "Sometimes there is a tendency to make a mountain out of a molehill.  We have made it clear to Sharmila that we have nothing to say about her personal life and that she is free to do whatever she wants."
Manipur Home Minister Gaikhangam has promised that Irom Sharmila's s security may be enhanced, if needed.