The Great Indian Laughter Challenge:
Written by 
Dipti Nagpaul
 | New Delhi | Posted: February 15, 2015 1:00 am
Weekday night at Mumbai's popular comedy destination, Canvas Laugh Club. The lights dim, the red décor fades to black, a round of applause goes out and Jaideep Singh Juneja takes the stage. It's a packed house.
His is a new act but neither his tone nor body language gives that away. Juneja grins, greets his audience and begins the 15-minute set. The 26-year-old talks about his experiences at dating, pokes fun at communities, the lines punctuated with profanities. But the best of his punchlines are reserved for his own tribe: "Sardars between the age of 15 and 40 all look the same, but the problem is we all look 40." The audience already loves him.
When he starts with a dig at inter-caste marriage, though, someone in the audience has already taken offence. Juneja quickly pacifies him. "Hear me out, and if you don't like the joke, you get a refund," he says.
Going on, Juneja says many problems of his childhood are because his mother is a South Indian and his dad a Sikh. "Kundi in Punjabi refers to a latch while in Tamil it means the posterior. When I went to Chennai, I told the maid, 'Madam, zara kundi kholna'," he says. Up comes a collective guffaw from the audience and the detractor, too, is laughing.
A day later, Juneja feels "it could have been better". He may have got the laughs, and who'd complain about that, but he says some of his best lines remained unused. There was a set on religion he had written but Juneja wasn't sure if it would be acceptable to the audience.
Unless you were living under a rock the past few weeks, you'd probably understand the reasons for Juneja's caution. In December last year, comic collective All India Bakchod (AIB) hosted a "roast", a brand of insult comedy popular in the US. The format asks the participants — in this case Bollywood celebrities Ranveer Singh, Arjun Kapoor and Karan Johar and the AIB comics — to hurl the choicest, filthiest insults at one another. They did, calling out Ranveer's many peccadilloes, Arjun's spectacular ordinariness and Johar's positions on matters film-related and otherwise. It was a bitchfest Bollywood had never seen, or taken part in, in public. A 95-minute programme, AIB Knockout was a success, with over 4,000 attendees. Over a month later, an edited video of the event was uploaded by AIB on YouTube — and nearly broke the internet with 8 million views. But soon, as the AIB would later describe it, "the envelope pushed back".
In three days, the backlash began in earnest against the "obscene" content. The Christian community, some members of the film industry and "concerned citizens of India" came out in protest. Threats were made, and FIRs lodged under sections of the Indian Penal Code that deal with obscenity in public and hurting religious sentiments. In five days, AIB took the video down; and within 12 days, the group had issued an apology to the Christian community offended by many jokes directed at Abish Mathew, a member of the AIB collective.
But if you are a stand-up comic doing business in India, would you really be surprised? The fear of "offending" the audience isn't a new one. Juneja says, "Self-censorship begins at stage one, when we are writing our lines."
What each artiste edits out is an individual choice, sometimes depending on the comic's style and what he has to say. For instance, Delhi-based Sanjay Rajoura, with a sharp tongue for politics, doesn't venture into adult comedy. Mumbai-based Anuvab Pal, with roots in theatre, prefers to tell character-driven stories with no scope for cuss words. "Whereas sometimes it's just lihaaz," says Varun Grover, who feels "not offending" is a part of Indian culture just as "not smoking in front of your elders is".
Mumbai-based Karunesh Talwar points out that a comic makes it easier for his audience to confront taboo subjects, to cross the line when others don't have the courage to. "A joke is the only way to bring that into public discourse, make it okay to talk about it," he says.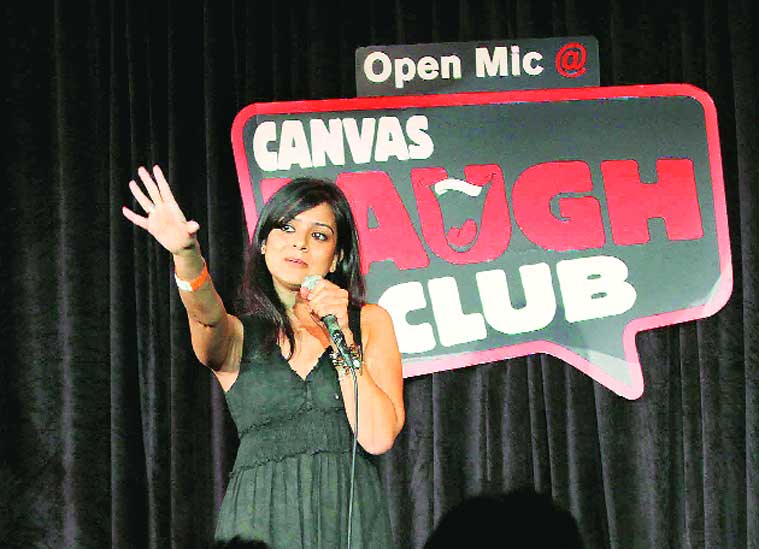 An open-mic session in MumbaiYet, stand-up comics are always filtering content to protect themselves. And dodging the bogeyman of "Indian culture," that catchall excuse used to vandalise night clubs, bar young couples from hanging together, deny women their rights, censor films and, most recently, gag the AIB show.
Mumbai-based Sorabh Pant, who started the collective East India Comedy (EIC), is among the oldest names in the business. Before turning a full-time stand-up comic six years ago, Pant wrote for Channel V. His first taste of audience disapproval came in form of "banal" complaints. "Someone from Raipur wrote in to say that a show's young protagonist had the poster of a bikini-clad woman in his room and that had offended him," says Pant. He confesses that he consciously keeps the content at EIC "clean". "I'm in this business because I love making jokes. I won't do anything to jeopardise it," he says. Pant makes minimal use of cuss words and sex comedy — the popular adult stand-up show by EIC, Men are from Mars, being an exception.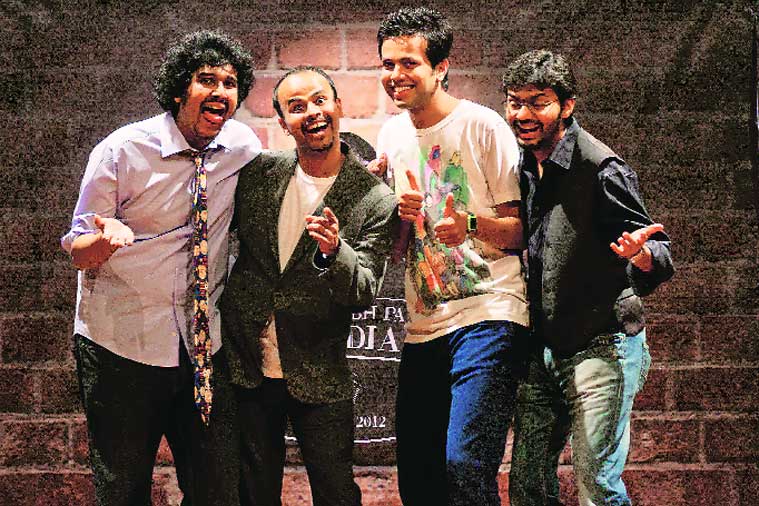 The East India CompanyBangalore-based Kanan Gill, too, admits his own brand of humour is too dark for the Indian audience. What he presents in his stand-up shows is a toned down version. "I read a driving-over-babies or a Sati joke sometimes and am laughing for the next hour. But I cannot present any of those subjects on stage for fear of a backlash," he says. He would not even tell us what constitutes a Sati joke, lest it offend anyone reading this piece.
Sometimes, the audience at an open-mic event will heckle the comic if they find a joke offensive, as Juneja found out. "But such instances are rare in ticketed events as the audience is usually aware of what it is in for, which is why none of the 4,000 attendees of AIB Knockout complained about the content," says Salvador D'Souza of Canvas Laugh Club.
In many private shows, even if held in a secure environment with a discerning audience, people are stopped from recording the gags. That's when comics let it all flow. But they also know they have to watch their back. Most of the outrage surfaces online. Any comic will tell you that the content on the Web is not half as bold as what they present in a live show. Sahil Shah of EIC cites the example of their video Wrecking God. Set against the backdrop of Mumbai's Ganapati festival, it tried to convey that no religion need impose its traditions on citizens. The last few lines in the video were: "We do respect your religion/ Hindu Sikh Muslim or Christian/ Don't force-feed us your tradition/ It's not biryani. Disclaimer: This is just a parody, we still love our country."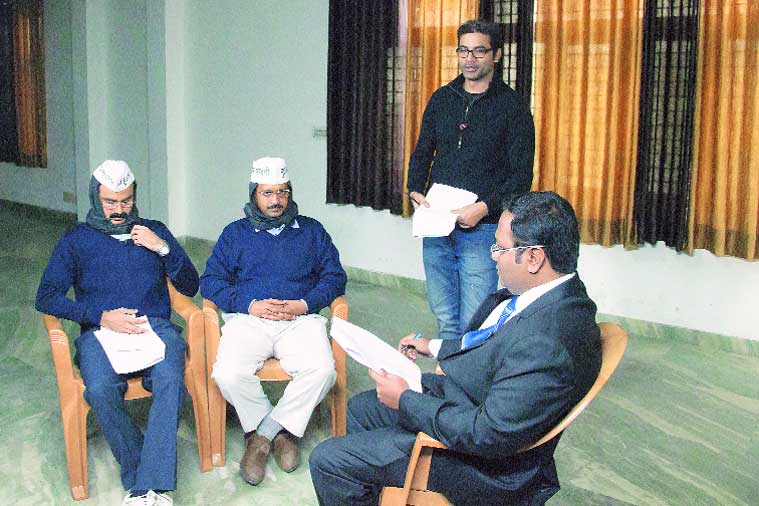 Arvind Kejriwal in a The Viral Fever showBut there are occasions when the comedians may miscalculate the risk involved. For an episode of Jai Hind!, a web-based comedy show now off air, Grover had penned a fake interview of the centenarian marathon runner Fauja Singh. When asked what kept him running at the age, the actor playing Singh said he's been used to running, first during the Partition, then in 1984 during the riots. The video went viral after the Sikh community protested. The makers of Jai Hind! received death threats and cases were filed against them in Punjab, Canada and the UK. The group eventually had to seek police protection. Grover has been watchful since.
It's perhaps the same fear that had AIB edit out close to half the video of AIB Knockout — portions that may have been considered too crass or would have not gone down well with some members of the film industry. There were jokes on Arjun Kapoor and his alleged ex-girlfriend, and Salman Khan's sister Arpita Khan. Many ones on Prime Minister Narendra Modi were left out.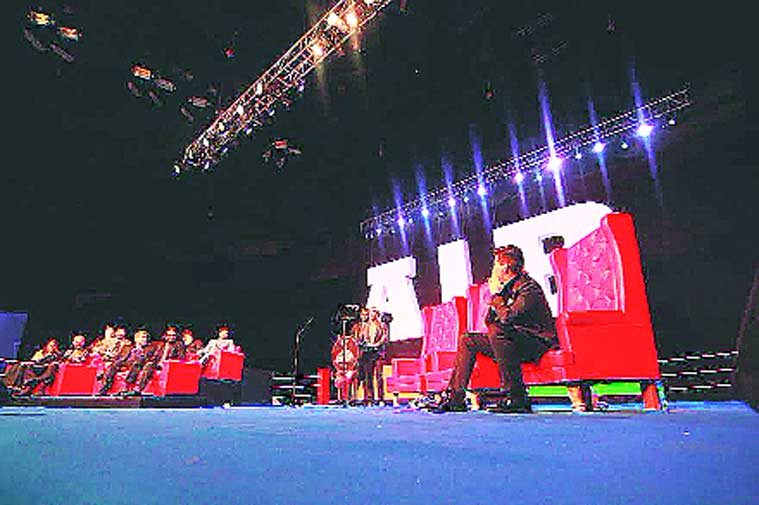 A scene from the AIB Knockout RoastPant says that the AIB brouhaha perhaps went out of hand because of the presence of celebrities. "That bridged the gap between such a niche form of entertainment and the Indian masses. People who have for so long watched the Great Indian Laughter Challenge or Comedy Nights with Kapil were suddenly exposed to AIB's brand of humour," he says. Many of them did not find it funny.
The controversy has already acted as a gag order. AIB has refused to speak to the media. EIC, for instance, has been getting a slew of abuses for their videos — some over a year old. Aditi Mittal, the only woman participant of the Knockout, has been viciously abused on Twitter. She had to cancel several of her shows.
The self-censorship is now a notch higher, making some think twice before they even tweet. Gurgaon-based American comedienne of Indian origin, Radhika Vaz, wanted to refer to the AIB apology as an "abortion" on social media in a tongue-in-cheek reaction."I had not fully framed the tweet, but it was to the effect that 'The AIB apology sounds like an abortion. What irony, given the religion it is meant for opposes the practice'. But I didn't, I wasn't sure how it would be received."
Both Gill and Talwar, while admitting that there are subjects they stay away from, refused to spell out exactly what they are censoring, for fear of more nuisance. Organisers, on their part, are hoping that restaurants and bars that served as venues for stand-up acts and helped expand the scene, don't back out.
The silver lining, when one looks for it, is in the enormous curiousity the AIB Knockout has elicited in small towns and non-metro cities. The comics have had many inquiries from Nashik, Nagpur, Udaipur, Ludhiana and so on.
The comedy scene, which began from Mumbai, Bangalore and Delhi, over the last year or two, has witnessed a slow but steady expansion to smaller cities. Pant says that he regularly takes his shows to cities such as Guwahati, Jaipur, Shillong, Kochi and other cities.
Does the content need to vary from what they put out in the metro cities? The view on that is divided. While some such as Pal and Rajouri say they don't need to temper down their original script as their shows usually revolve around universal subjects, Grover and Pant say they do tame down the gags depending on the audience. "A cuss word in a city like Mumbai will add to a joke but in a place like Gwalior, where moral values are still a big deal, it can prove a hindrance. People there may not laugh at the punchline even if it is good, for the fear of being judged," he says.
Akshata Agarwal, co-founder of The Awkward Fruit, which organises live stand-up shows in cities across Maharashtra, explains that most comics keep two sets ready, one of which is "clean". Judging by the response, they switch if they think the audience is not comfortable.
In addition, organisers and sometimes comic collectives, also run checks on the venues ahead of a show so that the content can be designed to suit the audience. "Corporates often want their shows clean," say Vinay Khandelwal, founder of Vinsolution Outsourcing that organises events in Jaipur. He adds that he invites stand-up comics based on the client or venue. "One of the clubs is frequented by people in the older age bracket. A Hindi comic talking politics would work better there. But most of our clients approach us after having watched one of our shows in Mumbai or Delhi, so they are aware of what to expect," he says.
India is a funny country without a sense of humour, says Arunabh Kumar of The Viral Fever, best known for Barely Speaking with Arnub, an online parody programme. "It's a young nation where few people are literate, even fewer are privileged. In those terms we do just fine. And increasingly, we are getting less and less offended. But our culture is also hard-wired into us, that it will take some time before we stop getting offended," he says.
Most comedians are hopeful that once the dust has settled, the laughs will return. Talwar likens the situation to a young boy's parents discovering his smoking habit. "When they find out, you don't stop smoking; instead, they get used to it after a while."
http://indianexpress.com/article/entertainment/entertainment-others/the-great-indian-laughter-challenge-india-is-a-funny-country-without-a-sense-of-humour/99/