Edited by Sabyasachi Dasgupta | Updated: December 11, 2012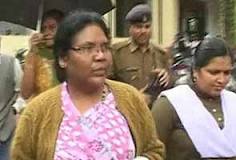 Ranchi: 
In
Jharkhand
, activist and journalist Dayamani Barla has spent the last month and half in prison. Activists in the state allege she is facing government persecution for leading an agitation of villagers near the state's capital Ranchi. The government says her arrest has nothing to do with any particular agitation and is in line with the law, and related to her participation in earlier agitations across the state where police cases were registered against Ms Barla.
48-year-old Dayamani Barla rose to prominence in the 1990s when she led the 'Koel Karo' agitation, protesting against a dam that threatened to submerge 66,000 acres and displace 135,000 tribal families. The plans for the dam had to be finally shelved. Ms Barla also led agitations against all major steel giants in Jharkhand, including ArcelorMittal.
This time though, her agitation against the government seems to have proved costly for this tribal activist.
Since 2010, Ms Barla has led the agitation at Nagri, a village 25 kilometres from Ranchi, where the Jharkhand government is trying to acquire 202 acres of fertile land for building a law university, an Indian Institute of Management and another institute. Ms Barla's troubles mounted since she began the agitation at Nagri.
On October 16 this year, Ms Barla had to surrender before a Ranchi court in a four-year-old case related to a road block she had led in Ranchi. Ms Barla surrendered after the court ordered her property attached in the case. Activists allege that before the launch of Nagri agitation there was no movement in the case for four years.
In August, Ms Barla got bail in the case within two days, but never came out of prison, as she was rearrested by the Jharkhand Police for allegedly ploughing land at the Nagri village despite government restrictions. Since then, her bail application has been rejected three times by lower courts in Ranchi.
Sushanto Mukherjee, a state member of the Marxist Coordination Committee, the organisations leading the agitation at Nagri, says, "Dayamani Barla is being 100 percent persecuted. The government feels if they keep her in jail, they will manage to grab the lands in Nagri. But we will not let that happen.'
At ground zero of the agitation, people like Kadir Kujur are defiant. He owns a few acres of land at Nagri which he says is extremely fertile and suitable for multiple crops, dismissing the government's claims of the low fertility of this land. He says Barla's arrest is a pressure tactic by the Jharkhand government. "Why should the government persecute activists? They are only showing us the way forward in this struggle. I don't feed Dayamani Barla in return for her contributions to our cause," said Kujur.
But at the Jharkhand Police Headquarters, Director General of Police GS Rath says all allegations by activists about Dayamani Barla's arrest are blatant lies. According to Mr Rath Dayamani Barla "is a political activist and the law of the land is the same for everybody. If someone violates the law can you blame the police for acting against them."
Activists have now approached the
Jharkhand High Court
in an effort to get bail for Ms Barla, and have also threatened to move the Supreme Court if necessary. But the immediate future looks bleak for Dayamani Barla, as she counts her days in jail with little hope of coming out anytime soon.
Related articles