Written by Sneha Mary Koshy | NDTV: October 09, 2013 09:14 IST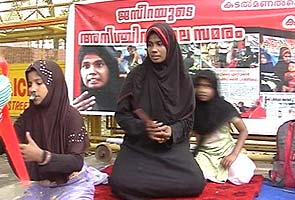 Thiruvananthapuram: For more than 90 days now, 31-year-old Jazeera from Kannur in Kerala has been protesting against the sand mafia in her village. She has now brought her fight to Delhi.
Jazeera, along with her three children, is sitting in the open outside the Kerala House in New Delhi. Neither the weather, nor the age of her children – the youngest is one-year-old – or an assurance from Kerala's Chief Minister Oommen Chandy has been able to deter her.
"I want action by the government against the sand mafia and not mere words," she says.
Jazeera has been protesting against the attack on her house back in Kannur by the sand mafia. She sat on a silent protest outside the Kannur Collectorate for 27 days and then outside the state government Secretariat in Thiruvananthapuram demanding the sand mafia should be pushed out of her village.
But her struggle has been a lonely one as her neighbours in Kerala deny the presence or nexus of any sand mafia. "Jazeera's protests are to garner media attention and has defamed our village," said one of them.
Officials say the issue has been blown out of proportion. "I have personally made visits to that place, and have looked into the matter. We took prompt steps with the local administration since we considered the issue genuine. We've begun night patrolling, have asked panchayats to pass a resolution banning illegal sand mining by the locals. But the local residents have been perceiving this problem very differently," said District Collector Rathen U Kelkar.
The locals maintain that issue in this panchayat is not of sand mafia but of practices that have been going on for decades. The local women themselves mine the sand and carry it on their heads for construction and local works as against lorries and trucks being used in other places.