20 cow-terror attacks in 2017. The attacks include mob lynching, attacks by vigilantes, murder and attempt to murder, harassment, assault and gang-rape. In two attacks, the victims/survivors were chained, stripped and beaten, while in two others, the victims were hanged.
In 50.8% (32) of the cases, the targets were Muslim, in 7.9% (5) Dalit, 4.8% (3) Sikh or Hindu (names appeared Sikh, but it wasn't certain) and 1.6% (one) Christian; in 20.6% (13) cases, religion was not reported. Among 14.3% (9) cases, the targets were Hindus, but their caste was not clear
Police officers and onlookers were injured in 8% (5) of the attacks; 27% of those targeted were women
97% of these attacks were reported after Prime Minister Narendra Modi's government came to power in May 2014, and about half the cow-related violence–32 of 63 cases–were from states governed by the Bharatiya Janata Party (BJP) 
19 of 29 Indian states, with Uttar Pradesh (10), Haryana (9), Gujarat (6), Karnataka (6), Madhya Pradesh (4), Delhi (4) and Rajasthan (4) reporting the highest number of cases
In 5% of the attacks, there was no report of attackers being arrested. In 13 attacks (21%), the police registered cases against the victims/survivors
In 23 attacks, the attackers were mobs or groups of people who belonged to Hindu groups, such as the Vishwa Hindu Parishad, Bajrang Dal and local Gau Rakshak Samitis.
Of the 63 attacks since 2010, 33 (52.4%) were based on rumours, according to our analysis of media reports.
Here is an updated list of lynchings of Muslims by Hindu gau goons for beef/cow slaughter  and other rumours: It is to be remembered that in none of the case the charge of beef eating or cow slaughter was found true.
1. Sept 2015: Mohammad Akhlaq lynched in Dadri, son seriously injured.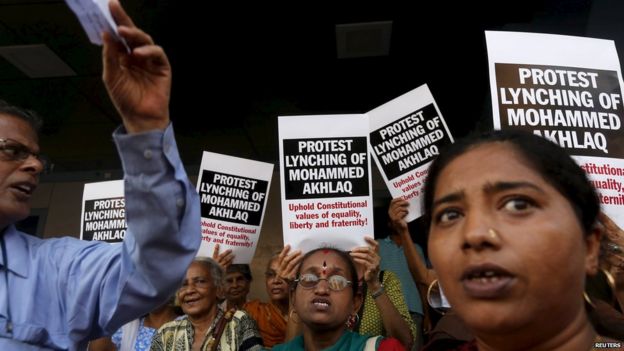 2. Oct 2015
Zahid Rasool Bhatt, 16 years, died in a bomb attack on his truck in Udhampur.
Zahid Rasool Bhat, who was being treated for serious burn injuries in Delhi's Safdarjung Hospital, died early on Sunday, a police officer said.
Bhat and another Kashmiri from Anantnag district, Showkat Ahmad Dar, 35, sustained major injuries when a mob hurled a petrol bomb on their stationary truck at Udhampur on the Jammu-Srinagar highway.
pic courtesy- Kashmir Global
Udhampur District Magistrate Shahid Chowdhary on Sunday said that murder charges had been added to the FIR against the five attackers arrested earlier. They were first accused of rioting and stoking communal passion.
The accused are Sandoor Singh, Danish alias Pamma, Harish Singh, Balbahadur Singh and Varinder Singh alias Kaka. They were also booked under the Public Safety Act, normally used against terrorists in the country's only Muslim-majority state.
The attack took place following a beef party hosted by independent legislator Engineer Rashid in Srinagar.
3.Feb 2016
Latur: Muslim cop beaten, paraded by Hindutva group after being stopped from hoisting saffron flag (Video)
Right-wing Hindutva group Shivaji Jayanti Mandal physically assaulted ASI Yunus Sheikh and made him chant 'Jai Bhawani. Jai Shivaji" forcibly. The AIMIM has demanded Chief Minister Devendra Fadnavis to take action against the saffron goons.
4.March 2016, suspected "cattle traders" Mohd. Majloom and Azad Khan hanged in Latehar
Two cattle traders were found hanging from a tree in Jharkhand's Latehar district on Friday morning. The men were on their way to a cattle fair in the neighbouring Chatra district.
pic courtesy-  Manoj dutt scroll.in
According to Times of India , the men were herding eight buffaloes when some people from a suspected cattle-protection group stopped them in Balumath forests of the district. The two men – Mohammad Majloom and Azad Khan – were thrashed and hanged from a tree. Their bodies were found with hands tied behind their backs and mouths stuffed with cloth.
5. April 2017:
Two Men Killed For Alleged Theft Of Cows, Another Blinded In One Eye For Honking At A Cow
Suspected cattle traders Abu Hanifa and Riazuddin Ali killed for allegedly 'stealing' cattle in Assam
Hanifa, 23, and Riazuddin Ali, 24 were chased for about 1.5 km and continuously thrashed with sticks in Nagaon district of Assam on Sunday.
 The mob suspected the men, who hailed from village Naromari Jamtola, to be cattle thieves who were trying to steal two cows from the village Kasomari, about 2 km from Naromari. They were attacked after some villagers raised an alarm, alleging that they had chased away two cows from the grazing ground in the village.
6. April 2017: Pehlu Khan died of injuries after being attacked in Alwar on the main road in broad day light.
, 55-year-old Pehlu Khan was beaten to death in Rajasthan's Alwar district, by a mob of gau rakshaks. Khan's crime: He was transporting cows. Never mind that he held in his possession documents testifying to the legal purchase of the cows.
Three of the five assailants, believed to be members of the Vishwa Hindu Parishad or Bajrang Dal, arrested by the police, have confessed to their crime. The vigilantes have reportedly said they were angered by Khan's shoddy treatment of the cows. In other words, the assailants believe that the shoddy treatment of a cow (even if that were to be true), is a legitimate excuse to take away the life of another human being.
7.April 2017
MUSLIM YOUTHS ASSAULTED FOR NOT SAYING "JAI SHRI RAM" IN CHIKKADPALLY
Hyderabad: In Suryanagar Colony of Chikkadpally area, Hyderabad, Muslim youths who were going on bikes were stopped and forced to say "Jai Shri Ram". When they refused, the miscreants assaulted them physically in which 5 persons were injured. After this incident, Suryanagar, Chikkadpally area became tense.
According to the reports, some miscreants from Mehtarvadi area who were drunk attacked some Muslim youths who were going on motorcycles. They stopped their motorcycles and asked them to say "Jai Shri Ram". When these youths refused to say so, the miscreants resorted to violence. They pelted stones on the cars of the commuters and auto rikshaws. These miscreants had sticks and iron bars.
Chikkadpally police registered a case and police pickets were posted in the area. The youths, Mohammed Faizan, Syed Sohail, Syed Basheer, Amer and Firdous were injured. They were rushed to Gandhi Hospital.
8.Bulandshahr May 2017: Ghulam Muhammad Killed.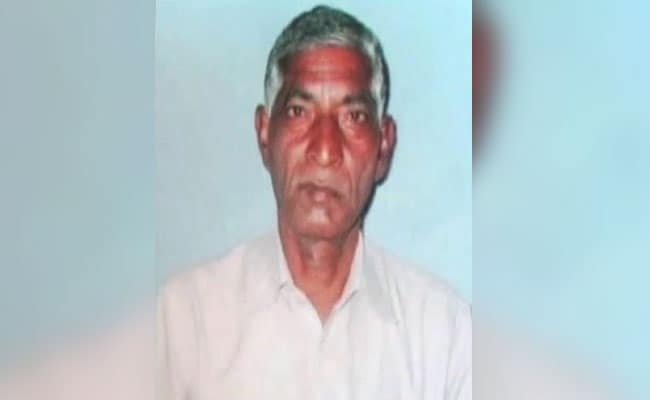 BULANDSHAHR, UTTAR PRADESH:  A 62-year-old man was beaten to death in Uttar Pradesh's Bulandshahr yesterday by a group of 10 men allegedly looking for his young neighbour, who had eloped with a girl from a different community a few days ago.
Ghulam Mohammad's family has accused the Hindu Yuva Vahini, the right-wing group set up years ago by Yogi Adityanath, who took over as Chief Minister at the head of a new BJP government on March 19.
The FIR or First Information Report of the police refers to "five to six unknown suspects from Hindu Yuva Vahini" as suspects.
9. May 2017: assault on Muslim youths in Bhind, Madhya Pradesh.
10. May 2017 Munna Ansari attacked in Jharkhand on "child lifter" rumour
a 39-year-old man  Munna Ansari was thrashed by a mob near Ranchi on suspicion of being a child-lifter. The latest attack, which took place on Sunday, came three days after seven people were lynched on the suspicion of being child lifters in East Singhbhum and Seraikela Kharsawan districts. Cops said Munna Ansari, a…
 Another heart-wrenching incident of mob lynching shook the nation when four people were beaten to death in Jamshedpur's Seraikela-Kharswan district on suspicion of kidnapping children in the region
Three others were also lynched on the suspicion of being child lifters on the same day at Nagadih in East Singhbhum district.
The villagers attacked them after the rumours of them kidnapping children spread across the region. The police received the information of the lynching and reached the village, where they were met by the angry mob who vandalized their car.
11. May 2017: Two traders thrashed in malegaon, Maharashtra for allegedly 'storing beef'.
A group of cow vigilantes thrashed two meat traders in Malegaon area on suspicion of possessing beef. The incident that happened on Friday saw the men assaulting and abusing them. The whole incident was captured on mobile camera and made available by news agency ANI. In the video, one of the assailants was seen slapping the victim and demanding him to say "jai Sri Ram". They were later heard talking about taking the victims to the police station.
#WATCH: Cow vigilantes thrash 2 traders for allegedly possessing beef in Malegaon area of Maharashtra's Washim(26/5) (NOTE: STRONG LANGUAGE) pic.twitter.com/7L2eZRjhlE

— ANI (@ANI_news) May 29, 2017
12. Muslim man attacked in Dhanbad, Jharkand on suspicion he was taking beef to an Iftaar. June 7 2017.
A Muslim man was assaulted by an angry mob for allegedly trying to take beef to an Iftar party at Barbadda village in Jharkhand's Dhanbad district on Tuesday morning.
The victim – identified as 35-year-old Ainul Ansari – has been admitted to the Patliputra Medical College Hospital, where he is recovering.
Police said Ansari, a resident of Murahdih, was headed to Barbadda village on a scooter when 20 people waylaid him at Loharbarba. Even as they were assaulting him, somebody informed the police.
13.Tamil Nadu animal husbandry dept officials transporting cattle in trucks attacked in Barmer. 12 June 2017
Crowd of about 50 miscreants at Barmer in Rajasthan attacked staff and officials of the Tamil Nadu government's Animal Husbandry Department on suspicion of cattle smuggling late on Sunday night.
The team of five assistants and a veterinarian from Tamil Nadu had purchased 50 head of cattle, including cows, bulls and calves of the prized Tharparkar variety at a cost of ₹50 lakh, and were transporting them in five trucks.
Police said they had the required documents and permission from the district administration and were accompanying the trucks carrying the animals when the cow vigilantes attacked at around 11.30 p.m.
The mob thrashed the officials and the drivers and cleaners of the trucks and tried to set one of the trucks on fire. Two of the assistants, Balamurugan and Karuppaiah, and the Veterinarian N. Aravindaraj were severely injured in the attack. The mob then blocked National Highway 15 for close to three hours.
Policemen who tried to disperse the crowd were also attacked and pelted with stones forcing a lathicharge to clear the highway. Four men — Chaina Ram, Kamlesh, Vikram and Jaswant — were later arrested.
A case has been registered against 50 others on charges of assault, deterring public servants from discharge of their duties and under the National Highways Act.
14. Activist Zafar Husain lynched in Pratapgarh Rajasthan for trying to protect women. June 2017
On June 16, Hussein was kicked, punched and beaten to death by municipal council employees at the instigation of Nagar Parishad commissioner Ashok Jain, who ordered to take photographs and videos of women from the Bagwasa Kachi village when they were going to defecate in the open. Zafar himself had submitted a memorandum to the Nagar Parishad few days back protesting against the campaign of public shaming and bullying of women for defecating in the open, the statement added. "In the memorandum, he had demanded community toilets and repairing of the non-functional public latrines constructed under the Swacch Bharat campaign. He had also unsuccessfully sought to submit the memorandum to the District Magistrate (DM) who had refused to accept it.
15. A 16 years old muslim boy lynched, and his 3 friends badly thrashed over beef rumours in a train in Ballabhgarh, Haryana. june 2017. They were returning from Eid shopping in the national Capital Delhi.
A teenager was killed and three of his friends injured in an attack by a group of persons in a train in Haryana, the Government Railway Police said on Friday. The deceased was identified as Junaid, 16, of Khandabali village in Haryana's Ballabhgarh. His friends too are said to hail from the same village. The GRP said the crime occurred on Thursday night when Junaid, Hasib, Shakir, and Mohsin were returning to their village on a Mathura-bound passenger train after shopping at Sadar Bazaar in Delhi.
According to media reports, the murderous attack followed rumours about
beef
eating by the victims.
The attackers repeatedly called us "anti-nationals" and "
beef
eaters", threw our skull caps on the floor. They caught our beards and taunted us with terms such as "mulla", the four injured to
Hindustan Times
.
16.June 2017
Three killed in north Dinajpur: Lynched as cattle smugglers, family say they were construction workers
West Bengal – Three Muslim youth lynched over suspicion of cow theft
There is a need to maintain a daily scoreboard of killings of Muslims in India under PM Narendra Modi.