A rare interview with Vernon Gonsalves, who was jailed for six years on the charge of being a Naxalite.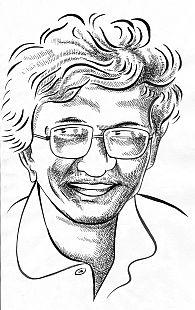 Illustration: Uttam Ghosh/Rediff.com
On August 19, 2007, Vernon Gonsalves was picked up by the Maharashtra Anti-Terror Squad from Mumbai's Andheri East suburb on charges of being a top-level Naxalite leader with a sinister plan and for possessing explosives.
Almost six years after being jailed and despite the stiff defence put forth by his advocate wife Susan Abraham, Gonsalves was convicted under various sections of Unlawful Activities (Prevention) Act and Arms Act in 2007 by District and Additional Sessions Judge P M Dunedar. But since he had already undergone incarceration for the period that he was sentenced, he was released immediately.
Going by his educational qualifications, professional record, no one would believe that Gonsalves — a trade unionist, a strong believer for justice, writer and social activist — could be spearheading the outlawed group.
In an exclusive interview with Rediff.com, Gonsalves recounts in detail to Neeta Kolhatkar his arrest, the case against him and his future plans
Can you recall the day you were picked up?
I did not expect this sort of incident. I was put up in a totally fabricated and false case. The kind of sections that were slapped on me (laughs while narrating this), Arms and Explosives Act, attempt to murder….
I would have expected Unlawful Activities (Prevention) Act, but not these sections. When one is in the social sector organising people and writing about it, there is a lurking feeling at the back of one's mind, of one being arrested.
I should not have been so naive to believe that the State could go to such levels to arrest a person.
Can you please recount the day when you were first picked up? One day before your official arrest as has been shown?
It was a Sunday and I had gone up our lane to drop my son Sagar. Susan was out on some work; she had given me a list of chores to finish.
My first stop was the chemist shop across the road and there was no indication of any police cars or vans. As I was about to cross, I felt a car coming close to me.
The door opened immediately and another screeched to a halt. Two men came and forced me to sit inside the vehicle. I felt like I was being abducted.
Although it was a Sunday, there were a few people. So I screamed for help and some came forward. Immediately, the police shouted, 'Hum police hai (we are the police),' and the bystanders backed off.
My shirt was torn, my spectacles fell down and broke, and immediately I was covered with a black veil.
At the outset two officers began questioning me in Telugu. Even then I was convinced it was some sort of mistaken identity. That gave me an indication that the manager of this operation was from Andhra Pradesh.
I blurted out in Marathi, 'My name is Vernon Gonsalves.' I asked them to take me home. I realised they had been probably fed some information and I was whisked off to some place.
It was a little later that I understood that it was the ATS (Anti-Terrorist Squad) lock-up at Kala Chowky (in south-central Mumbai).
I kept asking them who were they (they were all in plainclothes) and that if they were the police I insisted they took me to court.
Once I was taken to the lock-up I was thrown in a cell and the veil was removed.
How did they treat you, question you? You had complained they used force. Did the ATS torture you?
There were no indications of a normal prison there. I was seated on the floor, which had chains and I was handcuffed. In fact, I told them that the way I was picked up, brought and treated, 'I fear you will finish me in a fake encounter.'
It was pointless talking to them. When they asked me for information, I told the police that it was pointless talking to them if they thought of killing me.
The Andhra Pradesh officers got a whiff that I had no connections, that is when they began roughing me up. They hit me behind the neck.
They stood behind me, asked questions and kept hitting me. I insisted that they did not look like police when they asked me some names; we had reached a stalemate.
That is when ATS officer Parambir Singh came in. He promised me that they had no intention of killing me in an encounter, especially anyone with Naxal links.
I then reminded him that there could always be a first killing of sorts. That's when the police started on a new line. They blindfolded me, put me in a vehicle and took me around the city.
Were you aware of your surroundings, as to where you were being taken? How did you remain alert?
I kept my cool and did not react. When such things have already happened to you, a certain kind of coolness overcomes you.
I realised that the police were putting up this drama to give me the feeling of an encounter. So I began to concentrate on the sounds outside.
All the while I knew they were taking me away to some suburb. I knew they never took me into the heart of the city. After a while, they realised it was taking them nowhere and brought me back.
At night they shifted me to the MIDC police station (in north-west Mumbai). When I was taken there I didn't know the location, but while taking me out of the station they had not covered my face and eyes tightly and I realised I was somewhere near my house.
At 12.30 am, they brought me home. Till then, I was persuading them take me to the court or my house where we can talk. I need to know what all this was about. So this was a relief… at least there won't be any encounter.
What transpired at your house? How did the ATS find the so-called explosives they accused you of harbouring?
Susan was at home when they brought me. Sagar was studying; he too was awake. At least they were seeing me. They kept me in a separate room and began searching the house. They picked up CDs — they even took Sagar's game CDs — and went through our computer.
Susan had case files regarding Dr Binayak Sen, the doctor who was detained in Raipur in Chhattisgarh on charges of sedition — those were taken. They took books, even those that they did not understand. They just took them (laughs heartily). This went on till 6.30 am.
The first indication of my arrest in a case they had made up came when they gave a letter to Susan. Susan showed it to me. I expected to be arrested under UAPA, because it has a broad spectrum. But instead they booked me under the Arms Act, accused me of harbouring explosives like gelatine and detonators.
I am aware of the law. It was evident that the police had some other agenda. They said, 'There can be others too. So this is the broad case with various sections.'
It was only the next day in court that I saw Sridhar Srinivasan for the first time. He too was arrested on the same charges.
Did the case stand in court at the outset? Did the court believe the fabricated sections?
Moreover, how did the court and later the police react when you raised the issue of physical abuse in custody?
I was picked up 1.30 pm on Sunday, but in court they showed it as 4.30 pm and that too from Govandi (in north-east Mumbai) (laughs aloud). As for witnesses, they did not even get any real neighbour from our area.
Read more here— http://www.rediff.com/news/interview/exclusive-interview-maharashtra-police-has-no-understanding-of-naxalism/20131021.htm?sc_cid=twshare
Related articles