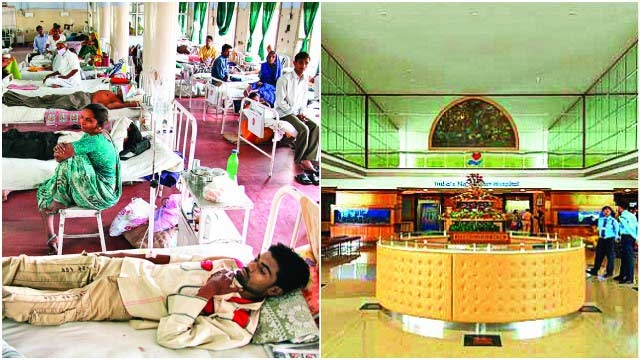 Save for the 1980s, governments have not committed adequate budgetary resources for national health policies
New health policies are launched when there is an intent to change things for the better or worse. Historically, the first opportunity was the pre-Independence 1946 Bhore Committee Report that was not only a health policy document, but a comprehensive national health plan which, at that point, demanded less than two per cent of the GDP for its full realisation. Lack of vision and foresight of our leaders failed that policy. What followed was a series of committees and commissions and five-year plans whose approach changed periodically and was narrow, selective and targeted, and which buried the ethos of the Bhore Committee.
Thirty-six years later, in 1982, the first National Health Policy (NHP) was launched post Alma-Ata with the intent of realising Health For All by 2000. This policy was comprehensive and focused on primary healthcare and was launched during Indira Gandhi's post-Emergency comeback and backed by a strong political will to make a difference. Under the Minimum Needs Programme, great strides were made and rural healthcare saw huge investments, pushing public health spending from 0.7 per cent of GDP to 1.5 per cent of GDP by the mid-eighties. Health outcomes improved dramatically through expanding rural health infrastructure and strengthening tertiary care. Unfortunately, the momentum was lost at the turn of the nineties under World Bank-led reforms which reduced public health spending back to 0.7 per cent of GDP by mid-nineties. This destroyed the gains from the first NHP and as macro-economic reforms were consolidating, a new health policy was launched in 2002. This policy was in sync with the economic reforms giving a boost to the private sector and further reducing the public health sector to just preventive and promotive health and reproductive healthcare. Public health spending hovered around 0.8 to 0.9 per cent of GDP, user fees were introduced, and this further alienated even the poor from the public health system. With declining public health investment, the private sector boomed — health insurance, pharma industry, medical diagnostics and corporate hospitals became the drivers of healthcare growth in line with the neo-liberal economic policies.
The UPA-1 tried to do what Indira Gandhi had done via the Minimum Needs Programme. They launched various flagship schemes like the National Rural Health Mission. The NRHM was a huge collaborative effort with civil society involvement and brought back the focus on rural healthcare leading to infrastructure improvement but the stumbling block was human resources, especially doctors. The infrastructure expanded, resources saw an upward trend, and spending moved up to 1.2 per cent of GDP. But huge vacancies in public health facilities from 30-40 per cent for doctors and 70 per cent for specialists failed to revive the public health system to its mid-eighties glory. The tragedy was that the urban healthcare system suffered utter neglect and the credibility of the public health system by UPA-2 was completely undermined.
The 12th Five Year Plan and the High-Level Expert Group on Universal Health Coverage made attempts to revive the public health system and mandated a commitment of 2.5 per cent of GDP to be achieved by 2017. But the government completely failed to take public spending beyond one per cent of GDP. Even the 12th Plan failed to allocate the entire Rs 2,68,551 crore and the final allocation was a mere Rs 1,25,117 crore, less than half.
Worse, the original allocation of Rs 1,93,406 crore for NRHM was reduced to Rs 90,023 crore. The free medicines and diagnostics policies and upgradation of public health facilities to IPHS standards, the cornerstone of the 12th Plan and HLEG, just did not take off.
Meanwhile, the NDA came back to power and produced a surprisingly robust draft health policy capturing well the HLEG recommendations. It proposed that public spending should reach 2.5 per cent of GDP by 2020, of which 70 per cent should be on primary healthcare, and that per capita public spending on healthcare should be Rs 3,800 at 2015 prices. The Centre would contribute 40 per cent of the resources instead of its present 20 per cent share. The draft wanted states to commit eight per cent of their total budget for health and that free drugs and diagnostics would be available in all public health facilities. It wanted all district hospitals to be converted into medical colleges and that financing all the above would be largely through a tax-based mechanism.
This was the Health Ministry's stand but the NITI Aayog was clearly opposed to this and used its influence in the PMO to tweak the final version tabled in Parliament. The 2015 draft underlined the need to establish healthcare as a right and proposed a National Health Rights Bill. The 2017 policy has struck that down and has developed a language called health assurance, which is nothing but health insurance as a key mechanism of financing healthcare. Besides, the NHP 2017 health policy emphasises the need to involve the private sector in delivering healthcare. The only compromise with the 2015 draft is that primary healthcare may remain largely in the public domain using tax resources but it wants secondary and tertiary care to shift completely to an insurance-based financing, wherein for the defined poor the government would foot the premium. It, however, does retain the 2.5 per cent of GDP public health spending target but has shifted the realisation date to 2025 — another way of saying that we will not get there!
We must wait to see where the new NHP takes us but those running with this new health policy must look at states like Mizoram, Goa, and Puducherry that have robust health outcomes precisely because they have either reached or exceeded the 2.5 per cent GDP target and/or Rs 3800 per capita. In this historical analysis of health policies, it becomes evident that the critical element that led to the failure of each policy was lack of political commitment in budgetary allocations.
The author is Country Coordinator, International Budget Partnership.
http://www.dnaindia.com/analysis/column-mapping-health-budgets-policies-economic-plans-2377062