All India | Written by Sutapa Deb | Updated: April 11, 2015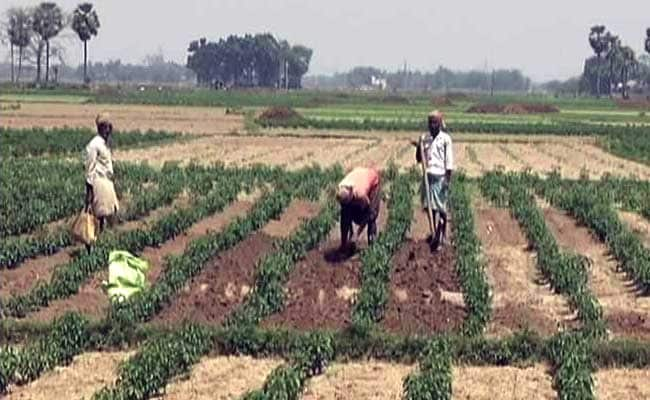 There is the reality of a farmer's suicide and then there are versions of this reality. Whether you choose to accept the farmer's context of poverty, debt and extreme risk, or deny it, often depends on the class and profession you belong to.Fields pockmarked with brown mounds create a surreal setting. At least nine
suicides
by farmers have been linked to the crisis in
West Bengal
's potato belt. Farmers have left their newly harvested
potatoes
lying in the open despite the risk of their getting spoiled. Traders, who would earlier roam these villages, are nowhere to be seen. It's a problem of plenty this year. There's been a 20 per cent increase in the average annual potato production in the state.
Farmers have been forced to sell at depressed potato prices of less than Rs. 2 a kilo though their production costs are more than double that. Frustrated, some have decided there is no point in selling the potatoes.
In Sasanga village, Burdwan district, 33 year old Ratan Saar committed suicide by consuming pesticide on March 20.
Ratan, who belonged to the Scheduled Castes, was a sharecropper. He had leased two and a half bighas or one acre of land to cultivate potatoes. Each bigha requires an investment of over 22,000 for inputs like seeds, fertilisers and pesticides, which he had raised after taking loans from moneylenders. If he stored the crop for long and waited for the prices to rise, he would have had to pay higher interest on the loan.
Like many others in Sasanga village, Ratan Sar was drowning in debt. He had pawned his wife's jewellery, sold his cow and owed over 12,000 rupees to the seed dealer.
Sashti Sar, Ratan Sar's wife, said, "We would quarrel as we were unable to sell the potatoes. My jewellery had been mortgaged and some cows and goats had been sold. The potatoes that remained had been given to the dealer who sold us the seeds. Since the potato market was bad, he said he was helpless and would not be able to get back my jewellery. I appeal to the Government to help my children. I have no one left. I have lost everything."
Jeweller Bankim Karmakar of Sasanga village told us Ratan came to him during the time of cultivation."He gave me a pair of earrings and bangles. I gave him Rs. 11,000 for them. He had to pay 15 per cent interest every month on the amount," he says.
The seed dealer, Ajay Karmakar, says Ratan had bought eight bags of potato seeds from him. Each bag was worth Rs. 3,000. He said, "The seeds cost Rs. 24,000, but Ratan was only able to pay half the amount."
Uttam Rai, a sharecropper and Ratan's neighbour, said, "Those who can afford it, pay cash for the seeds. Others have to take them on credit. We are unable to get loans from banks since we don't have our own land. My attempts to get a kisan credit card were unsuccessful. I made several trips to the bank but returned empty handed. This is the reason why we have to sell our cattle, mortgage or sell jewellery, and borrow money on interest. You could ask why did this farmer commit suicide and not the others? The answer is that everyone does not have the same mental makeup. Another factor is education. The government is constantly stressing that it is a must for all.
In another part of Burdwan district, Gudu Murmu of Chhatimdanga village has committed suicide. The 50 year old belonged to the Scheduled Tribes. His son Ram shows us the spot where the pesticide for the mustard crop was kept hidden, safe from the children. Last month, Gudu consumed the pesticide and then lay down to die on the top floor of the mud house.
The mud floor is shaky and if left unrepaired, could collapse any time bringing down the structure. Ironically, the potatoes that had caused Gudu so much sorrow are being stored at the spot where he was found after consuming poison.
Guddu did not own any land. He was a sharecropper — the most vulnerable group in the agricultural community. Not only did he have to bear the entire cost of inputs but he had to share the crop that he cultivated with the owner of the land.
Sharecroppers can be likened to entrepreneurs, often taking up cultivation for the first time. But they are invisible in the official system. They do not get loans from banks under the kisan credit scheme or from local cooperative societies. The provision for joint liability group with landowners has been rarely used. To pay for the inputs, they are compelled to take loans from local moneylenders at over 40 per cent interest for three months.
Kalomani Murmu, Guddu's wife, said, "We cultivated potatoes after borrowing money from moneylenders. We are poor cultivators, you can't expect us to have any money?"
Gudu's son, Ram Murmu, recalls, "On numerous occasions my father would worry that debts were mounting and he would not be able to clear them. He would say that if the prices of crops don't increase, how would he get his money. I used to think we would manage somehow."
Across the country, farmer suicides are neither recognized officially nor politically.
The Burdwan DM, Saumitra Mohan, is quick to dismiss the fact that Gudu and Ratan's death were farmer suicides. He does not accept the fact that they had taken a loan for cultivation. He said, "These suicides have not been committed because they were not getting the right price for their produce. There were different reasons, there were family reasons. In fact, we have also discovered that most of them, were not even farmers. Four out of seven did not even have any loan against them and they did not have any land. Those who cultivated, they were tilling someone else's land and that too a very small amount, two to three bighas, and in some cases as little as 17 cottahs."
Keen to disprove our report, the DM and the district agricultural officer decide to visit Gudu's village. There these dhaner gola or oversized baskets for storing paddy outside his home are the subject of their interest. There is speculation by the team that at least one lakh rupees worth of paddy is stored there though no one has counted the paddy bags inside the basket. Nor is anyone taking into account the fact that farmers often store paddy if they are unable to get a good price and recover costs. Loans are tied to each crop and it is common for families to have a debt overhang.
The anganwadi worker tells us the family had quarreled over the loans taken to grow potatoes.
Deepali Das, Anganwadi worker says,"The potato prices are not stable. Some say it is selling for Rs. 90 for 50 kilos, some say Rs. 100, and other traders are not willing to buy them because the quality isn't good."
However, the moneylender, the landowner, and the administration say the quarrels were over Gudu's drinking.
Guddu's landowner, Uday Chatterjee, says he had provided Gudu the seeds, fertilisers and other inputs.
The landowner's agreement with Gudu was verbal and cannot therefore be verified. There are many different arrangements. A common one is for sharecropper to buy seeds and fertilisers from landowners and give the harvested crop to them. The sharecropper gets half of the earnings, minus the cost of his purchases and the interest on it.
Uday Chatterjee said," I am sure his suicide had nothing to do with potato cultivation. He had only cultivated a small piece of land for potatoes for his own consumption. We are not even actual potato farmers. His drinking was the main reason for the fights he used to have with his wife. He had cultivated only a bigha of land."
I asked him whether he was absolutely certain that Gudu had not cultivated any more land, say with another landowner.
Chatterjee responded by saying he was unwell." I have just had a bypass surgery so I don't go to the fields often. "
In Raipur, Mathpara village in Hooghly district,  46 year old Tapan Jana's tipping point came after he realised he had no hope of redeeming his wife's jewellery from the moneylender. His body was found in the fields next to a bottle of pesticide.
According to Purnima Jana, Tapan Jana's wife, "We would cultivate on land taken on lease and would pay nearly Rs. 9,000 a bigha to the landowner. Whether we made a profit or loss, the responsibility was ours. He cultivated potatoes and it led to losses and debts. Then he invested in chit funds. That company too closed down. These tensions were the reasons for his sudden death."
There were visible signs of poverty in Purnima Jana's house. Probably the worst was the fact that her 15-year-old son had been sent as a bonded labour to a bag manufacturer in Kolkata.
Its late by the time we reach the house of Swapan Kundu in Ketedal village. He is the second potato farmer to have committed suicide in Hooghly district in the month of March. His son Soumen shows us the place where he hanged himself behind the house.
Both Soumen and his brother work as artisans for a jeweller in Chandigarh and earn a meagre amount.
Soumen says he and his brother do not want to be farmers. "Since our father left us this way we have decide to continue working in other people's shops. What are our options?
There is no profit in farming. Farmers get nothing for their produce even though they have to pay high wages for labour and pesticides are expensive. They may deal with a setback for 1 year, 2 years or 3 years, but how long can they continue to bear losses? We faced the same problem with our paddy crop earlier as there was no money for it. My father had taken a huge loan from the farmers society.  But how can it be paid back if the paddy does not bring in money?"
It is on record that Swapan Kundu had borrowed over Rs. 74,000 rupees from the Primary Agriculture Cooperative Society, but the Hooghly DM says his death was due to family problems and not the debt. As for Tapan Jana, the DM says he had received reports that said he was a moneylender.
Persisting Sanjay Bansal, DM, Hooghly, said, "There were persistent quarrels between the husband and wife because he used to lend money to other farmers. He mortgaged his wife's jewellery and everything, and that money he gave it to somebody else on interest."
When we revisit Raipur, the village community says the official account on Tapan Jana is false.We are also told that some local party bosses have asked his wife not to speak to the media.
Farmer suicides are a complex problem determined by various factors. Poverty and the inability to cope in the face of mounting debts seem to be a common thread in most cases.
These reasons resonate among potato farmers.
Sharecropping or tenant farming are risky ventures, but they have no other income earning opportunities.
Since August last year, no work has been available under the Mahatma Gandhi National Rural Employment Guarantee Scheme. Wages have remained unpaid for months.
Saumitro Mohan, DM, Burdwan, said, "We have not been able to pay wages of around Rs.250 crore which we are supposed to give to various people, households who have worked under NREGA within 15 days. This money is supposed to come from the central government."
There has been a massive crisis in the MGNREGS at the central level and it has left a terrible impact on the rural poor in these districts who are without a safety net. The major challenges are the increasing shortfall of funds for the programme and the lack of political will.
In the last few weeks the prices of potatoes has gone up to Rs. 4.50 a kilo, but not enough to give farmers a profit. Because of lack of space in cold storage, farmers are unable to stock their produce and wait for better prices.
The political class has started a blame game.
Madan Ghosh, CPM leader and President, West Bengal Krishak Sabha, said, "We have in our state around 450-500 cold storages. Their storing capacity is around 65 lakh metric tonnes. West Bengal Government had said 5 per cent of the storing capacity will be reserve for the state Government, 75% for small, marginal and middle peasants and 20 per cent for traders. But since last year the state Government abolished the system."
According to the CPM leader, small farmers are denied space while traders keep their potatoes in cold storage under fake names of farmers.
This charge is denied by Trinamool Party leaders who say the present government increased the cold storage capacity by 10 lakh metric tonnes in the last four years from 55 lakh metric tonnes to 65 lakh metric tonnes.
MD Aparthiba Islam, who is member of the Burdwan Zila Parishad, said, "If a proper inquiry is held into the farmer suicides, we will see the reports are a game of dirty politics. Till about four years ago, the Left Front Government had ruled for 36 years in West Bengal, but it did not build the infrastructure necessary to preserve potatoes. If there had been adequate availability of cold storage, potatoes wouldn't have got spoiled and these incidents wouldn't have occurred. "
The fortunes of potato farmers vary from year to year. Last year, the prices were good as demand had outstripped supply. In fact the state government banned export of potatoes to neighouring states like Odisha, Jharkhand and Assam. The move was meant to stabilise potato prices for the consumer.
According to Sukumar Samanta, President, Hooghly District Progressive Potato Traders Committee, "Since there has been good potato production all over India, we are not getting markets. West Bengal's potatoes are supplied to neighbouring states. But in those states too potato was cultivated this year. In the largest potato producing state, Uttar Pradesh, there has been a good potato harvest. So has Gujarat and Punjab."
The State government has been criticised for doing too little too late. It is providing transport subsidy for export of potatoes abroad and to other states. It has offered to buy 50,000 metric tonnes of potatoes for its midday meal and ICDS programmes. Given the fact that the total potato production is 1 crore metric tonnes, it is an insignificant amount.
But the real tragedy is that the government is unaware of the profile of its marginal farmers. Of the fact that measures like buying potatos do not reach the sharecroppers or tenant farmers as they are not on the records anywhere.
This group is very fragile, unable to bear the losses of even one crop.
http://www.ndtv.com/india-news/india-matters-fields-of-despair-753975