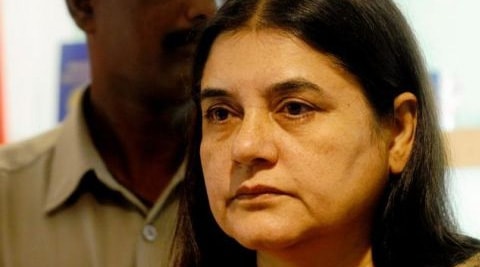 Ministry of Women and Child Development under Maneka Gandhi.
SUMMARY
Draft of the amended Act extends panel's jurisdiction to Jammu and Kashmir.
The National Commission for Women (NCW) is all set to be elevated to the status of a civil court with jurisdiction over Jammu and Kashmir too. Every proceeding before the commission will have the status of a judicial proceeding and it will have the power to issue arrest warrants if the summons are not heeded to.
These are some of the changes the Ministry of Women and Child Development under Maneka Gandhi is including in an amended version of the NCW Act, 1990. Maneka Gandhi, according to sources in the ministry, wants to give teeth to the commission and make it a body at par with the National Human Rights Commission.
Soon after the new government took over, the ministry sent feelers to NCW chairperson and members that it would like to reconstitute the body. However, chairperson Mamta Sharma, a Congress politician from Rajasthan, refused to budge without written orders.
The government will now wait for her tenure to end — which is in August. The draft of the amended Act will soon be circulated for comments from ministries before placing it in the Cabinet.
"We are working on the amendments to the NCW Act to extend its jurisdiction to Jammu and Kashmir on all matters listed in the central and concurrent list of the Seventh Schedule of the Constitution.  This would mean that like NHRC the commission too can take up matters in the state. The commission will be deemed to be a civil court with powers to issue arrest warrants in case summons are ignored. They can fine up to Rs 5,000 for non-appearance and also call for information from Central or any state government," said an official in the ministry. It can also approach the Supreme Court or concerned High Court for directions, orders or writs, according to the draft.
Rules will be framed for appointment of chairperson and members to do away with political discretion and each one of them will have a fixed tenure of three years. In case of a vacancy because of death or resignation, it will be filled within 90 days but the new incumbent will only get to serve the remaining term and not a full one. It will also have powers to recommend to the appropriate government or authority to initiate prosecution if its own inquiry reveals violation of women's rights either by a public servant or a private person.
Maneka Gandhi, sources said, has expressed her displeasure with the working style of the commission and the fact that the full commission meets at best only once a week. She wants the commission to meet on a daily basis and take up matters with urgency instead of choosing arbitrary issues relating to celebrities like Preity Zinta and Rakhi Sawant.Read more here – http://indianexpress.com/article/india/india-others/ncw-to-get-civil-court-status/