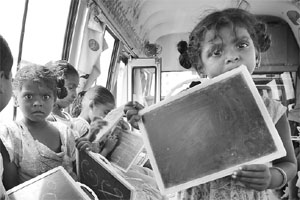 Sravani Sarkar, Hindustan Times
Bhopal, October 02, 2012
Six-year-old Shivani was raped and beaten to death by her paternal uncle and aunt, who were acting as her foster parents, in Indore. The father of the child, resident of a village in Uttar Pradesh, had handed over the child to Rajesh Sengar and Bebi four months ago. The child was physically and  sexually abused  all through her stay with her uncle and aunt and finally succumbed to her injuries.
September 16: A 12-year-old girl complained to her neighbours in Bagh Sewania (Bhopal) that her maternal uncle, with whom she and her three siblings were staying for last several months, tortured them and made them work like servants. Their father is in jail for murdering their mother. The police, Child Line and State Commission for Protection of Children's Rights (SCPCR) intervened and finally handed over the three kids to their grandmother and paternal uncle.
August 2012: Neighbours in Koh-e-Fiza (Bhopal) called up Child Line to complain that two girls – aged 11 and 6 – were being regularly abused by their relatives to whom they had been handed over a few months ago. These kids were also treated like servants. The father of the kids had remarried after their mother died. Child Line and district Children's Welfare Committee (CWC) intervened and handed over the children to their parents, despite lot of resistance from the "adopting" family.
These incidents do not only horrify, but also bring to light a dangerous legal loophole. There is practically no law or regulation that guides intra-family adoption – children who move from their biological parents to foster parents within the same wider family.
While there are strict procedures and rules in place for legal adoption of orphans or abandoned children, there is nothing to stop people from merely handing over their kids to friends or relatives apparently to ensure better care. Recent incidents suggest that these children are more often than not subjected to acute physical, mental and even sexual abuse by their relatives-turned-foster parents.
"There is nothing really in the law to stop people from doing this or to monitor the condition of such kids once they are handed over. The only way is to create massive awareness among people to spot and report any child abuse in their neighbourhood," said state representative of National Commission for Protection of Children's Rights (NCPCR) and Bhopal Child Line in-charge Archana Sahay.
She, however, said that in case there is a complaint about children being "informally" handed over, both the families that give away and receive the child could be booked. Sahay adds that a considerable number of cases of abuse by informal adoptive families have been reported in the recent past. "This indicates a very scary trend. People may be looking at adopting children of poor relatives as they find difficult to get full-time servants. And if the child is a girl, then the chances of sexual abuse increases," she said.
Amita Jain, who heads the Bhopal-based adoption agency Matrichhaya, also expressed concern about such informal adoption process and stressed on the need of alertness on the part of neighbours to detect and report any such cases of abuse.
Even in cases of formal legal adoptions, post-adoption monitoring has been a weak area. This was revealed by Alok Sharma, the deputy director of the Department of Women and Child Development (DWCD) and in-charge of the Integrated Child Protection Scheme (ICPS) in MP.
Sharma conceded that post-adoption monitoring in case of even legal adoption is a neglected area. "There is of course nothing that we could do about informal adoption within families or friends," he says. As for monitoring in case of formal adoption, the department is now thinking of involving the district ICPS officers in the process, said Sharma.
Who's Watching?
The Central Adoption Resource Agency (CARA) monitors the process with support of the state-level agencies.
Once the legal process is completed and child is given for adoption, the adoptive families are expected to give quarterly reports about progress and well-being of the child to the adoption agencies as well as the court for three years.
The agencies are expected to submit half-yearly reports to CARA or a state agency for two years after adoption.
Adoption agencies have to often pressure adoptive families to give the report. Also in cases where the child goes for adoption out of the city or state, it becomes difficult to monitor, says Amita Jain of Matrichhaya.
The state government is thinking of starting external monitoring through the district ICPS officers.