Gopal Krishna, P
Unless the total estimated budget of the Aadhaar project is revealed, all claims of benefits are suspect and untrustworthy.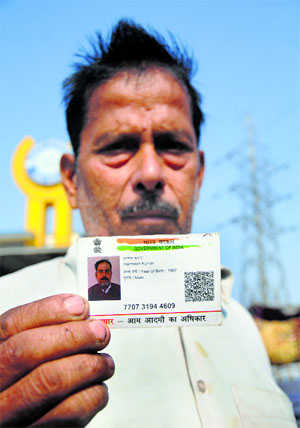 Gopal Krishna
Public policy researcher, Convener, Citizens Forum for Civil LibertiesAT  the recent Global Conference on Cyber Space Prime Minister Modi said, "I am sure most of you are already aware of Aadhaar, which is the unique biometric identity of a person…Through better targeting of subsidies, the JAM trinity has prevented leakages to the tune of nearly 10 billion dollars so far." Sometime back, former head of Unique Identification Authority of India (UIDAI), Nandan Nilekani had claimed in Washington that so far, the government has saved about $9 billion by eliminating fraud in beneficiary lists due to 12-digit biometric Unique Identification (UID)/Aadhaar Numbers being fed into Central Identities Data Repository (CIDR). These questionable claims about savings from UID/Aadhaar have been widely reported.  However, most such claims have been published without verifying the source of the data. Given the fact that these claims are based on reports of the World Bank it is relevant to recall the veracity of the bank's own claims.
The World Bank report of 2016 claimed that Aadhaar can save Rs 70, 000 crore annually once Aadhaar is applied to all social programmes and welfare systems. This has been submitted as part of the Central government's reply to a writ petition before the Supreme Court. The affidavit of April 27, 2017 enclosed the relevant portions of the 359-page World Bank report of 2016 on digital dividends (page 195) to underline the imminent savings "through reduce(d) leakage and efficiency gains". This data of 11 billion refers to page 197 of the report that is based on a four-page 2015 study titled From Cash to Digital Transfers in India:
The Story So Far by Shweta S. Banerjee. Shweta works on the Microfinance Gateway which is housed at the Consultative Group to Assist the Poor (CGAP). On page 1,  it is stated: "The value of these transfers is estimated to be Rs 70,000 crores ($11.3 billion) per annum." It is manifest that it is making a claim about the total value of the money that has been transferred and not about savings as a result of adopting a direct cash transfer model. The source of data cited in this study has conclusively been established to be questionable and unreliable and a major goof. Such claims have been debunked by the Comptroller and Auditor-General of India as well. If the bank's own data has been found to be 'puffery', how can its volunteer's claims inspire trust? Now that the bank has admitted its blunder in writing, it is time it came out with a clarification to ensure that misleading claims about such savings can be buried "ten fathom deep, with no chance of resurrection." All ministers, agencies and publications reproducing the Bank's Himalayan blunder of equating value of "transfers" with "savings in subsidy" in its study are either guilty or complicit in this not-so "innocent fraud". 
As to claims about savings from the Aadhaar project, insincerity has been evident from the outset. During Niekani's tenure  at UIDAI, the  Sinha-headed Parliamentary Standing Committee on Finance in its Sixty-Ninth Report on the 'Demands for Grants (2013-14)' observed, "A provision of Rs. 2,620 crore has been allocated in Budget Estimate (2013-14) for UIDAI and a major part of the budget provision for Rs. 1,040 crore is earmarked for 'Enrolment Authentication and Updation', out of which an amount of Rs 1,000 crore has been earmarked under the head 'other charges'." The total budgetary allocations made for UIDAI since its inception up to 31 March 2014 was Rs 5440.30 crore. For 2009-10, it was Rs 120 crore. For 2010-11, it was Rs 1,900 crore. For 2011-12, it was Rs 1,470 crores 1,200. For 2012-13, it was 1,758 crore and for 2013-14, it was Rs 2,620.00 crore. For the year 2014-15, the budget estimate was Rs 2,039 crore. T
The budget estimate of expenditure on the project being implemented by UIDAI was Rs 2,000 crore in 20015-16. For the year 2016-17, the estimate was Rs 990 crore (including Rs 190 crore first supplementary). As of February 2017, the UIDAI has incurred a cumulative expenditure of Rs 8,536.83 crore. This includes undefined "other charges" pointed out by the Parliamentary Committee. 
Shouldn't the UIDAI provide the details of the expenses incurred under "other charges"? Take the case of 2009-10 when the budget estimate was Rs 120 crore and the final expenditure was Rs 26.21 crore. In 2015-16, the budget estimate was Rs 2,000 crore but the final expenditure was Rs 1,679 crore. In 2016-17, when budget estimate was Rs 990 crore, the final expenditure is Rs 877.16 crore up to February 2017.  Besides this, the Parliamentary Committee wondered in its report as to why inflated targets were consistently being given. 
The estimated budget of the biometric Aadhaar number project has not been disclosed despite demand for it while seeking cost: benefit analysis. Unless the total estimated budget of the project is revealed, all claims of benefits are suspect and untrustworthy. How can one know about total savings unless the total cost is disclosed?
http://www.tribuneindia.com/news/comment/no-savings-from-aadhaar-it-s-just-puffery/506630.html