September 01, 2015 15:40 IST
'Our case should act as a warning. It is high time change comes to society. This is not the way to treat a woman.'
'I don't want any other woman to have a fate like mine.'
Shobha Warrier/Rediff.com reports from Kozhikode on a landmark judgment.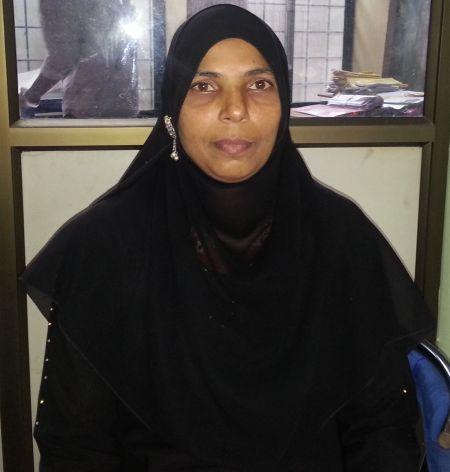 On July 25, when Justice B Kamal Pasha of the Kerala high court ordered a divorced Muslim husband to pay his former wife's medical expenses and also her maintenance expenses for 10 years, the judge made history.
On February 1, 1991, Sauda, then 18, was married to 24-year-old K V Abbas. Growing up in a poor family that consisted of five brothers and five sisters, Sauda could not continue studying after Class 5.
Borrowing money from friends and relatives, her father conducted Sauda's marriage and also gave Abbas some money and gold.
After their marriage two of Sauda's brothers left for the Gulf for employment. Later, they assisted Abbas financially and helped him go to the Middle East for work. Abbas retured to India after two years and again with Sauda's brothers' help, bought two fishing boats.
He also started constructing a house by selling what little jewellery Sauda owned. The house was registered in his name. Whenever he wanted something, Sauda asked her father or brothers for help, and this apparently occurred quite often. By now, the couple had two daughters and a son.
One night Abbas fought with Sauda, alleging adultery and pushed her out of the house. "For quite sometime, he was telling me to go away as he wanted to marry another woman. Where would I have gone with three children?"
After Abbas pushed out, Sauda sat outside her home for some time weeping before walking to her parents' home with her three children then aged 7, 5 and 3. Four days later, on November 26, 2004, Abbas pronounced talaq thrice, and divorce papers from a mosque were sent to Sauda. Thus ended her marriage of 13 years.
Within a month, Abbas remarried, finished the construction of the new house and moved to the house built by selling Sauda's jewellery and the money given by her brothers.
With no money, Sauda depended on her father and brothers to feed and educate her children.
In 2005, a year after she was divorced, someone in the village informed Sauda that she could get some money from her husband to take care of the children. Sauda then met advocate Vinod Singh Cheriyan who was known to take up worthy cases like hers for free.
Cheriyan filed a case in the magistrate court in Kozhikode for 'future maintenance' of the children. "As she had no scope for remarriage at that age, we asked for a total maintenance amount of Rs 770,000 including Rs 5,000 for three months during the iddat period (the three months period when the wife is away from her husband) and Rs 5 lakh for future fair maintenance of their three children," the lawyer recalls.
The magistrate court granted Sauda Rs 360,000 including Rs 3,000 each for the three months during the iddat period, which both sides challenged in the district court and later in the high court.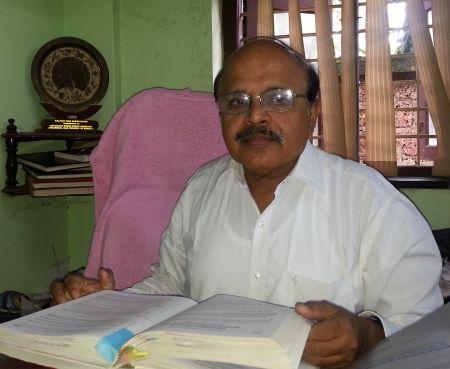 While her lawyer Vinod Singh Cheriyan, left, filed her case in the high court in 2009, Sauda developed a kidney problem and underwent dialysis regularly.
Once again, her brothers sent money for her treatment. For one-and-a-half years, Sauda was in and out of hospital and spent around Rs 300,000 on medical treatment.
Though divorced Muslim women are never given medical assistance by their former husbands, Cheriyan decided to appeal for it.
"Sub section (2) of Section 3 of the Muslim Women Protection of Rights on Divorce Act, 1986, says that 'if the amount equal to the sum of mehr or dowry has not been paid, make an order within one month of the date of filing of the application, directing her former husband to pay such reasonable and fair provision and maintenance to the divorced woman, as he may determine as fit and proper having regard to the needs of the divorced woman'," says Cheriyan.
"We picked up the word 'needs' and argued for her medical expense," the lawyer adds. "As there was no precedent, I was not very hopeful of the court accepting our argument."
For the first time in Indian legal history, in a landmark judgment, Justice B Kamal Pasha pronounced that other than the alimony of Rs 360,000, Sauda's former husband Abbas should also pay Rs 231,000 for his divorced wife's medical expenses. Abbas has been given four months to do so.
Justice Pasha specifically stated in his order that 'needs' included medical expenses.
"This case will now become a referral for all Muslim divorce maintenance issues in any court in the country," Cheriyan points out.
"After the Shah Bano case, this is a landmark judgment for Muslim woman," the lawyer adds, "as for the first time in Indian history a court has said that medical expenses of a divorced woman would come under the term 'needs.'"
"Another important point to note is the court has taken 10 years as point of reference and that's why he (Abbas) was asked to pay Rs 3,000 for 10 years. Till now, the court had taken only five years."
"If you look at the fairness of the situation," says Cheriyan, "she will be paid only for the 10 years after her divorce. Now she is 42. Do you think this woman will not live beyond 38? The situation is such that she can claim alimony only for 10 years after her divorce."
"When people live till their sixties and seventies, how do you expect a woman like her who has not studied and who has no other means to support herself to live in the later years of her life?" asks Cheriyan. "It is here that a change has to come."
Sauda, top, has strong opinions about how a Muslim woman should be treated. "Like me, there are many women in our area, even in my family, who were abandoned by their husbands just by saying talaq. These men tell us that women should learn a lesson and behave properly."
"Our case should act as a warning," asserts Sauda. "It is high time change comes to society. This is not the way to treat a woman. I don't want any other woman to have a fate like mine and hope the judgment will pave the way for change."
"The men will now be a bit scared to just say talaq and get rid of their wives."
http://www.rediff.com/news/report/now-men-will-be-a-bit-scared-to-say-talaq/20150901.htm