Disappointed Pokhran villagers hate promises
Promises fail to impress villagers who remain parched for water, stricken by cancer.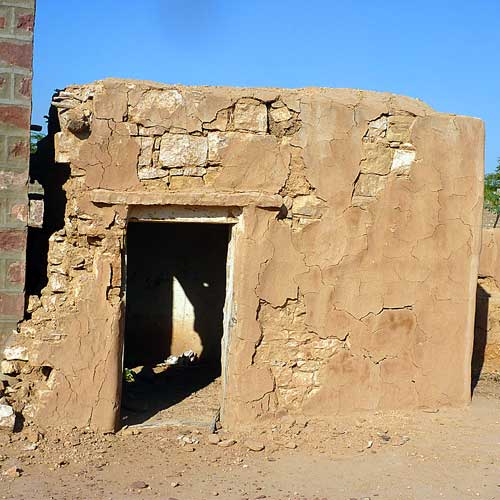 This remote region in Rajasthan paints a clear picture of India's contrasting reality. Basked in sun and sand, abject poverty, increasing incidences of cancer, shrinking grazing lands and an acute scarcity of water plagues villages around Pokhran, which once showcased to the world India's strides in the nuclear arena. Today, candidates contesting the Pokhran seat for the December 1 Assembly election are battling voters' indifference that they'll actually resolve the multitude of day-to-day problems that villagers face here.
Chacha village, a few kilometres from Pokhran, greets you with the noise of wailing women and children; a detonation at the nuclear testing site nearby caused a tremor, which cracked the village's water tank just a couple of hours earlier. "The water we had collected is gone," says a sobbing Teja Ram, pointing at the receptacle which was thus far their source of water.
The water tank is a lifeline. Water is a prized, precious resource here. Habibullah knows this all too well. He had give away a tin of ghee to buy water, required for his wife's delivery. "There was a tremor and all the water we had stored was gone," Habibullah tells dna. "Water is costlier than ghee, and I had to go to a nearby Bishnoi village to get water."
Frequent tremors in the Thar desert due to the regular testing of missiles and other state-of-the-art armaments has been disrupting life in villages in the region. Water tanks and homes develop cracks and crumble at alarming frequency. The closest village from the testing site, Khetloi, is replete with crumbled concrete homes and hutments. "We received compensation after the 1998 tests. But that was too little, and some of the villages received no compensation," says village head Banjaram. In the last assembly elections, BJP was humbled due to the issue of compensation.
Villages in the area around the testing site are also increasingly reporting fatalities due to cancer. "This village alone has reported 12 deaths over the past one year," says Gomad village sarpanch Manzoor Meher. "And many more have been detected with this deadly disease."
Little wonder then that the BJP's candidate here, Shaitan Singh, is promising an oncology centre at the local hospital. Villagers take the promise with a pinch of salt. "We were promised relief and a cancer centre when five nuclear tests shook the desert here in May 1998. But everybody has forgotten us," says Manzoor, who blames Shaitan Singh's rival ad sitting Congress MLA Saleh Mohammad for being indifferent to the need of a special oncology centre.
The lone doctor at the Pokhran hospital, on condition of anonymity, admits that incidents of blood, skin and throat cancer have been increasing. The cattle too is frequently detected with body sores.
Whether the increasing incidences of cancer are linked to testing is not yet known and no scientific study has been undertaken to understand the the long-term effects of nuclear testing on health in the region. The doctor admits this is a matter for scientific scrutiny.
Sikandar, an electrician, who remembers the 1998 tests says they were evacuated from their houses early morning on the day of the tests. "We saw the desert turn white and the blasts hurled up a mound of earth. Doctors descended on our village for a few days and gave iodine tablets to everyone," says Sikandar. "They advised us not to consume milk and water from open tanks and cisterns."
Evacuations are all too common even today. Villagers in Khetloi and Odania say they are asked to evacuate at short notices to enable long-range missile tests. "On an average, villages are vacated twice a month and pushed to the forests," says Meher Ali, an aide of the local MLA. "They are given Rs 50 per person in compensation."