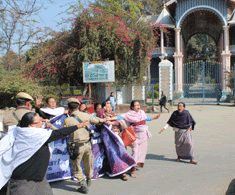 REPEAL ARMED FORCES SPECIAL POWERS ACT
The Sangai Express (Imphal) reported that women from different corners of Manipur staged a demonstration on January 25, 2014 in front of the Western Kangla Gate to denounce Prime Minister Dr Manmohan Singh's failure to keep his promise to replace Armed Forces Special Powers Act with a humane legislation.
Displaying placards and festoons inscribed 'Remove AFSPA,' 'Save Sharmila,' the demonstrators also raised slogans demanding the resignation of Prime Minister Manmohan Singh. Pandemonium erupted at the site when police personnel tried to seize the festoons from the agitating women.
Later, RK Radhyasana Devi, one of the protestors speaking to media persons, highlighted that the Prime Minister Dr Manmohan Singh, while handing over the historic Kangla Fort to the people on November 20, 2004, had assured the people of the State that AFSPA would be replaced with a more humane Act .
She pointed out that the promise Dr Manmohan Singh made a decade back has not been translated into action till now.
Strongly demanding that the AFSPA, 1958 should be repealed, Radhyasana further asserted that the movement of Meira Paibi organisations would go on until the Act is scrapped from the State.
In 2004, at the same historic Kangal Fort, Manipuri women had staged a militant nude protest to denounce AFSPA in the aftermath of the extra-judicial killing of Thangjam Manorama Devi by Assam Rifles troopers.
And meanwhile, Irom Sharmila, in the 14th year of her fast against AFSPA, continues to be held in isolation by the Indian state, a prisoner of conscience.