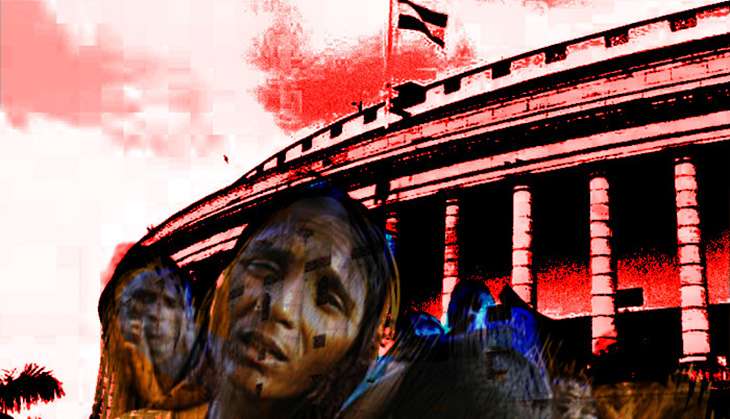 Rajasthan, UP top list when it comes to atrocities against SC/ST
Rajasthan topped the country in reporting the highest number of cases atrocities against Scheduled Castes and Scheduled Tribes (SC/ST) followed by poll-bound Uttar Pradesh during 2013-15, according to recent a government report, quoted in the media.
The Centre on Monday also raised the issue of poor conviction for these cases.
Here are some details from the latest report:
– Number of cases under the amended Prevention of Atrocities (PoA) Act registered in Rajasthan.
– Uttar Pradesh, the state with the highest population in the country, registered 23,556 cases, followed by Bihar with 21,061 cases.
– Here are the other states with their numbers:
Madhya Pradesh – 14,016
Andhra Pradesh – 9,054
Odisha – 8,084
Karnataka – 7,565
Maharashtra – 6,546
Tamil Nadu – 5,131
Gujarat – 3,969
– Share of cases that were disposed by courts during this period.
– However, only 25.7% of ended in conviction.
– Conviction rate in West Bengal, one of the lowest in the country.
– Gujarat, Karnataka and Odisha has a conviction rate of 3.1 %, 3.5% and 4.3% respectively.
– Union Social Justice and Empowerment Minister Thawar Chand Gehlot also sought report from state governments 'to improve the disposal and conviction rates'.
– Gehlot also pointed out that only 14 states have set up exclusive special courts for fast tracking PoA cases.
Here are a few numbers that reveal the condition of Dalits and tribals living in India. The figures clearly demonstrate why we need more robust laws to safeguard their rights:
– Number of crimes committed against Dalits, which were officially reported in the last ten years.
– On an average, 3.9 incidents of crime were reported per hour in the last decade.
– An alarming 80% rise can be observed from 2005 to 2014 in crimes against Dalits.
– Many of these crimes are aimed at 'disciplining' and 'punishing' lower caste assertion.
– The rate by which rape against Dalits rose from 2005 to 2014.
– More than half of these sexual violence cases happen in three states; Madhya Pradesh, Uttar Pradesh and Rajasthan.
– Interestingly, Madhya Pradesh accounts for the highest number of rapes against Dalits, but the state has one of the smallest proportions of Dalit population in India.
– Rape of a Dalit is probably the worst form of atrocity against them. In rural India it takes the shape of moral justice delivered by the mob and usually meted out for punishing any assertion of Dalit identity. For example – Khairlanji, Bhandara district, in Maharashtra on 29 September 2006.
"Surekha Bhotmange, a dalit woman in a self-reliant household, was cooking dinner for her family when an estimated 60 villagers stormed into the house, dragged her and her three children out.
She was stripped, along with her daughter and her sons were ordered to rape their mother and sister. On refusal, they were beaten to death.
Both of them were dragged further away, gang raped and their bodies mutilated. Allegedly, necrophilia ensued.
Her 'faults' were plenty – she was an educated Dalit women (by average standard) influenced by Ambedkarite Buddhism, a strong voice in her community and had sought redress from the court for a land dispute. Additionally, she used to take pride that her children attended school."
– Incidents of crime committed against tribals of India from 2005 to 2013.
– This number only accounts for crimes under the Indian Penal Code and excludes incidents registered under SC/ST (PoA) Act, Protection of Civil Rights Act, Employment of Manual Scavengers and Construction of Dry Latrines (Prohibition) Act.
– However, from 2014 cases under all Acts are registered and there is a 40% rise over the yearly average.
– Caste issues and crimes against tribals are grossly under reported. People at the margins are often subjected to social humiliation at the police station and constant intimidation and as a result, lack faith in the justice system.
– Once again, rape is considered the harshest form of crime that is committed against tribals.
A prime example are the atrocities committed against the Niyamgiri tribals. Their land was forcibly taken, and when they protested they were illegally detained for being Naxal insurgents.
– Proportion of pending cases, on an average, over the last five years for crimes committed against Dalits.
– This means that cops are unable to complete investigations for one-fourth of all cases every year.
– At the judicial level, the pendency percentage (trial not completed) is much higher – an average of 80% every year.
– These numbers clearly indicate that there is a need for exclusive special courts and a specialised, sensitised police force. Thankfully, the amended SC/ST (PoA) Act recommends a special court and a special public prosecutor for speedy processing of cases.
However, criminal atrocities and legal complexities are not the only problems. Some other forms of Dalit discrimination exist, according to the National Campaign on Dalit Human Rights survey in 565 Indian villages:
– In 27.6% of villages Dalits were stopped from entering police stations
– One-third of villages reported that public health officials refused to enter their homes
– In one-fourth of villages Dalits were paid lower wages than other workers, apart from facing longer duty hours, abuse and delayed wages.
– 29.6% of panchayat offices had separate seating arrangements for Dalits
– Nearly half of these villages have a ban on Dalit wedding processions on public roads (unjustifiably claimed as upper caste roads).
The fight to end such discrimination cannot stop with an amended and stricter law.
http://www.catchnews.com/india-news/rajasthan-up-top-list-when-it-comes-to-atrocities-against-sc-st-are-you-surprised-1482246590.html?pg=3