Reported by Anant Zanane, Edited by Deepshikha Ghosh , NDTV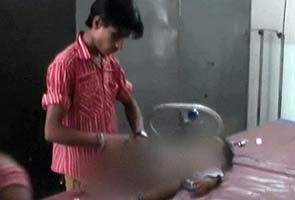 Ballia, Uttar Pradesh: 
At an understaffed government hospital in Uttar Pradesh, people are at the mercy of untrained sweepers and rickshaw pullers – a shocking state of affairs exposed after a baby died on Tuesday, moments after being administered an injection by a rickshaw puller.The seven-month-old baby, Ajay, died in the emergency ward of the
Balia district
hospital in eastern Uttar Pradesh, where sweepers and a rickshaw puller are bizarrely asked to fill in for tasks meant only for trained medical professionals.
Little Ajay was critical and suffering from septicemia. The surgeon treating him had recommended a dose of a life-saving drug "Primacord" and asked the pharmacist to administer it.
Instead, the pharmacist allegedly passed on the job to Raju, a rickshaw puller usually at the hospital for odd jobs like ferrying bodies.
The rickshaw puller is seen injecting a child in disturbing TV visuals. Uttar Pradesh Health Minister Ahmed Hasan told NDTV that a high level probe has been ordered. "It is a very unfortunate incident," he said.
This is the same hospital, where last year, a sweeper was caught on camera stitching up the wounds of a child. The doctor on duty at the emergency ward had been suspended at the time.
The Chief Medical Superintendent of the hospital, KP Singh, denied that the visuals were of the same baby who died, but did not deny the shocking fact that a rickshaw puller was giving injections, which may have caused the baby's death.
"We are investigating what happened. The baby, suffering from measles for days, was admitted on Monday. He was referred to the IMS hospital at Banaras Hindu University, but his parents brought him to our emergency ward when he became extremely critical", Mr Singh said.
The hospital is short of at least 80 doctors, nurses and paramedical staff, hardly any justification, however, for such criminal negligence.
The district magistrate has also started a probe, but there have been no arrests so far, not even a case registered.
The rickshaw puller, who has been jailed in the past for petty theft, told reporters that he had been coming to the hospital for 15-20 years. "I can administer injections and give antibiotics prescribed by the doctors," he said.
Related articles