Jaitley offers no solace to farmers, industry, workers – yet gets ready to take more loans, sell off banks.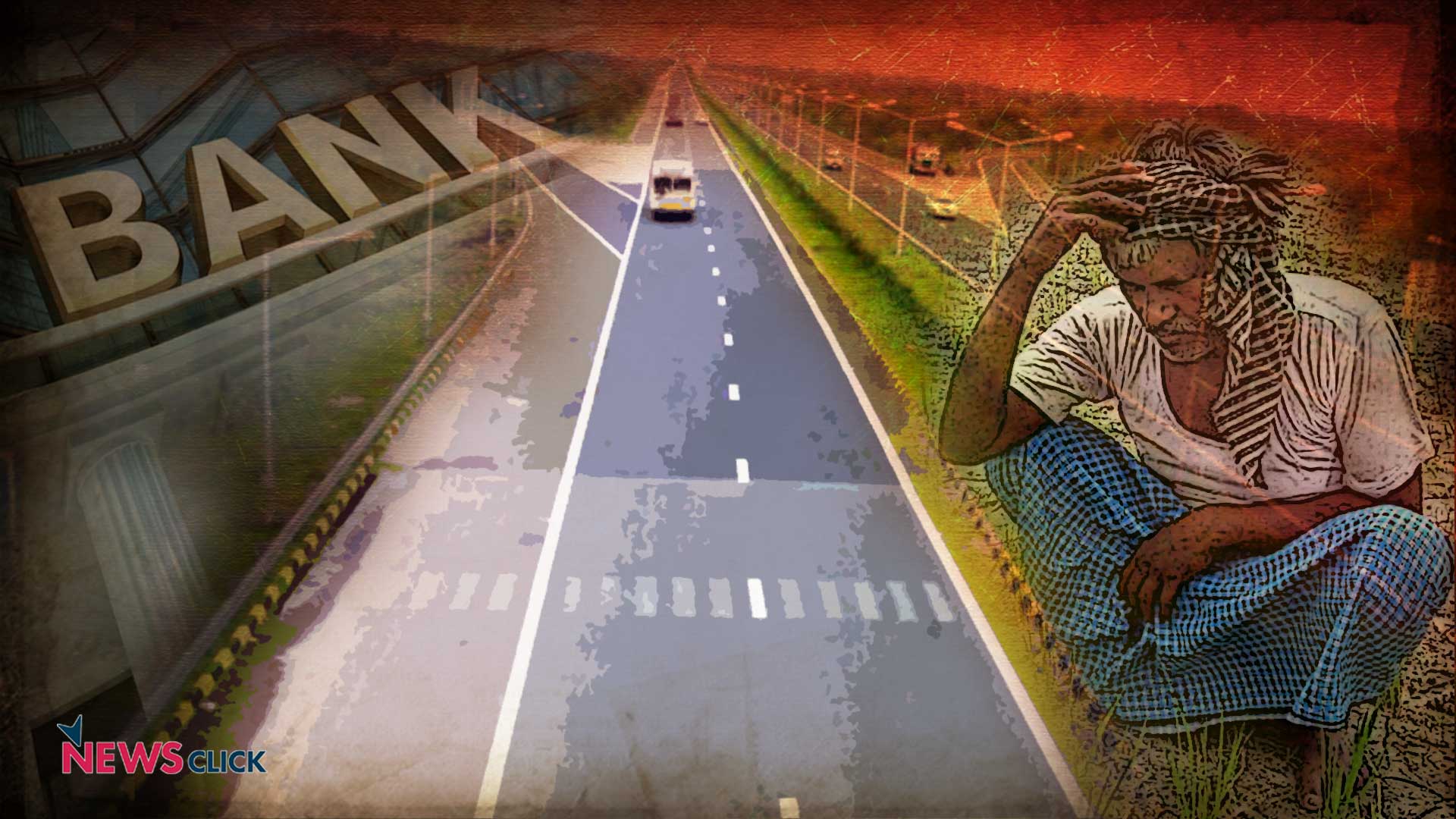 Facing all round criticism for the flagging economy, the Govt. has announced a new financial package to "boost" growth. While Rs.2.11 lakh cr are to go to public sector banks to pad up their balance sheets and get them out of the soup they are in with nearly Rs.10 lakh cr in bad loans, the govt. has also announced a Rs.5.35 lakh cr outlay to build nearly 35,000 kilometres of roads across the country. The announcement was made by the finance minister Arun Jaitley who accompanied it with a slew of cherry picked data on how the economy was actually not doing so badly, leaving out the bad bits. Let us put the new package under the microscope and find out what it is all about.
Road Building
The govt. plans to spend Rs.5.35 lakh cr on building a network of roads over the next 5 years. It says it will raise this money by raising Rs.2.09 lakh cr worth of commercial debt, Rs.1.06 lakh cr through the disastrous Public-Private-Partnership (PPP) mode and Rs.2.19 lakh cr from the Central Road Fund (CRF)and toll proceeds. So, about 40% will come from loans, another 40% from CRF and tolls, and the balance 20% from PPP. This seems like a Ponzi scheme where CRF revenues, which were Rs.80,800 cr in 2016-17 will be used to leverage commercial loans and build roads from which more toll will be collected to finance further road building. The CRF is built by cess collected from petrol and diesel sales. Meanwhile, under the PPP modefavoured contractors will make hay while the govt's funding sunshine is available. There is also the risk of the whole house of cards collapsing because of delays on an issue that has incendiary potential in India – land acquisition.
The most bizarre part of this announcement is that Jaitley and co. claimed that 14.2 cr mandays of employment will be generated in 5 years through this road building frenzy. Since there are about 1460 days left till the target year of 2022, this means that about 1 lakh persons will get jobs in the whole period across all the road building activity. That's about 25,000 persons every year, starting next year. By presenting the figure as 14.2 cr mandays the govt. made a sorry attempt to sound impressive. Actually it is nothing for a country where nearly 500 times that number – 1.2 cr persons — are entering the job market every year, where joblessness is steadily increasing and the workforce is actually shrinking.
Bank Recapitalisation
The govt. says that it will infuse Rs.2.11 lakh cr into banks so that they can start giving loans more freely, thereby sparking fresh investment and growth. Leaving aside the question whether credit was slowing down because of banks or because of lack of demand, the recapitalisation of banks is sought to be done by raising more debt worth Rs.1.35 lakh cr and by selling off shares of banks to raise another Rs.58,000 cr. The balance – a puny Rs.18,000 cr – is what the govt. will actually provide from its own budget. The raising of more debt, probably through a special purpose vehicle or a public financial institution such as LIC, will simply transfer the burden on to a different arm of the govt.. And, selling shares of banks is like selling the family jewels to repay earlier loans – an act of not just desperation but  also opens the same banks to much more systemic risk.
All this will of course pave the way for finally getting rid of the vexed Non-Productive Assets (NPAs) – bad loans – problem by allowing those who are not paying back Rs.9.5 lakh cr to delay repayment or even write it off totally. In other words, more loans, and sale of public assets to save those who are refusing to repay loans.
What the Govt. Doesn't Talk About
Significantly missing in this latest Modi-Jaitley-Gadkari scheme is any attempt to address the problems in some of the most severely affected sectors of Indian economy. There is dead silence on agriculture, on industry, on how to create jobs, on how to rescue the MSME sector which is sinking after GST and on how to boost demand and put buying power in the hands of people by, say, raising wages of industrial workers.
Farmers have been agitating in many states like Rajasthan, Maharashtra, etc., demanding better returns. Suicides due to indebtedness and losses continue unabated. State govt. are announcing farm loan waivers to bring some miserable relief. Drought and floods have aggravated the crisis. Yet the fixers in the Finance Ministry are completely silent on all this.
Similarly, on the jobs front there is silence except for the puny and completely unjustified figure dished out in connection with road building. All of Modi's favourite schemes – Make in India, Digital India, Skill India, Startup India have spectacularly failed. FDI has increased, Jaitley proclaims, but it has not created any new jobs.
The MSME sector which is facing a massive crisis after demonetisation and the GST roll-out has received not a word of solace and not a rupee of help from Jaitley & co. The latest data shows that only 55% of registered GST payees have actually paid their tax instalment. This shows not just complexity of rules – it shows that MSMEs are actually in a serious crisis. Can they survive on the hope that new roads will help them lower marketing costs?
There is no vision to boost demand by increasing wages of workers, an issue on which all central trade unions have been fighting for the past several years.
In short, the present government has yet again presented a half baked, ill conceived plan, full of booby traps and more likely to benefit private fast money operators rather than help Indians who are getting ground down in a 'job loss' economy.
https://www.newsclick.in/roads-and-banks-another-ponzi-scheme-thats-going-nowhere