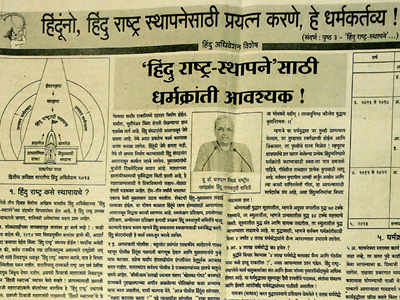 June 9, 2013, issue of Sanatan Prabhat exhorted followers to note down names of police personnel to avenge 'atrocities' on Hindus; Charudatta Pingale denies having spoken in such a manner.
Sanatan Prabhat, the mouthpiece of right-wing outfit Sanatan Sanstha — which has once again come under anti-terror agencies' lens following the recent arms seizures and arrests — had in 2013 warned that the police would be "the first target" of a dharmakranti (religious revolution) to establish a Hindu Rashtra by 2023.
Its issue dated June 9, 2013 — a copy of which is with Mirror — published a purported speech made by Dr Charudatta Pingale, national guide of Sanatan Sanstha's offshoot organisation Hindu Janajagruti Samiti made at the second annual convention of Hindutva outfits in Goa organised by Sanatan. According to the Sanatan Prabhat report, Pingale told the sadhak (followers) in attendance that a religious war is necessary to establish a Hindu Rashtra.
Accusing the police of taking an anti-Hindu stance and going soft on minorities, the report quoted Pingale exhorting the people to "keep [the spirit] of revenge alive". "Do not forget the atrocities committed by the police on Hindus. Start preparing a list of police personnel who have committed crimes against Hindus. The police will be the first target when the revolution begins. We will not be able to establish a Hindu Rashtra without defeating the police and the [Indian] Army."
Asserting the "need" to create an army of 4 lakh "religious warriors", Pingale claimed, as per the report, that 1,000 religious soldiers who have learnt jaap (chanting of religious mantras) would be more powerful than 10,000 trained soldiers who have no knowledge of jaap. That's because those who perform sadhana (worship and meditation) would get God's protection and blessings, he is reported to have said. "There are 8 lakh police personnel in the country, 11lakh Army personnel and 11 lakh paramilitary personnel… Four lakh religious warriors who have performed sadhana and learnt self-defence would be more powerful than them," ran his purported speech.
Calling minorities a massive hurdle in the establishment of a Hindu Rashtra, Pingale is quoted as saying, "The only way to stop the fanatics among minorities is to retaliate."
The Sanatan Prabhat report also allegedly lists a timetable from 1999-2023 on measures that would lead to realisation of a Hindu Rashtra. The timetable mentions the start of "the main war" from 2016-18. This war, dubbed as World War III by the report, will result in the death of a large number of people, involve the occurrence of many natural calamities, and spell an end to evil as well as antisocial elements, Pingale was quoted as saying. By 2023, he reportedly said that the "real kingdom of God" would be established.
Chetan Rajhans, Sanatan Sanstha spokesperson, refused to comment on the report. "It is better if Sanatan Prabhat's editor and the writer (Pingale) speak on it. Although Sanatan Prabhat is a part of Sanatan Sanstha, the daily is run independently. They own the intellectual rights to run the daily newspaper and a magazine," he said.
Nagesh Gade, editor of Sanatan Prabhat, offered no comment either. He was sent a copy of the article on August 24 as well as emails. Several calls were also made, but there was no response till the time of going to press on Saturday.
Pingale denied having either written the Sanatan Prabhat report or making such a speech at the 2013 convention. "There is some confusion," he said. Claiming that he was in the dark about it until Mirror sought his comment, he said: "Find out from Sanatan Prabhat how it printed such an article. I will seek advice on initiating legal action against Sanatan Prabhat."
Sanatan Sanstha and Hindu Janajagruti Samiti were founded in 1995 by Dr Jayant Athavale, 76 — a former psychotherapy practitioner in the UK and Mumbai — to promote Hindutva.
Sanatan Sanstha, which is based in Goa, first came under investigators' lens after its members were found to have carried out a bomb blast at a theatre in Thane on May 31, 2008, which injured seven persons. Two members were convicted for the blast in 2011. The organisation again came into infamy after its members were suspected to have carried out the Madgaon bomb blasts of 2009, in which two sadhak were killed.
According to an official from the Maharashtra Anti-Terrorism Squad (ATS), Vaibhav Raut, Sharad Kalaskar and Sudhanva Gondhalekar — who were arrested on August 10 following the seizure of an arsenal of arms and ammunition at Raut's bungalow in Nallasopara — are "sympathisers" of Sanatan Sanstha. The ATS suspects that they were conspiring to launch terror attacks across the state and that they were also involved in the killings of rationalist Narendra Dabholkar, CPI leader Govind Pansare, scholar MM Kalburgi and journalist Gauri Lankesh. "They have links with Sanatan Sanstha," asserted the official.
Shrikant Pangarkar, former Shiv Sena corporator from Jalna who was arrested on August 19 after Raut, Kalaskar and Gondhalekar pointed fingers at him, is suspected to have been involved with Hindu Janajagruti Samiti. He allegedly joined the organisation after being rejected a ticket in 2011by the Sena to contest municipal elections for the third time after 2001and 2006. At the time of his arrest, his Facebook page was replete with messages in support of the outfit.
Aday after Pangarkar's arrest, Sanatan Prabhat published a notice for sadhak, asking them to "increase chanting and prayers" if they feared getting "falsely arrested" in view of the series of arrests of "innocent" Hindus.
Avinash Pawar, too, who was arrested on Friday in the arms haul case, is suspected to be linked with prominent Hindutva groups.
Two of Sanatan Sanstha's suspected members, Dr Virendra Tawde and Sameer Gaikwad, are also alleged to have been involved in the killings of Dabholkar in Pune in 2013 and Pansare in Kolhapur in 2015.