Labourer builds toilet at home, reunites with family after 2 years
Hakeem Irfan  , DNA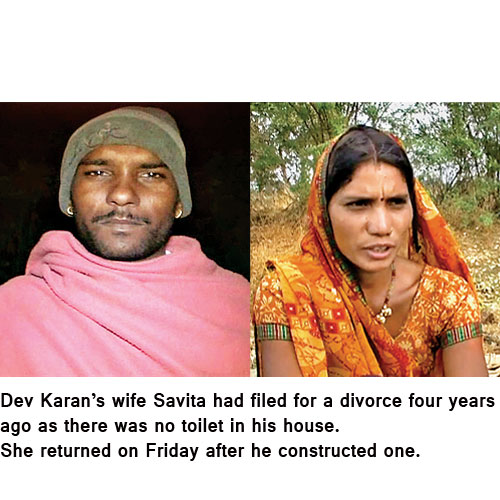 Dev Karan, a 35-year-old Dalit landless labourer from Madhya Pradesh, saved his marriage on Friday by building a toilet complex in his house, the absence of which had triggered a marital dispute.  His wife had filed for divorce four years ago and left his house two years later over the issue. The local court had set a January 10 deadline for him to construct a toilet before it could ask her to return to live with him.
After almost two years, his wife Savita returned to Karan's house in Mundlana village of Dewas district on Friday afternoon, along with their two children — one aged seven years and the other five. The reunion however, was also made possible by Sulabh International Social Service Organization, which constructed an additional toilet in Karan's house, so that he would not miss the January 10 deadline. Now, Karan has two toilet complexes in the house, one he built on his own — which still needs some final touches — and other built by the SISSO.
"I have made all efforts to save my family and love. I have borrowed money to see my family back in my own house," Dev Karan told dna, immediately after the court asked Savita to go back to Karan's house. Savita was living at her father's home for more than two years now.
Interestingly, SISSO has planned a grand feast for more than 200 people in Dev Karan's Mundlana village on Saturday, to celebrate the family reunion and create more awareness about sanitation.
"We made sure that Karan would be able to meet the deadline and save the family from disaster. We want more people to raise sanitation issues as has been done by Savita," said local programme officer of SISSO, Sudhir Kumar Rai. He further said that SISSO spent around Rs 30,000 to build the toilet.
Karan, a daily wager, who earns around Rs 125 per day, has spent more than Rs10,000 to build the toilet and is already in huge debt. Karan lamented that he has not received any help from the government.
Even though the Shivraj Singh Chouhan government in the state launched the Maryada scheme in 2012 to build free toilets to prevent women from defecating in the open, Karan's family somehow has not been included in the scheme till now. Karan's case is one of the first complaints regarding the scheme in Dewas, and the local administration officials said they are looking into the matter.
"I was too ashamed to go in open to defecate. It was a regular cause of trouble within the family and finally I decided to part ways till the time he (Karan) has some solution to the issue," Savita told dna. 
After the court's decision, Savita said she would work to create awareness about the importance of toilets and sanitation among other families in the village and nearby areas.
The court has also appreciated Savita's concern stating that "defecating in open is against women's dignity and can never be tolerated". "The court appreciated Karan's efforts and helped them to mutually start their life again," said advocate Praveen Choudhary, who was representing Karan in the case.
Read more here-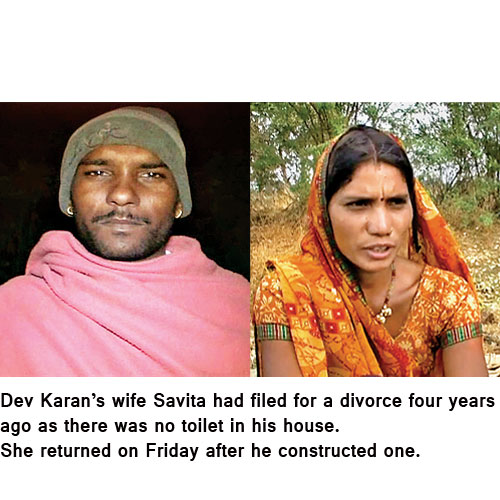 Related articles