Tuesday, Sep 17, 2013, 10:14
IST
| Place: Mumbai | Agency: DNA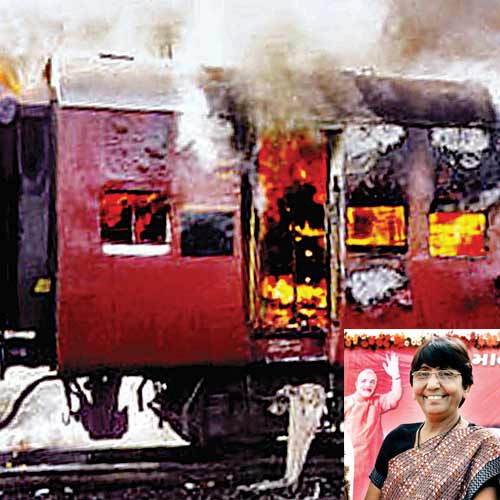 Maya Kodnani
must have done well as an elected representative because in 2007 her constituency re-elected her as MLA. This time, her
Chief Minister
made her
Gujarat
's Minister for Women's Development and Child Welfare.
Maya Kodnani did not get death.
Nor were there, on August 29 last year, crowds of placard-carrying, slogan-shouting people outside the court where she was tried, demanding that she be sentenced to death. And yet what were Kodnani's crimes? Here's a reminder, and forgive me if it takes a few paragraphs: it's worth reminding ourselves who this woman was and what she proved herself capable of over a decade ago.
In Gujarat in February and March 2002, mobs of crazed Indians slaughtered hundreds of ordinary fellow-Indians, for no other reason except that their faiths differed. Starting in Godhra where a mob burned alive 60 passengers in a train, the killing spread to such places as Dehlol and Gulbarg Society and Baroda. In each of those places and many more, plenty more Indians were murdered.
And one such mob visited the lower-middle-class Ahmedabad precinct of Naroda-Patiya.
This mob, plenty of witnesses said, was instigated and led by a powerful local politician. She was a doctor too, a practicing gynaecologist named Maya Kodnani. At the time, she was a sitting member of the Gujarat assembly. Those witnesses in Naroda-Patiya saw her distributing swords to the mob and driving them to what they had come there for: slaughter. When their blood-lust was finally sated, they had killed over 90 people. 32 were women, 34 were children. In a time of senseless, sickening massacres, this might just have been the nadir.
The blood of those 90 fellow-Indians spilled, Kodnani returned to her gynaecological practice and her work as an elected representative. She must have done well at the latter, at any rate, because in 2007 her constituency re-elected her as MLA. This time, her Chief Minister made her Gujarat's Minister for Women's Development and Child Welfare. No, I assure you this is no perverse attempt at twisted humour. Not at all. All of us who look back at these events are forced to try to comprehend this: overseeing the welfare of Gujarat's children and its women's development for a period during the late 2000s was a gynaecologist who, a few years before that, had led the murder with swords! of 90 and more Gujaratis. Including 34 children and 32 women.
That's Kodnani for you. Eventually, the process of justice caught up with her. With several colleagues, she was tried in a special court in Gujarat. On August 29 last year, the judge in that court, the honourable Jyotsna Yagnik, found Kodnani and 31 others guilty for the Naroda-Patiya massacre. Two days later, she pronounced her sentence. 28 years in jail for her, life in prison for an accomplice named Bajrangi, and more in that vein.
The parallel is, of course, recent and raw in all our minds. A clutch of men raped and horribly violated a young woman in a Delhi bus last December. They were quickly arrested and charged. When she died of her wounds two weeks later, the men were charged with murder as well. That's a crime that, unlike rape by itself, can attract the death penalty.
On September 10, a judge found four men guilty (one, a juvenile, was sentenced earlier; another was found dead in his cell a few months ago). On September 13, he sentenced them. That day, there were plenty of people standing outside the court, holding up placards that had drawings of nooses, slogans like "Death to the rapists!" and more. One group of young men even enacted the hanging they wanted, like a street play, complete with hooded "prisoners" and real nooses.
It was no surprise, and a source of joy to the crowd outside and Indians across this country, when the judge, the honourable Yogesh Khanna, gave the men death sentences.
Let me say it, for those who might want to quibble. I think both these very Indian crimes were equally horrific. I think both qualify equally for the description "rarest of the rare". After all, how often do men wield an iron rod as these men did? Very rarely. How often does a woman distribute swords and urge a mob to wield them as this woman/doctor/MLA did? Very rarely too. And since they can be described by the phrase, according to a now-familiar principle of Indian jurisprudence, both crimes can indeed attract the death penalty.
Yet only one did: the rape in Delhi.
It's not as if Justice Yagnik did not consider the death penalty for Kodnani. Her judgement shows that she did, only to reject it. The "use of [the] death penalty," she wrote, "undermines human dignity." And yet too, it's not as if the sentence she handed to Kodnani 28 years in prison was considered somehow "lenient".
She did not see it like that. Nor did Kodnani. Nor did those who prosecuted the case. Advocate Mukul Sinha, one of the petitioners in the case, put it this way: "The judgement is absolutely unambiguous in its purpose." Advocate Altaf Jidran, who represented some of the witnesses, said: "We don't think there could have been a harsher punishment than this."
All of which raises two questions I want to leave you with.
One: What makes any of us think that the death penalty is somehow worse than many years in prison? I mean, yes, those men did horrible things to that young woman and murdered her.
They deserve severe punishment. What if they had been given, let's say, life in prison with no possibility of parole and continuous hard labour: perhaps assigned to cleaning the country's rail tracks every day? Could anything be harsher? Consider: is Kodnani's incarceration not a stern daily reminder to us all, and to potential sword-wielders like her, of the consequences of such horrific crimes?
Two: If so many stood outside Justice Khanna's court, demanding death for the rapists, why did nobody stand outside Justice Yagnik's court, demanding death for Kodnani?

The author lives in Bombay and writes so he can keep his cats Cleo and Aziz fed. Views expressed are personal.