The Sexual Harassment of Women at Workplace Act, 2013, uses the definition of sexual harassment,as laid down by the Supreme Court of India in the famous Vishakha case of 1997. The very court that gave this innovative law held back on its implementation for 16 long years.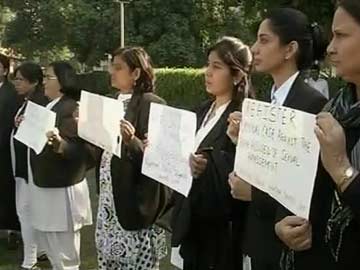 image courtesy NDTV
Naina Kapur
IT'S easy to imagine a time early on in one's legal career when women faced sexual harassment in some form or the other. Thirty years ago we weren't equipped to respond to a senior lawyer making some implied sexual advance as if it were a norm. Or to a client, say an ageing chairperson of a reputed public undertaking who, with shameless ease and mild amusement, could lean forward and suggest we "sort it out at my place".
It never seemed to cross the mind of the now proverbial man "old enough to be my father" that this and so much more, was not only professionally inappropriate but sexually offensive. For him or others like him, it was well… just the way things are. And why should we have been equipped? Why couldn't we take for granted that we, like our male counterparts, could go to court, undertake a legal brief, or enter a contractual negotiation free from the experience of being groped, sexually belittled, ogled, touched, or otherwise sexually demeaned or harmed without fearing the stigma or being perceived as prudish? Because then, unlike now, it was about moral wrongs and not equality rights.

Many women have encountered sexual harassment at the workplace, but when you are a lawyer, few are willing to admit it. In a study carried out by Sakshi (NGO) on judicial perceptions of women who come to the court in situations of violation, 80 women lawyers in 5 metros were interviewed. 64 per cent of women lawyers surveyed said they often felt patronised, ignored, demeaned, harassed or treated like an outsider both in subtle and overt ways in the course of their professional life. When specifically asked if they had ever experienced physical or verbal sexual harassment by judges, lawyers, court personnel or others, 54 per cent of female lawyers reported verbal and physical sexual harassment from both judges and other lawyers. Off the record, many more women advocates interviewed admitted to have experienced some form of sexual harassment. For the sake of their careers they didn't complain. That was 1996.
Then came Vishakha. A landmark shift reminding us that we didn't have to be sexually violated to make a living. It introduced us to the contemporary idea that constitutional equality at work raised the human status of those unequal experiences. And unlike the legalese (legal lexicon) that often mangled our experience of sexual violations through incomprehensible law reform, Vishakha made the beneficiary matter. It was user friendly. It prioritised prevention, called on workplaces to raise awareness about sexual harassment, created an innovative redress model and ensured that the responsibility for compliance would lie with the employer. Or so we thought.
Not for legal eagles
16 years post Vishakha, the very court that gave us an innovation, held back on its implementation. With that inexcusable omission, it knowingly allowed a vacuum to prevail which would foster workplace sexual harassment in the legal profession. In this context, a revelation this November by a legal intern of sexual harassment by a retired judge of the Supreme Court was simply a classic case waiting to happen. And the skeletons continued to tumble out with a second intern posting she had been "at the receiving end of unsolicited sexual advance [sic] more than once" by the same judge. Three other cases and four others by instances of young lawyers being sexually harassed by other judges surfaced. Alongside those revelations came Tehelka and Vishakha revived.
Overnight sexual harassment in the profession was no longer about whispers in the corridors of a court, a gripe or some prudish resistance by a woman, but a legitimate grievance. One that was visible, audible and relevant. Or at least its exposure was. By abandoning a Vishakha compliant workplace at the Supreme Court itself, it was only matter of time for an increasing population of young women law professionals to no longer bear the cost of silence, and opt to speak up. Blindfolded by the inevitable consequences of its own complacency, the opportunity seemed ripe for the Court to comply with Vishakha. Surprisingly it didn't.
Instead, the CJI(Chief Justice of India) invoked an entirely independent committee of 3 Supreme Court Judges, one woman and two men, to look into the matter. Why? Six days later, a petition signed by women practising at the Supreme Court, led by the Additional Solicitor General called upon the CJI to constitute the Committee in accordance with the Vishakha judgement – 50 per cent women and an external member familiar with the legal implications of sexual harassment. Again, it didn't.
Courts above law?
We were left instead to the assurances of the CJI "that justice will be done in all respects" and that he had promptly constituted a Committee to look into "an incident of alleged aberration." Aberration? How did the very Court which gave historic recognition and expression to women's experience of inappropriate sexual behaviour as workplace sexual harassment which violated our Constitutional equality rights, reduce such recognition to an "aberration"? An approach echoed in the Tehelka journalists' complaint of alleged "sexual violation" by Tarun Tejpal, which was projected by its feminist Managing Editor, as an "untoward incident". Pattern anyone?
On the 7th of December, the CJI published his conclusions on the report of the Panel that probed the intern incident. For the first time, the real purpose of this entire exercise became obvious. According to the statement, the CJI took up the matter because of the "fact that such allegation against a Supreme Court Judge will have a direct bearing on the Institution's reputation and credibility". In other words, it was never about the impact of sexual harassment on the intern, but the potential impact (read "fall-out") for the Institution. The statement goes on to share that the role of the Panel was to "ascertain the truth of the allegations." Seven sittings and three affidavits later, lo and behold, they figured out what we all knew from just reading the blog. She was actually telling the truth. No wonder the intern described her experience before the Panel as "being looked at with suspicious eyes". The CJI goes on to accept that the intern's statements and her witnesses, "prima facie discloses an act of unwelcome behaviour (unwelcome verbal/non-verbal conduct of sexual nature) by Justice (Retd.) A.K. Ganguly with her in the room in hotel Le Meridien on 24.12.2012 approximately between 8.00 P.M. and 10.30 P.M."
Self-preservation of the court
Then, in an inexplicable twist, the statement quickly concludes that as the intern was not on the rolls of the Supreme Court and the Judge had retired `no further action is required by the Court`. Did one of the Panel or the CJI bother to read the blog? Those facts were already in the public domain. If the Panel had no jurisdiction over either the intern or Justice Ganguly in the first instance, then why even bother with a finding? Yet having found a prima facie case of sexual harassment by Justice Ganguly towards the intern, the CJI should have logically followed through with the Vishakha equation. Was there a legal injury to the intern's equality rights? Given the unequal power dynamic between the intern and the Judge, the answer was an unequivocal yes. That finding alone would have nudged "workplace sexual harassment" that much closer to transforming social inequality of women lawyers into their status of equality.
Which makes me ask- who then actually benefited from this outcome? Net, net, the Supreme Court. Not only was it an occasion for them to close the door on complaints about retired judges, it brought relief to a Court clearly worried about a stray media headline suggesting one of its own as the potential offender. The entire episode was never about justice for the intern. Rather, it was a blatant exercise in self-preservation. After 16 years of non-compliance with Vishakha and increasing public pressure to act on "workplace sexual harassment," this was an occasion that cried out for the Court- at the very least — to communicate a tough zero tolerance message on sexual harassment of women in the legal profession, be the offender a clerk, a client, a lawyer, a judge, retired or not. It didn't.
"While headlines on such appointments (women appointed in senior positions) make visible the obvious contribution women are making within the legal profession, the trickle of numbers betrays an underlying subtext of systemic bias within which decision-making about such appointments (be it the Bench or the Bar) continues to take place." — Naina Kapur
Subtlety of the sub- text
Despite such a disappointing outcome, it's fair to ask — has anything changed with Vishakha? Yes. Experiences of sexual violations at work have a name — workplace sexual harassment — and the status of those affected by such experiences are no longer just about moral wrongs, but about fundamental rights. The stigma and fear of thirty years ago in the profession is perhaps lessening. Where violations of equality arise as a result of workplace sexual harassment, there are more places to complain about it. On the same date as the CJI washed his hands of the intern matter, a group of junior women lawyers petitioned the High Court of Allahabad alleging sexual harassment by their male colleagues. That petition has been admitted and a Committee being set up.
In the end the lesson from Vishakha versus the CJI's inaction is a recurring one — at the end of every legal intervention is a beneficiary. How and if they benefit depends on what's at the beginning of every legal intervention — an attitude.
For the "persons" who are women
In 1915, having completed all the necessary qualifications in law, Regina Guha applied to be a pleader at the Calcutta Bar, where a four-judge bench had to determine whether "persons" admitted as "pleaders" included women.
Degrees in law could be conferred on both men and women in Calcutta University. But the bench was adamant for letting a woman be a pleader.
According to a 2013 list of Senior Advocates designated by the Supreme Court of India since 1955, only five out of 309 advocates have been women.
Of the 200-plus lawyers appointed as Senior Advocates in Delhi and Mumbai over a period of twenty years (up to 2011), only three were women.
The writer runs a virtual law firm "Preventive Law & Equality Compliance." She was the lead instructing counsel for Vishakha v. St. Of Rajasthan, 1997, Supreme Court of India. "
First published in Tribune
Related articles