Meeting the 35-year-old who recently moved SC seeking a ban on instantaneous triple talaq. She thus becomes the first Muslim woman to challenge a personal law practice, citing her fundamental rights –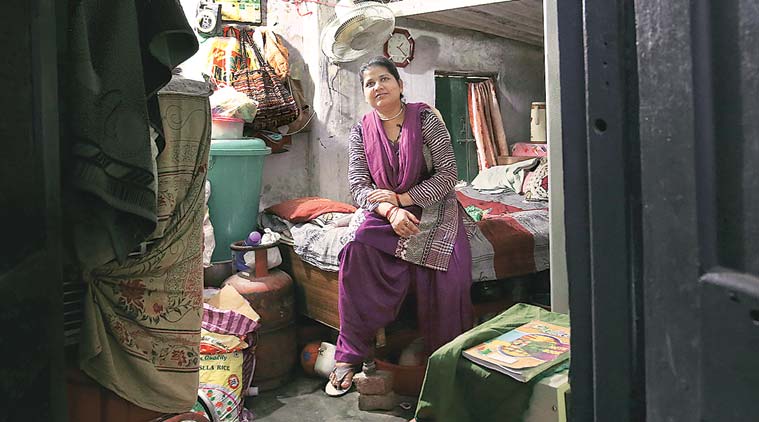 At her parents' home in Kashipur. Shayara hasn't met her two children since she left Allahabad last April. (Express Photo by Ravi Kanojia)The photograph of the bride in her wedding finery, her kohl-rimmed hazel eyes peering into the camera, bears little resemblance to Shayara Banu of today. The wedding album titled 'Romantic Moments' also features photographs of a two-wheeler, household furniture, utensils and jewellery that were given away at the time of the wedding.
Next to the album is a polythene bag with medicines for the "infections" Banu claims to have caught from multiple abortions and a heavy dose of anti-depressants. For the last 15 years of her marriage, she says, her greatest dread has been the word talaq being uttered thrice by her husband Rizwan Ahmed. Last year in October, while she was at her parents' home in Uttarakhand's Kashipur district, her fears came true: Rizwan sent her the talaq-nama from Allahabad.
On the advice of her family, the 35-year-old is using her case as a plank to challenge the triad of instantaneous triple talaq (talaq-e-bidat), polygamy and halala (a practice where divorced women, in case they want to go back to their husbands, have to consummate a second marriage). Her petition in the Supreme Court makes no mention of the contentious Uniform Civil Code, neither does it ask for codification of the Muslim personal law. She has sought equality before law and protection against discrimination on the basis of her gender and religion.
"Soon after the wedding, they started demanding a four-wheeler and more money. But that wasn't the only problem. From the very beginning, my husband would threaten to give me talaq each time he found some fault with me. For the first two years of marriage, when I didn't bear a child, my mother-in-law would egg him on to divorce me," says Shayara, who is today mother to a 14-year-old boy and a 12-year-old girl, both of whom are away from her, in her husband's custody.
Shayara says that a year after her marriage to Rizwan, a property dealer based in Allahabad, UP, she wasn't allowed to attend her sister's wedding in the same city. In the last 14 years, she says, she wasn't allowed to visit her sister, who lives within a half-hour distance from her house in Allahabad.
Rizwan denies having ever beaten Shayara, though he admits to keeping her away from her relatives as he "didn't want anything to do with them". He also admits to the multiple abortions. Vasectomy and tubectomy, he says, are considered to be "bahut haram". "I have given her talaq the way Shariat and Hadith allow me to. I cannot take her back now, it will be against the Shariat. It is not good to go against what the religion has prescribed," says Rizwan over the phone from Allahabad. ***
For over three decades now, the tiny Army quarter at the cantonment of RTSD-Hempur (Remount Training School and Depot) in Kashipur tehsil has been home to Iqbal, an accountant in the Army, and his family: wife, three daughters, son, daughter-in-law and two grandchildren. Today, in this cantonment, his daughter Shayara is insulated from censure that would otherwise have come her way for taking on the practices in her community. "I grew up in Allahabad where I have seen women around me being subjected to this, but they were all too poor to go to court. When my daughter fell in the same trap, I decided it was time to do something," he says.
The family first met Supreme Court advocate Balaji Srinivasan for inter-state transfer of a case filed by Rizwan at the Allahabad family court. "In the meantime, her husband sent her the talaq-nama by post, which then became the basis of her writ petition," says Srinivasan.
In her petition, she has challenged 'instantaneous triple talaq' and not triple talaq itself, which is allowed by the Quran as long as the three utterances are spread over 90 days. There have been PILs filed by NGOs and individuals in the Supreme Court but, he says, those didn't stand as they weren't filed by an affected party or because they pleaded that Uniform Civil Code be introduced. Shayara's is the first such case where a Muslim woman has challenged a personal practice citing fundamental rights guaranteed by the Indian Constitution. ***
Outside the Army cantonment, Shayara's case is yet to make news in the rest of Kashipur. The religious heads of the small town got wind of the case only recently after local newspapers approached them for their views on the matter.
About 14 km away from her house lives 65-year-old Ataur Rehman, the imam of the town for 25 years before he retired two years ago. Scattered across his room, that doubles up as a unani clinic, are vials of pills and medicines. Having just gotten off the Persian rug on which he takes his afternoon siesta, before his next batch of patients start streaming in, Rehman is still heavy-eyed. But in a resounding voice, he explains that the courts or the State have no business interfering in religious matters.
He says that the recommended way of giving talaq is for a Muslim man to utter it once, give the woman some time to mend her ways, utter it again, give her some more time, before making the third and final utterance. "However, even if it is uttered thrice in one go, it is valid. Kami auraton ki bhi hoti hai. Bina wajah koi aadmi talaq nahi deta (Women are also at fault. No man gives talaq without a reason)," he says.
The Muslim Personal Law (Shariat) Application Act, 1937, allows Indian Muslims to be governed by the Shariat. The absence of codification has legally allowed community leaders to hold the practices as sacrosanct. The Dissolution of Muslim Marriages Act, 1939, however, codifies a woman's right to seek divorce by approaching the court.
Rehman believes that a woman's right to khula only allows her to plead with her husband for divorce and doesn't actually give her the right to divorce her husband. "I don't care what the Act says, but if the woman is given the right to talaq, she won't live with her man even for six months, she will leave.
Women can't have the right to give talaq, it's without doubt a man's prerogative." Polygamy, Rehman says, is allowed as long as the man can take care of all four wives equally and halala is required as it will ensure that the man "thinks twice before divorcing his wife". –
A post-graduate in sociology, Shayara, the eldest of four siblings, is the most educated in the family. "Mujhe samaj ke bare mein seekhna tha (I wanted to learn about society)," she says. Her ambition was to teach, which she did very briefly for a few months before she got married. If the court rules in her favour, holding triple talaq to be null and void, she will be faced with taking a call on whether she wants to go back to Allahabad. "I might go back, for the sake of my children, that is, if he shows an inclination to change," she says.
Her family, however, is more determined. Their objection is to the manner in which her husband divorced her and not to the divorce itself. Her mother says that if the apex court holds her triple talaq to be invalid, they will approach the court to seek divorce through the legal route. Her father says, "A person who has brought her to this state, kept her like a prisoner all these years, why go back to him? But I always leave it to my children to take the final call." On her part, Shayara's low-pitched voice wavers throughout as she talks about her past or her uncertain future.
The only time it takes on a resolute tone is when she talks about the present. "Shah Bano got a ruling in her favour from the Supreme Court but it was later overturned by the government, denying divorced Muslim women their right to maintenance. Had her case been a success, it would have been one battle less for us," says Shayara. –
TAGGED ON *
Thirty-ONE years after the SC urged the government in the Shah Bano case to frame a uniform civil code, a two-judge bench in October 2015 suo motu ordered registration of a PIL. *
Justices Anil R Dave and Adarsh K Goel sought responses from the Attorney General and the National Legal Services Authority of India on whether "gender discrimination" suffered by Muslim women should not be considered a violation of fundamental rights. *
The bench was hearing a matter related to succession when it said it is time to focus on rights of Muslim women. The judges asked for the case to be placed before the CJI to constitute a bench. It is now being heard with Shayara Bano case. – See more at: http://indianexpress.com/article/india/india-news-india/triple-talaq-supreme-court-ban-muslim-india-shayara-banu-2767412/#sthash.q8g96foG.dpuf