'Sikligar Sikhs in MP face safety issues'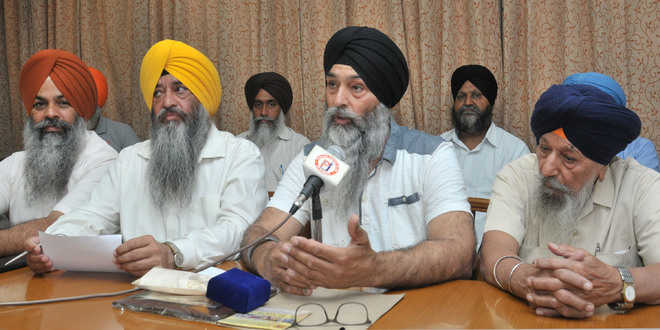 Tribune News Service
The British Sikh Council (BSC) today raised concern for the safety of Sikligar Sikhs living in remote areas of Madhya Pradesh and Maharashtra.Council's president Tarsem Singh Deol said the Sikligar Sikhs were basically blacksmiths and were traditionally engaged in crafting knives, swords and guns.
According to a report in The Tribune , due to their weapon making business, they are always looked at suspiciously by the police and are facing harassment, he claimed."While nearly 500 policemen raided a remote forest area of Pandori village in Khandwa district in MP and arrested many Sikhs on the basis of suspicion, it also arrested three Sikhs from Umadi village in Badwai district.
Also, the police fired at the community in Dhar district to arrest Sikligar Sikhs and misbehaved with their women and children in Pachauri village in Baranpur district," Deol claimed.
He said according to the Sikh population survey conducted by the Shiromani Gurudwara Prabandhak Committee (SGPC) in 2002, there were 5 crore Sikligar Sikhs across the world. This year, their population is expected to have touched 7 crore.
The SGPC is still turning deaf ear to their concerns, he alleged."Majority of them are forced to live in remote jungles and are leading a 'kabila' life in Madhya Pradesh. They do not have money for treatment of various ailments and even their widows, majority of who are in the age group of 25 to 30 years, do not have any source on income," the BSC president said.
Council representatives said it would soon open special schools in Punjab to bring their children back to the state. "We have planned to bring around 500 children every year to get them admitted to these schools," Deol added
Last year also in Mathana village of MP some Kabir Panthis, who converted to Sikhism, were attacked by upper caste people.
History
As a community, they possess an incredibly rich history, yet they are longing to return to the mainstream even three centuries later.Endeavoured by Glasgow-based charity organisation Sikh Council of Scotland (SCS), a group of 173 Sikligars from Madhya Pradesh and Maharashtra were fortunate enough to enjoy pilgrimage to the Golden Temple and other gurdwaras in Amritsar, Anandpur Sahib, Chamkaur Sahib, Fatehgarh Sahib and Delhi.Originally named Sikligar by Guru Gobind Singh, they were known to be blacksmiths having incredible craft of weapon making and armed the Khalsa Army in the 17th century.
But in the present era far from education, development and health facilities, they lead a poverty-ridden life in the far flung villages and hilly jungle terrains of Maharashtra, Madhya Pradesh, Rajasthan, Delhi, Agra and beyond.
In Amritsar, Chief Khalsa Diwan president Charanjit Singh Chadha has  extended a helping hand by offering free education, boarding and lodging of at least 100 children belonging to the Sikligar community.Very little is known about the Sikligars as they have been displaced through years of colonisation and government oppression, last year .