You've got to hand it to them
Friday, Jul 19, 2013, 10:26 IST | Agency: DNA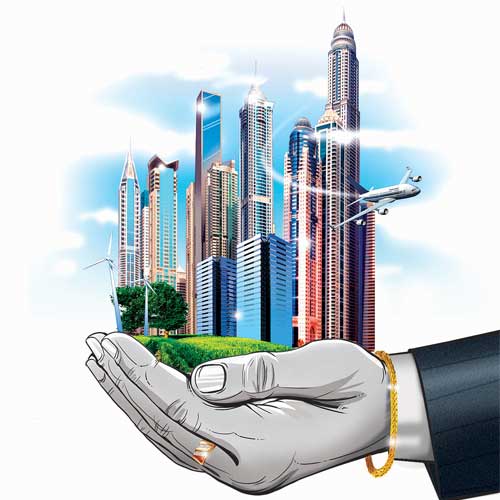 – Ravi Jadhav/DNA
Exactly how much land within areas designated as Special Economic Zones (SEZ) or Integrated Industrial Areas (IIA) is released for residential development by SEZ promoters could dictate how realty rates move in and around these industrial zones following the go-ahead from the Maharashtra Legislative Assembly to the revised industrial policy.
With the passage of the Maharashtra Industrial Development (Amendment) Bill on Wednesday, promoters of SEZs can unlock up to 40% of land within SEZs for construction of residential spaces, and develop industries on the remaining land.
Owing to this decision, 35,000 acres of land will be unlocked in the state — the major chunk of which is located in the peripheries of Mumbai, Pune, Nashik and Nagpur.
The corollary, say experts, is that the price of your dream home would in the next five or ten years be determined by the few industrialists who own these large swathes of land in SEZs across the state with the SEZs themselves mostly non-starters.
In fact, BJP state president and MLA Devendra Fadnavis, while speaking on the bill in the assembly, said the policy was designed to favour Maha SEZ, promoted by Mukesh Ambani. Fadnavis also alleged that SEZ promoters would get away with carrying out only housing projects without developing enough industries. He also stated that the policy would allow the promoters to make huge profits from the project without giving any revenue to the state government.
Ambani and his close associate, Anand Jain, co-promoter of the Navi Mumbai Special Economic Zone (NMSEZ), jointly own over 7,500 acres of land in the state with over 4,300 acres at Ulwe and Dronagiri in Navi Mumbai alone. The proposed Navi Mumbai International airport is a stone's throw away from NMSEZ.
It's more or less similar at other metro-cities where large industrial groups own huge chunks of SEZ land.
Another prominent developer said that as part of the strategy, these large players could initially launch mass residential projects at cheaper rates, perhaps with a view to crush smaller players. "That done, the big guys will have the run of the real estate market and will decide property rates in the city. Small developers will not have any safety net."
Ulka Mahajan, anti-SEZ activist, said she and other activists had been harping on this for a long time, that farm land was being acquired not for the industrial development but for real estate. "The government then accused us of being anti-development. Now, it has been proved and exposed that the government's intention is to help the big players. The land was acquired at cheap rates by threatening farmers. Now it will be sold at high rates. It is sad," she said, adding that gradually 60% of the remaining land will also be allowed for residential use.
Related articles