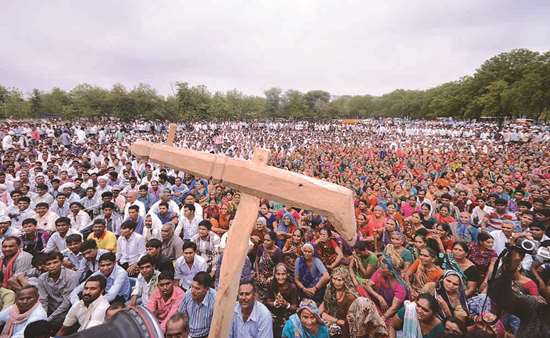 MAYUR BHATT
LAND POLICY: GUJARAT
The Plough In The Works
Modi's plans for industrial development run up against opposition from farmers. Is it Modi's
Singur
moment?
Striking At The Modi Model
Besides the protests against the Maruti Suzuki plant in Hansalpur and the neighbouring Mandal-Bechraji SIR, there are other protests brewing in Gujarat:
In Bhavnagar, farmers are protesting against Nirma's proposed cement plant, which will allegedly encroach upon a water body
Another protest in Bhavnagar district is against the proposed  nuclear plant at Mithivirdi
Farmers opposed to a bypass road in Junagadh have sent Modi a letter written in their blood
Labour unrest at the Bombardier plant in Savli, near Baroda
***
Karsanbhai Goabhai Bharwad, who belongs to a pastoral community of herders (maldharis), doesn't want his traditional earrings to show in front of outsiders. Asked to pose for a photo, he tucks them away under his turban folds. But none of this coyness shows when the subject changes to Maruti Suzuki, the firm that threatens to take over his fields in Hansalpur village, lush with jowar this season. His lines are fierce and pat in Hindi, a language he barely speaks. "Jaan dena hai, mar jaana hai, par zamin nahin dena hai (We'll give our lives, not our land)," he says, one hand making a hacking motion at his neck.
Karsanbhai is one of many farmers at the centre of an agitation against land acquisition in Hansalpur, in Ahmedabad district, where the plot for the Maruti Suzuki plant has been marked out. Adjacent to it is the proposed Mandal-Bechraji special investment region (SIR) of 50,000 hectares, which will house more industrial units, some of them meant for feeding the Maruti plant. Villagers who could lose their land to this sprawling SIR are also protesting. Together, the protesters are mak­ing a small hole in chief minister Nar­endra Modi's claim of owning a universally endorsed development model.
Surely, farmers' protests make for bad publicity ahead of the 2014 elections for Modi, driven as he seems to be by the idea of becoming prime minister. His style of bristling go-getting, projected as the panacea for the country's many woes, had found a challenge.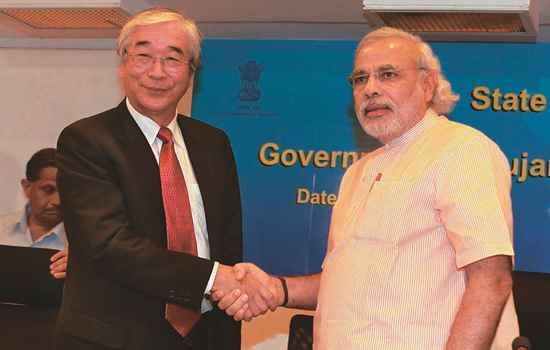 Modi with Maruti-Suzuki boss S. Nakanishi. (Photograph by AFP, From Outlook 02 September 2013)
Mindful of the potential damage, Modi, who met some protesters, found value in conciliation. Last week, finance minister Nitin Patel announced that 36 of the 44 earmarked villages wouldn't lose land to the SIR. For the villagers, who had driven to Gandhinagar in con­voy on tractors and bikes to protest and organised massive rallies, this was no small achievement. "This is the first time in 12 years that an independent farmers' voice has emerged, the first time the Modi government has bowed to their legitimate demands," says Lalji Desai, a leader of the Jameen Adhikar Andolan Gujarat (JAAG), a coal­i­tion of farmers' groups opposing the government's land acquisi­t­­ion and anti-farmer policies. "We have suc­­c­e­ssfu­lly challenged the NaMo model of development." The governm­ent, on the other hand, would like to think that by pulling 36 villages out from the SIR zone, it has doused the fire. "There's no andolan at the mom­ent," Nitin Patel tells Outlook. But the embers smoulder. Similar farmers' agitations­—and there are many in Gujarat—could draw strength from this success and set off a wildfire for the government.
JAAG leaders are now focusing on having the SIR Act, 2009, under which 15 SIRs have been proposed, repealed. The Act was notified in September 2012 but opponents say newspaper notices were issued only in May. The biggest fear is that the Act allows government to take 40 per cent of a farmer's land without compensation. Nitin Patel denies this, but JAAG leaders like Sagar Rabari insist that senior officials have told them so. Another point on the agenda is to challenge the land acquisition for the Maruti plant. The movement is also protesting the exclusion of 70,000 hectares from the coverage area of the Narmada canal irrigation network. "This is for diverting water for industry," says Rabari. "We're not going to let go on any of these counts."
| | | |
| --- | --- | --- |
| | | |
| | SIRs and industrial areas send land prices shooting. Those with privileged information buy up land and profit wildly. | |
| | | |
Villagers in Hansalpur say the 647 acres allotted to Maruti in 2012 is private agricultural land and common grazing land. "In 2007, the former sarpanch transferred land to the Gujarat Industrial Development Corporation (GIDC), cla­iming that the land belonged to the panchayat and was lying unused," says the current sarpanch, Ajmalji Viraji Thakor. Lalji Desai, a villager, adds that even the government records until then showed that the land belonged to farmers. Those affected have filed two cases, at the Viramgam district court and the Gujarat High Court, asking the government to return their cultivated land. "We have a strong case­—so strong that if Maruti were to build its factory, it would have to break it down to return the land," says Babubhai Nagori, their advocate. Opinions are divided, like always: some are dead against giving even an inch of land; some are willing to make way if they get cultivable land nearby. Either way, without deft handling, this could grow into a Singur-like crisis.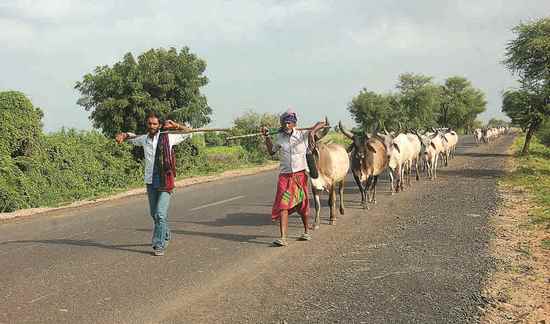 Pastoral change Bharwad cattle-herders (maldharis) of Ahmedabad. (Photograph by Debarshi Dasgupta)
Hansalpur, with anti-SIR slogans on its walls, is still among the eight villages that stand to lose land to the Mandal-Bechraji SIR. This is because the Maruti Suzuki plant is proposed there. Some 70 km away is Sanand, home to the Tata Nano plant and touted as an economic miracle. Many other automakers have lined up proposals for Sanand, and prosperity there is apparent: there are townships with names like Serenity Meadows; Audis compete with herds of Kankrej cows on its smooth roads.
It's part of the model the government wants to replicate in Hansalpur and elsewhere, like Kutch, which Nitin Patel touts to Outlook. "Look at Kutch…the land there was worse than wasteland, but today, prices are 15-25 times of 10 years ago," he says. "This is what is happening in Hansalpur."
For some, the model has brought economic success; but there are those who say it has failed politically and socially. "The party lost Sanand and neighbouring Viramgam in the assembly elections because of its anti-farmer policies," says Kanubhai Kalsaria, former MLA and BJP rebel. The social impact hasn't been wholesome either. The OBC and Dalits here are hardly educated; agriculture and livestock was their mainstay. "Those who sold their land in Sanand are crying today," says Lalji Desai, who also owns farmland in the region. "With all their money blown up on expensive cars and weddings with DJs, they have little left. Many of them support our movement and warn us not to get cheated the way they were."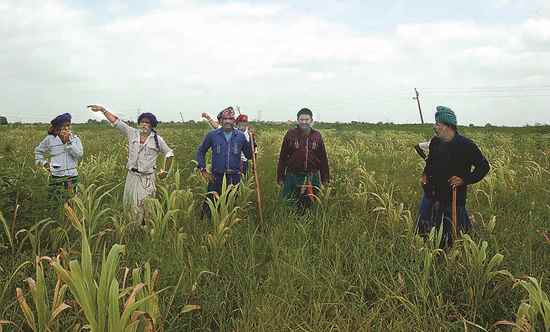 Maldhari farmers who could lose their fields to the upcoming Maruti plant. (Photograph by Debarshi Dasgupta)
Even the promise of factory jobs has little draw in Hansalpur. "Most workers in Sanand are from outside; the locals tend to get heavy manual work," says Shankarbhai Bharwad, a young man. Mukesh Thakur says he left his job at the Nano factory because the salary was just Rs 4,300. An old farmer, possibly in his late sixties, points to his red-stained teeth, in stark contrast to his white clothes, and asks in jest, "What job will they give me?"
On the ground there is an uneasy truce between the farmers and Maruti Suzuki, which technically is in possession of the plot. It has posted guards. But farmers continue to farm and graze their cattle. Nathubhai Bharwad says he was picked up by the police recently when he was guarding his crop at night. "They beat me and threatened me not to return," he says. "They say the land belongs to Maruti." Such incidents have upset local farmers, many of whom had voted BJP. "I liked Modi, but not any longer. He works only for the industrialists, not for the poor," says Sartanbhai Bharwad.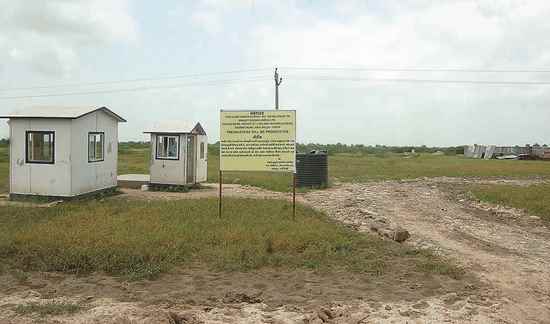 Photograph by Debarshi Dasgupta
Besides the reputation of the Modi government, a lot of money rides on SIR-like models, which send land prices shooting. Armed with privileged information about imminent projects and how they pan out step by step, politicians and those close to them buy off land from unsuspecting farmers and make wild profits. Local Congress leader Amarsinh Anandji Thakor, who's also a real estate broker, is a good example. His wife Labhben is the sarpanch of Sitapur, one of the eight villages supporting the SIR. "It's the kind of development we expect," he says. "The government can start the SIR in these eight villages and others can join later if they wish." A row of four-bedroom town houses behind his office is one of the SIR spinoffs. Each one of them costs Rs 35 lakh, but if the SIR were to come up, prices are expected to touch Rs 50 lakh. If not, they could crash to Rs 15 lakh or less. But even people like him are critical of the land acquisition policy. "The government should not acquire land without just compensation," he says.
Though industry representatives have watched these agitations with concern, they think of them more as "aberrations". "Even the central government has praised Gujarat's land acquisition for the Delhi-Mumbai Industrial Cor­ridor," says Param Shah, head of FICCI's Gujarat State Council. But he acknowledges that business cannot proceed as usual, with land becoming increasingly scarce. "Though the GIDC has a land bank, further acquisition might be an issue," he says. "To that extent, development will be more focused and systematic." But a complete withdrawal of the SIR Act, as demanded by the agitators, he says, will have certainly have a sizable impact on the state's economy.
But Nitin Patel says these are minor hurdles. "In any development work, peo­­ple come with pleas to have some wrongs corrected. We look into their concerns, for the government is pro-­poor and pro-farmer." There are many toiling in Gujarat's fields who'll take that with more than a pinch of salt.
---
By Debarshi Dasgupta in Hansalpur (Ahmedabad district)
Related articles